Shakespeare, 460 Bethnal Green Road, Bethnal Green E2
Bethnal Green pub history index
Historical London public houses, Taverns, Inns, Beer Houses and Hotels.
Existed from at least 1842. At 245 Bethnal Green Road before 1870
(next door to the Police Station)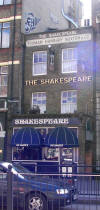 Shakespeare (thumbnail)
16 September 2005. Kevan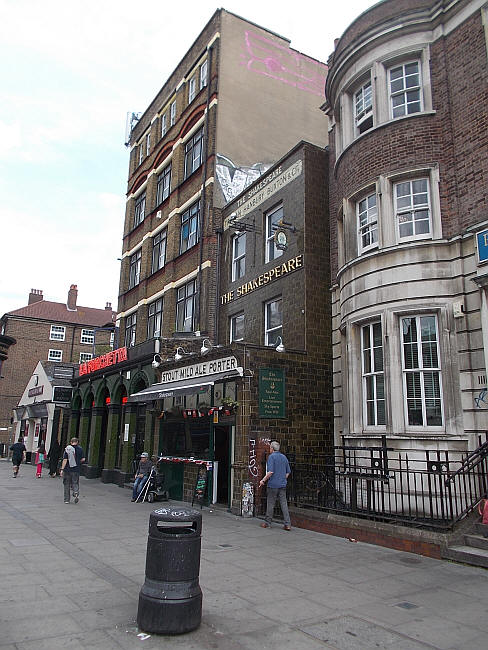 Shakespeare, 460 Bethnal Green Road, Bethnal Green E2 - in June 2018
Residents at this address.
1842/William Skinner/beer retailer/../../Robson's Directory *

1848/William Skinner/beer retailer/../../Post Office Directory *

1856/James Cocks/Beer Retailer/../../Post Office Directory ****

1869/Thomas Wade/Beer Retailer/../../Post Office Directory ****

1870/Thomas Wade/Beer Retailer/../../P.O. Directory **

1871/Thomas Wade/Beer Shop Keeper/46/Bethnal Green, Middlesex/Census ****
1871/Caroline Wade/Wife/43//Census
1871/Thomas Wade/Son/14/Bethnal Green, Middlesex/Census
1871/Jane Wade/Daughter/12/Bethnal Green, Middlesex/Census
1871/Caroline Wade/Daughter/11/Bethnal Green, Middlesex/Census
1871/Emily Wade/Daughter/9/Bethnal Green, Middlesex/Census
1871/Edward Paul/Lodger, Brush Maker/40/Spitalfields, Middlesex/Census

1872/T Wade/../../../Brabner's Hackney Directory **

1874/Mrs Caroline Wade / Beer Retailer /../../Post Office Directory **

1876/Thomas Brand/../../../P.O. Directory **

1881/George Stokes/Beerhouse Keeper/37/Spitalfields, Middlesex/Census ****
1881/Esther Stokes/Wife/35/Bethnal Green, Middlesex/Census
1881/Esther Stokes/Daughter/14/Bethnal Green, Middlesex/Census
1881/George Stokes/Son/12/Bethnal Green, Middlesex/Census
1881/Mary Stokes/Daughter/6/Bethnal Green, Middlesex/Census
1881/Alexander Stokes/Son/4/Bethnal Green, Middlesex/Census

1882/George Stokes/../../../Post Office Directory ****

1888/Isaac Bishop/../../../P.O. Directory **

1891/Henry Emberson/Beer Retailer/../../Post Office Directory ****

1891/Harry Emberson/Licensed Victualler/31/Bethnal Green, London/Census ****
1891/Eliza Emberson/Wife/31/Bethnal Green, London/Census
1891/Harry Emberson/Son/10/Bethnal Green, London/Census
1891/Maud Emberson/Daughter/8/Bethnal Green, London/Census
1891/Frederick Emberson/Son/6/Bethnal Green, London/Census
1891/Louisa Emberson/Daughter/4/Bethnal Green, London/Census
1891/Rosina Emberson/Daughter/5 weeks/Bethnal Green, London/Census

1895/Mrs Emma Nash/beer retailer/../../Post Office Directory *

1899/George Poolman/beer retailer/../../Post Office Directory *

1900/George Poolman – Beer Retailer -/../../../P.O. Directory **

1910/Mrs Emily Holbrook/Beer Retailer/../../Post Office Directory ****

1911/James Howe/Publican/35/Silvertown, Essex/Census ****
1911/Charles Locker/Visitor, Elementary School Teacher/32/Canning Town, Essex/Census
1911/John Howe/Nephew/13/Silvertown, Essex/Census

1914/James William Howes/beer retailer/../../Post Office Directory *

1915/James Howes/Beer Retailer/../../Post Office Directory ****

1917/Thos. Edwd. Howe/../../../P.O. Directory **

1921/Thomas Edward Howe/beer retailer/../../Post Office Directory *

1934/George Thomas Tillman/beer retailer/../../Post Office Directory *

1938/George Thomas Tillman/beer retailer/../../Post Office Directory *

1944/Mrs Emily Coleman/Beer Retailer/../../Post Office Directory ****

Mrs Emily Coleman, the Shakespeare, died on November 10th, 1953, aged 81. She had the licence of the Blacksmiths Arms, Millwall until 1938, when she moved to the Shakespeare - Black Eagle Journal ***

1988/M S Turner Esq, Shakespeare, 460 Bethnal Green Road, Bethnal Green, E2 : Watney Truman/../../../Pub Directory



* Provided by Ewan

** Provided By Stephen Harris

*** Provided By Alex Wilkinson