Ship, 473 Bethnal Green Road, Bethnal Green E2
Bethnal Green pub history index
Historical London public houses, Taverns, Inns, Beer Houses and Hotels.
Existed from at least 1856. The address is 260 Bethnal Green Road prior to 1870. It is no longer a pub by 2000, and just the sign still exists. **

Ship Pub sign (only)
16 September 2005. Kevan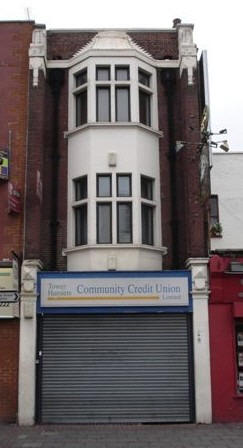 Ship, 473 Bethnal Green Road - in September 2006
Kindly provided by Stephen Harris
Residents at this address.
1856/Theophilus Williams/Beer Retailer/../../P.O. Directory **

1869/James Ashby/Beer Retailer/../../P.O. Directory **

1870/James Ashby/Beer Retailer/../../P.O. Directory **

1871/James Ashby/Licensed Victualler/32/Bethnal Green, Middlesex/Census
1871/Liddia Ashby/Wife/31/Bethnal Green, Middlesex/Census
1871/James R Ashby/Son/12/Bethnal Green, Middlesex/Census
1871/Liddia E Ashby/Daughter/10/Bethnal Green, Middlesex/Census
1871/Mary A Ashby/Daughter/8/Bethnal Green, Middlesex/Census
1871/Emily Ashby/Daughter/2/Bethnal Green, Middlesex/Census

1872/J D Ashby/../../../Brabner�s Hackney Directory **

1876/James Ashby/../../../P.O. Directory **

1881/Charles Hunt/Beerhouse Keeper/40/St Johns, Worcester/Census
1881/Emma C Hunt/Wife/40/Thundersley, Essex/Census
1881/William Charles Hunt/Son/13/Thundersley, Essex/Census
1881/Edith Agnes Hunt/Daughter/11/Bromley, Kent/Census
1881/Amy Sarah Hunt/Daughter/8/Thundersley, Essex/Census
1881/Arthur George Hunt/Son/3/Bethnal Green, Middlesex/Census

1882/Charles Hunt/../../../Post Office Directory

1888/John Lane � Beer Retailer -/../../../P.O. Directory **

1891/William Bridges/Beer Retailer/../../Post Office Directory

1895/William Bridges/Beer Retailer/../../Post Office Directory

1899/William Bridges/Beer Retailer/../../Post Office Directory

1900/William Bridges/Beer Retailer/../../P.O. Directory **

1901/William Bridges/Beer Retailer/43/Bethnal Green, London/Census
1901/William Bridges/Son/12/Bethnal Green, London/Census
1901/George Bridges/Son/7/Bethnal Green, London/Census

1908/Thomas Gibbins/Beer Retailer/../../P.O. Directory

I've been researching the Dickson family, who they ran a number of pubs in London from the early 1900's. (James) Arthur Dickson was the father and he had two sons Arthur George Dickson and Ernest Edwin Dickson, all involved in the brewery trade. ***

1909 - 1914/Arthur George Dickson/../../../Electoral registers ***

1910/Arthur George Dickson/Beer Retailer/../../Post Office Directory

1911/Arthur Dickson/Beer Retailer/26/Poplar, London/Census
1911/Elizabeth Dickson/Wife, Assistant/28/Stepney, London/Census

1914/Griffin Cartledge/Beer Retailer/../../Post Office Directory

1915/Griffin Cartledge/Beer Retailer/../../Post Office Directory

1917/Daniel Joseph O'Connell � Beer Retailer -/../../../P.O. Directory **

1921/Daniel Joseph O'Connell/beer retailer/../../Post Office Directory *

1934/Hy R Hobart/Beer Retailer/../../Kellys Directory

1938/Mrs Maud Telfer/beer retailer/../../Post Office Directory *

1944/Alex Frederick Smith/Beer Retailer/../../Post Office Directory

1983/../Ship, 473 Bethnal Green Road, Watneys/../../Pub Directory

1988/Mr T J Shepherd/Ship, 473 Bethnal Green Road, Watney Truman/../../Pub Directory

1990/Mr T J Shepherd/Ship, 473 Bethnal Green Road, Watney Truman/../../Pub Directory

1991/../Ship, 473 Bethnal Green Road, Bass/../../Pub Directory



* Provided by Ewan

** Provided by Stephen Harris

*** Provided by Mary Armour