Search London wiki and Pub wiki history sites
All public house, restaurants, bars etc closed for the forseeable future on 20th March 2020, but this is a history site. But how about the landlords give their tenants a break, no business, then please charge them no rent.
Star & Garter, 123 Green Street, Bethnal Green E2
Bethnal Green pub history index
Existed from at least 1869. [Green Street is now the Western half of Roman Road];Long-closed as a pub, a rag merchants in 1921, a chemists in 1938, the premises are now in use as a restaurant. **
Historical London public houses, Taverns, Inns, Beer Houses and Hotels.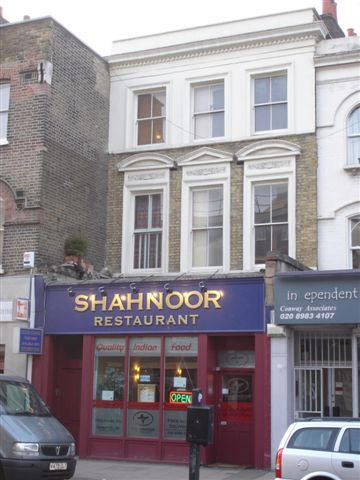 Star & Garter, 123 Roman Road, E2 - in April 2007
Kindly provided by Stephen Harris
Residents at this address.
1869/John Brookson/Beer Retailer/../../Post Office Directory **

1871/John Brookson/Beer House keeper/57/City, London/Census
1871/Charlotte Brookson/Wife/37/Scotland/Census
1871/James Brookson/Son, Labourer/29/Finsbury/Census
1871/Mary Ann Brookson/Daughter/30/St Johns, Hackney/Census
1871/Henry Brookson/Son, Labourer/24/City, London/Census
1871/Thomas Brookson/Son/22/Southwark/Census
1871/Margaret E Brookson/Daughter/19/Southwark/Census
1871/Clara Brookson/Grand Daughter/5/Bethnal Green/Census
1871/Charlotte Brookson/Grand Daughter/2/Bethnal Green/Census
1871/James Turrell/Pot Boy/20/Bethnal Green/Census
1871/Elisa Lenter/Servant/21/Whitechapel/Census

1872/John Brookson/Beer Retailer/../../Post Office Directory **

1875/John Brookson/Beer Retailer/../../Post Office Directory **

Charles Tubb, as mentioned in the marriage certificate below is probably the same person listed at 1 Old Bethnal Green Road in 1861.





The marriage details show Eliza Tubb marrying Willam Henry Davis (both aged 21), with Elizabeth Tubb as one of the signatories. The father of the bride, Charles Joseph Tubb, is listed as a Publican at the Star & Garter on Green Street in 1876. ***
1879/Joseph Ed Sheppard/Beer Retailer/../../Post Office Directory **

August 1879/J E Shepard/Outgoing Licensee/../../East London Observer

August 1879/S William Edwards/Incoming Licensee/../../East London Observer

1881/Caroline Hughes/Beer Retailer, Widow/37/Bethnal Green, Middlesex/Census
1881/George Hughes/Son/13/Bethnal Green, Middlesex/Census
1881/William Hughes/Son/8/Bethnal Green, Middlesex/Census
1881/Thomas Hughes/Son/6/Bethnal Green, Middlesex/Census
1881/Emma Dupuy/Niece, Barmaid/21/Bethnal Green, Middlesex/Census
1881/Julia Mitchell/Niece, Barmaid/17/Bethnal Green, Middlesex/Census

1882/Henry Nelson/beer retailer/../../Post Office Directory *

1891/Chas Eaton/Beer Retailer/../../Post Office Directory

1895/Chas Eaton/Beer Retailer/../../Post Office Directory

1899/Jesse Eaton/beer retailer/../../Post Office Directory *

1901/Jesse Eaton/Beer & Wine Retailer/34/Winchester, Hampshire/Census
1901/Maria Eaton/Wife/35/Bethnal Green, London/Census
1901/Jessie Eaton/Daughter/13/Mile end, London/Census
1901/Charlotte Eaton/Daughter/11/Bethnal Green, London/Census
1901/Henry Eaton/Son/9/Bethnal Green, London/Census
1901/Albert Eaton/Son/3/Bethnal Green, London/Census
1901/Helen Eaton/Daughter/3/Bethnal Green, London/Census
1901/Charles Eaton/Son/11 months/Bethnal Green, London/Census

1909/Jesse Eaton/Beer Retailer/../../Post Office Directory **

1910/Jesse Eaton/Beer Retailer/../../Post Office Directory

1911/Jesse Eaton/Beer Retailer/43/Winchester, Hampshire/Census
1911/Maria Eaton/Wife/45/Bethnal Green, London/Census
1911/Albert Eaton/Son/16/Bethnal Green, London/Census
1911/Helen Eaton/Daughter/13/Bethnal Green, London/Census
1911/Charles Eaton/Son/11/Bethnal Green, London/Census
1911/Frederick Eaton/Son/9/Bethnal Green, London/Census
1911/Florence Eaton/Daughter/6/Bethnal Green, London/Census

1914/Jesse Eaton/Beer Retailer/../../Post Office Directory



* Provided by Ewan

** Provided By Stephen Harris

*** Provided By Sharon Nichols