Search London wiki and Pub wiki history sites
All public house, restaurants, bars etc closed for the forseeable future on 20th March 2020, but this is a history site. But how about the landlords give their tenants a break, no business, then please charge them no rent.
The Sun, 441 Bethnal Green Road, Bethnal Green E2
Bethnal Green pub history index
Historical London public houses, Taverns, Inns, Beer Houses and Hotels.
Existed from at least 1848. At 228 Bethnal Green Road before 1870. This pub closed in 2013. *+

The Sun (thumbnail)
16 September 2005. Kevan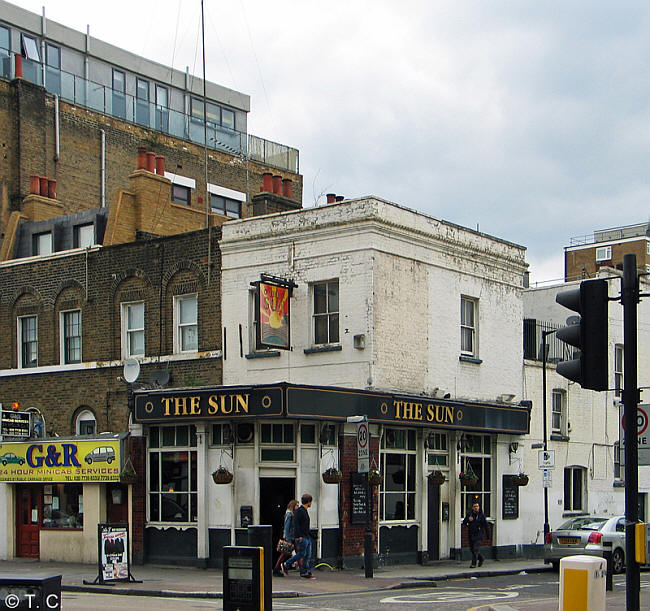 Sun, 441 Bethnal Green Road
Kindly provided by Tris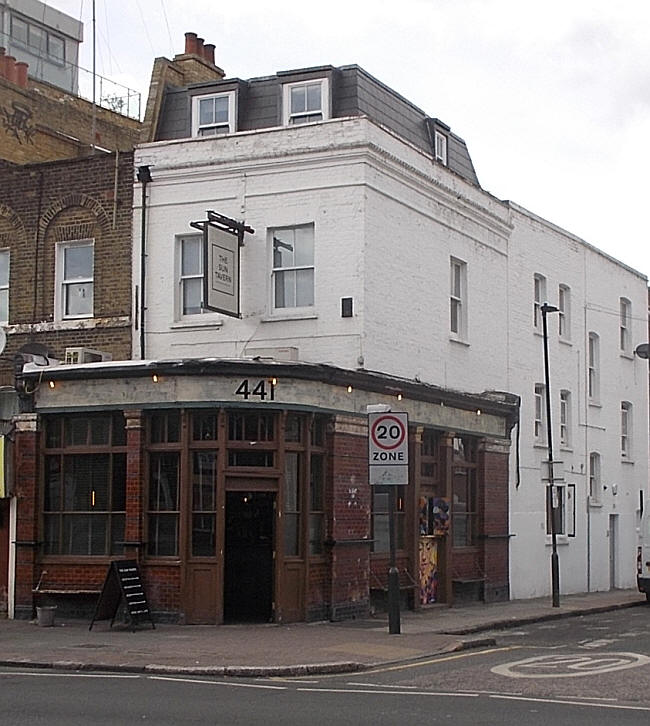 Former Sun, 441 Bethnal Green Road - in June 2018
Residents at this address.
1848/Robert Waigh/beer retailer/../../Post Office Directory *

1851/Robert Waigh/Brewer/../../Kellys Directory

1856/Robert Waigh/Brewer/../../Post Office Directory

1869/Robert Waigh/Brewer/../../Post Office Directory

1870/Robert Waigh/Brewer/../../P.O. Directory **

1871/Robert Waigh/Brewer Master 4 Men, Widow/70/Norfolk/Census
1871/William Waigh/Son, Brewer/40/Cambridge/Census
1871/Mary A Brabury/General Servant/22/Bethnal Green, Middlesex/Census

1881/Edmund Mudge/Beer House Keeper/40/Higham, Norfolk/Census
1881/Emma Mudge/Wife/38/Higham, Norfolk/Census
1881/Emma F Mudge/Daughter, Barmaid/20/Higham, Norfolk/Census

1882/Henry Hargreaves/../../../Post Office Directory

1888/Henry Hargreaves/Beer Retailer/../../P.O. Directory **

1891/William Andrews/beer retailer/../../Post Office Directory *

1895/William Andrews/Beer Retailer/../../Post Office Directory

1899/Thomas Griffith/beer retailer/../../Post Office Directory *

1900/Thomas Griffiths/Beer Retailer/../../P.O. Directory **

1901/Thomas Griffith/Beer Retailer/32/Norwood, London/Census
1901/Rhoda Griffith/Wife/32/Paddington, London/Census
1901/Rhoda Griffith/Daughter/3/Cropydon, Surrey/Census
1901/Florence Griffith/Daughter/2/Bethnal Green, London/Census
1901/Alec Stephen/Potman & Barman/41/Edinburgh, Scotland/Census

1910/Joseph Albert Wicks/Beer Retailer/../../Post Office Directory

1911/Joseph A Wicks/Beer House Keeper/28/Bethnal Green, London/Census
1911/Caroline Wicks/Sister, Housemaid/25/Bethnal Green, London/Census
1911/Elizabeth Wicks/Sister, Mantle Machinist/18/Bethnal Green, London/Census

1914/Joseph Albert Wicks/beer retailer/../../Post Office Directory *

1915/Joseph Albert Wicks/beer retailer/../../Post Office Directory *

1917/Joseph Albert Wicks/Beer Retailer/../../P.O. Directory **

1921/Joseph Albert Wicks/beer retailer/../../Post Office Directory *

1934/Joseph Albert Wicks/Beer Retailer/../../Kellys Directory

1938/Alfred Childs/beer retailer/../../Post Office Directory *

1944/Edward Francis Francis/beer retailer/../../Post Office Directory *



* Provided by Ewan

*+ Provided by Tris

** Provided by Stephen Harris