Search London wiki and Pub wiki history sites
All public house, restaurants, bars etc closed for the forseeable future on 20th March 2020, but this is a history site. But how about the landlords give their tenants a break, no business, then please charge them no rent.
Duke of Wellington, 52 Cyprus Street, Bethnal Green E2
Bethnal Green pub history index
This pub was built in 1850 or 1851 and the street was initially called Wellington Street, and at 36 Wellington Street in the 1861 and 1871 census. The pub closed in 2005 and remains empty. ** Converted to residential use. *+ The address was at 36 Cyprus Street by 1882, following street renaming, and then renumbered to 52 Cyprus Streetby 1884. *
aka Duke of Wellington in 1899
Historical London public houses, Taverns, Inns, Beer Houses and Hotels.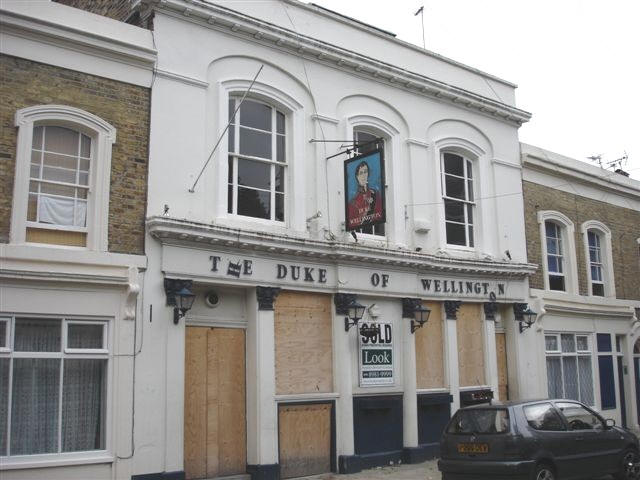 Duke of Wellington, 52 Cyprus Street - in September 2006
Kindly provided by Stephen Harris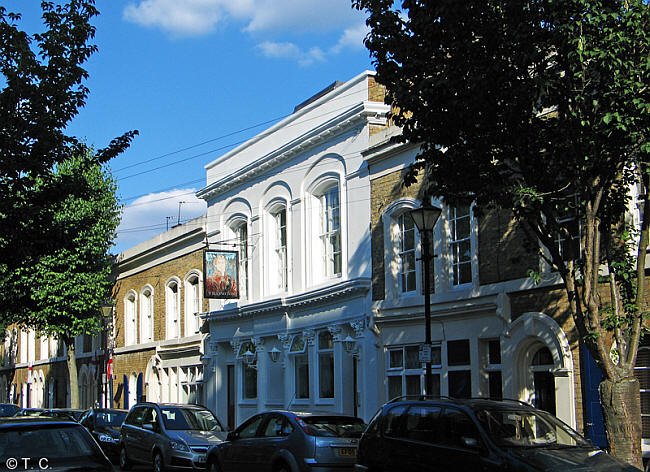 Duke of Wellington, 52 Cyprus Street E2 - in June 2014
Kindly provided by Tris
Residents at this address.
March 1852/Robert Wright/Outgoing Licensee/../../Era Newspaper

March 1852/William John Parkes/Incoming Licensee/../../Era Newspaper

1856/William Joseph Parker/../../../Post Office Directory *

October 1856/William J Parker/ Outgoing Licensee /../../The Era

October 1856/Samuel Turner/ Incoming Licensee /../../The Era

1861/Samuel Turner/Licensed Victualler, widow/47/Bethnal Green, Middlesex/Census
1861/William S Parker/Nephew/13/Bethnal Green, Middlesex/Census
1861/Mary AnnBuge/House Servant/23/Bethnal Green, Middlesex/Census

May 1865/Alfred Copping/Outgoing Licensee/../../Era

May 1865/Henry John Hayward/Incoming Licensee/../../Era

29th September 1866/H J Hayward, deceased/Outgoing Licensee/../../East London Observer +

29th September 1866/Mary Hayward/Incoming Licensee/../../East London Observer +

1869/Charles Blackburn/../../../Post Office Directory *

1871/Charles Baker/Licensed Victualler/26/Hackney, Middlesex/Census
1871/Mary Baker/Wife/36/Suffolk/Census
1871/Henry Hayward/Son in Law/11//Census
1871/William Hayward/Son in Law/9/Bethnal Green, Middlesex/Census
1871/Albert Hayward/Son in Law/7/Bethnal Green, Middlesex/Census
1871/Catherine Hayward/Daughter in Law/5/Bethnal Green, Middlesex/Census
1871/Priscilla Atkins/Barmaid/16/Brightlingsea, Essex/Census
1871/Daniel Bellembo/Potman/25/Ipswich/Census
1871/Jane Bewes/Housemaid/29/Plymouth/Census

1872/C B Baker/../../../Brabner's Hackney Directory **

May 1873/Charles Blackburn Baker/Outgoing Licensee/../../East London Observer +

May 1873/Richard Prior/Incoming Licensee/../../East London Observer +

10th January 1880/Richard Prior/Outgoing Licensee/../../East London Observer +

10th January 1880/Henry Bridges/Incoming Licensee/../../East London Observer +

1881/William H Worton/Licensed Victualler/28/Shoreditch, Middlesex/Census
1881/Louisa M Worton/Wife/20/Shoreditch, Middlesex/Census
1881/Emma Seely/General Servant/23/Shoreditch, Middlesex/Census
1881/Jacintha Collins/Barwoman/29/Cheverell, Wiltshire/Census

1882/William Worton/../../../Post Office Directory *

1884/William H Worton/../../../Post Office Directory

1891/William Worton/../../../Post Office Directory

1895/Arthur Cooper/../../../Post Office Directory

1899/George Leigh/../../../Post Office Directory

1901/Chas A Hudson/Licensed Victualler/27/Brixton, London/Census
1901/Florence Hudson/Wife/30/Notting Hill, London/Census
1901/Chas J Hudson/Daughter/2/Shepherds Bush/Census
1901/Harold M Hudson/Son/9 months/Bethnal Green/Census
1901/Elizabeth Staples/Nursemaid/17/Bloomsbury/Census
1901/Eunice Whitelaw/Housemaid/17/Plaistow, Essex/Census

1906/Chas. A Hudson/../../../Morris' Business Directory of London **

1910/George Cade/../../../Post Office Directory

1911/George William Leigh/Licensed Victualler/43/Bethnal Green, London/Census
1911/Else Adelaide Leigh/Wife/39/Bethnal Green, London/Census
1911/Nora Leigh/Daughter/12/Bethnal Green, London/Census
1911/Desmand Leigh/Son/11/Hoxton, London/Census
1911/Kathleen Leigh/Daughter/9/Walthamstow, Essex/Census
1911/Eileen Leigh/Daughter/8/Mile End, London/Census
1911/Terance Leigh/Son/6/Leyton, Essex/Census
1911/Constance Leigh/Daughter/4/Homerton/Census
1911/Elizabeth Ward/Barmaid/21/Homerton/Census

1915/Chas Wm Martin/../../../Post Office Directory

1921/Edgar Head/../../../Post Office Directory

1938/Harry Rt Clements/../../../Post Office Directory

1944/Mrs Jane A Winn/../../../Post Office Directory

1988 - 90/J E Gardner/../../../Watney Truman publicans list



+ Provided by Friends of Tower Hamlets Cemetery Park

* Provided By Ewan

*+ Provided By Tris

** Provided By Stephen Harris