Search London wiki and Pub wiki history sites
All public house, restaurants, bars etc closed for the forseeable future on 20th March 2020, but this is a history site. But how about the landlords give their tenants a break, no business, then please charge them no rent.
Cow & Calf, 27 & 29 Eastcheap, Billingsgate EC3
Billingsgate pub history index
Existed from at least 1801. The address is 36 Little Eastcheap in 1839 and earlier. * At 36 Eastcheap in 1856. Earlier census for this address are in St Andrew Hubbards. This pub was rebuilt in its present form in 1892, and At 27 & 29 Eastcheap by 1899. In around 1916 it was renamed the Bodega, and continued under that name until at least 1952. The premises are now in retail use. ** The pub was designed by Bird & Walters in the Queen Anne style. ***
Historical London public houses, Taverns, Inns, Beer Houses and Hotels.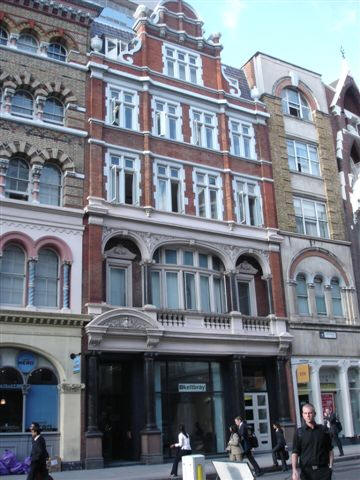 Cow & Calf Tavern, 27-29 Eastcheap, EC3 - in June 2007
Kindly provided by Stephen Harris
Residents at this address.
1801/William Thurland/dealer in spirituous liquors/../../Sun Fire Office records held at the London Metropolitan Archives *

1802/William Thurstand/dealer in spirituous liquors/../../Sun Fire Office records held at the London Metropolitan Archives *

1804/William Thurland/dealer in spirituous liquors/../../Sun Fire Office records held at the London Metropolitan Archives *

1839/Thomas Burrow/../../../Pigots Directory

1841/Thomas Burrow/../../../P.O. Directory **

1844/Luke Bell/../../../Thompsons Directory **

1851/Joseph Irish/../../../Kelly's Directory **

1856/Joseph Irish/../../../Post Office Directory

1861/Elizabeth Irish/Licensed Victualler, Widow/53/Beckenham, Kent/Census
1861/Charlotte Pulham/Barmaid/25/Dorking, Surrey/Census
1861/Ann Pigott/General Servant/22/London/Census
1861/Thomas Pryer/Barman/27/Sutton, Surrey/Census
1861/William Blackburn/Barman/18/Chichester, Surrey/Census

1869/Mrs Elizabeth Irish/../../../Post Office Directory

1871/Felix Estaugh/Barman/22/Bethnal Green, Middlesex/Census
1871/Frederick Barton/Barman/30/St Johns Wood, Middlesex/Census
1871/Elizabeth Dunham/Barmaid/25/Bridport, Dorset/Census
1871/Elizabeth Stemp/General Servant/32/Limehouse, Middlesex/Census

1878/Henry Geo P Irish/../../../Post Office Directory **

1879/Charles Pearce/../../../Post Office Directory **

1881/George Pearce/Licensed Victualler/20/Marylebone/Census
1881/Arthur Pearce/Brother, Licensed Victualler/21/Marylebone/Census
1881/Mary Evans/Barmaid/34/Montgomeryshire/Census
1881/Eleanor Gray/Barmaid/22/Leicester/Census
1881/Emma Nash/General Servant/26/Islington/Census
1881/Charles Walters/Barman/18/Marylebone/Census

1882/Walter Samuel Millis/../../../Post Office Directory

1884/Walter S Millis/../../../Business Directory of London **

1889/Percy A Millis/../../../Post Office Directory **

1894/F F Antiss/../../../City of London Directory **

1895/Anstiss & Parriss/../../../Post Office Directory *

1899/Thomas John Sewell/../../../Post Office Directory

1904/H W Brown & Co/../../../Post Office Directory **

1911/George John Taylor/Manager/32/Newport, Monmouthshire/Census
1911/Helen Ford/Housemaid/26/High Barnet, London/Census
1911/Thomas Albert Hutchinson/Barman/18/Blackfriars, London/Census
1911/Henry Frederick Mathias/Barman/22/Shoreditch, London/Census
1911/Henry James Gardner/Barman/27/Wandsworth, London/Census
1911/William Moses/Barman/23/Whitechapel, London/Census

1915/Fredk Jago/../../../Post Office Directory **

1921/Bodega Co Ltd/../../../Post Office Directory **

1923/Bodega Co Ltd/../../../Post Office Directory **

1926/Bodega Co Ltd/../../../Post Office Directory **

1953/Bodega/../../../Bt Telephone Directory



* Provided By Ewan

** Provided By Stephen Harris

*** Provided By Tris