Search London wiki and Pub wiki history sites
All public house, restaurants, bars etc closed for the forseeable future from 20th March 2020, but this is a history site.
Catherine Wheel Inn, 40 Bishopsgate Street, Bishopsgate EC2
Bishopsgate index
This old coaching inn was certainly present by 1721 - probably earlier. It was demolished in 1911, by which time it was the last surviving galleried coaching inn in the City ** Looking at the 1839 Pigots directory, there appears to be a Catherine Wheel and an Old Catherine Wheel a few doors apart. In the 1841 census, Joseph Burton exists as a publican in Catherine Wheel alley.
Historical London public houses, Taverns, Inns, Beer Houses and Hotels.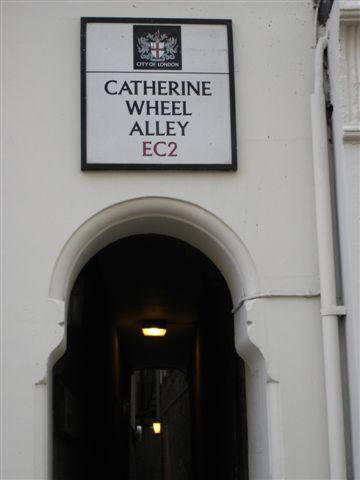 Old Catherine Wheel Inn, 40 Bishopsgate Street Without, although the Pub is gone it is remembered by a roadsign - in December 2006
Kindly provided by Stephen Harris
Residents at this address.
1794/Samuel Ager/../../../Tap)/../../../Proceedings of the Old Bailey **

1809/Joseph Burton / Victualler/../../Sun Fire Office records, held at Guildhall Library **

1814/Joseph Burton / Victualler/../../Sun Fire Office records, held at Guildhall Library **

1819/Joseph Burton / Victualler/../../Sun Fire Office records, held at Guildhall Library **

1821/Joseph Burton / Victualler/../../Sun Fire Office records, held at Guildhall Library **

April 1827/William Sykes/Catherine Wheel, Bishopsgate street without/../../Licensed Victuallers Association

1827/William Sykes/../../../Proceedings of the Old Bailey **

1829/William Walter / Victualler/../../Sun Fire Office records, held at Guildhall Library **

Catherine Wheel, Catherine Wheel alley :

1833-34/Jos Burton, Catherine Wheel, 3 Catherine Wheel alley/../../Pigots Directory

1839/Joseph Burton/Catherine Wheel, 43 Bishopsgate without/../../Pigots Directory

1841/Joseph Burton/Publican/50/../Census
1841/William Burton/../20/Middlesex/Census
1841/Edgar Burton/../15/Middlesex/Census
1841/James Burton/../12/Middlesex/Census
1841/Charles Burton/../10/Middlesex/Census
1841/Agness Burton/../1/Middlesex/Census
1841/Henry Burton/../15/Middlesex/Census
1841/Mary Prossen/Female Servant/20/../Census

1842/J Burton/Catherine Wheel, 43 Bishopsgate without/../../Robsons Directory

1848/William Robins/../../../Post Office Directory

October 1847/William Robins/Outgoing Licensee/../../Era

October 1847/John Lewis/Incoming Licensee/../../Era

May 1850/John Lewis/Outgoing Licensee/../../Era

May 1850/Joseph Rowe/Incoming Licensee/../../Era

1851/Joseph Rowes/Licensed Victualler/32/Shoreditch/Census
1851/Mary Ann Rowes/Wife/26/Shoreditch/Census
1851/Mary A R Rowes/Daughter/3/Bethnal Green/Census
1851/Margaret Roach/Domestic Servant/18/Cork, Ireland/Census
1851/George Whiting/Domestic Servant/26/Shoreditch/Census

1852/Joseph Rowe/../../../Watkins Directory **

Old Catherine Wheel Tavern, 40 Bishopsgate without :

1839/John Geddes/Old Catherine Wheel Tavern, 40 Bishopsgate without/../../Pigots Directory

1841/J Geddes/Old Catherine Wheel Tavern, 40 Bishopsgate without/../../P.O. Directory **

1841/John Geddes/Publican/35/Middlesex/Census
1841/Mary Geddes/../30/Middlesex/Census
1841/Mary Geddes/../7/Middlesex/Census
1841/Elizabeth Painte/Female Servant/20/Middlesex/Census
1841/Hannah Lee/Female Servant/15/Middlesex/Census
1841/George Phillips/Male Servant/15/Middlesex/Census

1843/John Geddes/Old Catherine Wheel Tavern, 40 Bishopsgate without /../../P.O. Directory **

1851/John Alex. Geddes/../../../Kelly's Directory **

1851/John Giddes/Wine Merchant, Licensed Victualler/44/Clerkenwell/Census
1851/Mary Ann Giddes/Wife/40/Norwich, Norfolk/Census
1851/Eliza A Giddes/Daughter/18/Sheerness, kent/Census
1851/Mary A Giddes/Daughter/16/City of London/Census
1851/Catheine Emma Giddes/Daughter/14/Botolph, Bishopsgate/Census
1851/Sarah Cole/Barmaid/19/Botolph, Bishopsgate/Census
1851/Agnes Marshall/Barmaid/21/Ireland/Census
1851/Ann Meyer/Cook/19/Ireland/Census
1851/Mary O'Connor/Housemaid/19/Ireland/Census
1851/William Young/Boots/22/Warwickshire/Census
1851/Isaac Benton/Ostler/67/Ely, Cambridgeshire/Census
1851/Mathew Benton/Ostler/43/Ely/Census
1851/John E Taylor/Visitor, Butcher/57/Burley, Kent/Census
1851/James Walton/Visitor/65/Hepworth, Suffolk/Census

1855/J Geddes/../../../P.O. Directory **

1856/J Geddes/../../../Post Office Directory

John Geddes is listed in Bracknell in the 1861, a wine merchant and father in law.

1861/Mary A Geddes/Victuallers Wife/../Norwich, Norfolk/Census
1861/Mary A Geddes/Daughter/26/London/Census
1861/Catherine E Geddes/Daughter/24/London/Census
1861/?/Niece/19/Ely, Cambridgshire/Census
1861/Elizabeth Baird/Barmaid/20/Chatham, Kent/Census
1861/Emma E Guiva/Barmaid/20/Baddow, Essex/Census
1861/Ann Cocklin/Kitchenmaid/22/Ireland/Census
1861/Caroline E Beech/Housemaid/29/Henham, Essex/Census
1861/William R Hall/Potman/17/Fenstanton, Huntingdon/Census
1861/William Saval/Yardman/22/Thaxted, Essex/Census

1865/J Geddes/../../../P.O. Directory **

1869/J Geddes/../../../Post Office Directory

1871/John Geddes/Catherine Wheel Inn, Widow/64/Stepney, Middlesex/Census
1871/Mary Geddes/Daughter/36/London/Census
1871/Katherine Geddes/Daughter/34/London/Census
1871/Elizabeth Geddes/Daughter/38/Sheerness, Kent/Census
1871/Emily Feltz/Barmaid/19/Haggerston, Middlesex/Census
1871/Mary Berry/Cook/28/Ireland/Census
1871/Margaret Rook/Housemaid/20/Redhill, Surrey/Census
1871/George Frosburg/Potman/22/Chelsea, Middlesex/Census

3 April 1873/The Will of John Geddes late of the "Old Catherine Wheel" Inn 40 Bishopsgate street in the City of London innkeeper and Wine Merchant who died 4 March 1873 at the "Old Catherine Wheel" was proved at the Principal Registry by Charles Edmeades Tolhurst of East Hamstead Villa Bracknell in the County of Berkshire Gentleman Mary Ann Geddes and Catherine Emma Geddes both of the "Old Catherine Wheel" Spinsters the Daughters the Executors. Effects under £5000

1874/L B Crout/../../../Licensed Victualler & Hoteliers Directory

1876/James Benjamin Walker/../../../P.O. Directory **

1878/George Carey/../../../P.O. Directory **

1881/Henry Batchelor/Ostler - Inn/41/Peckham, Surrey/Census
1881/Ellen Jane Batchelor/Wife/39/Paxton, Somerset/Census
1881/Bertha Batchelor/Daughter/10/Stoke Newington, Middlesex/Census
1881/Arthur Batchelor/Son/7/Stoke Newington, Middlesex/Census
1881/Ada Batchelor/Daughter/5/Hackney, Middlesex/Census
1881/Alfred Batchelor/Son/2/Hackney, Middlesex/Census

1881/George Hornsey/Licensed Victuallers Manager/25/Brighton, Sussex/Census
1881/Clara Hornsey/Wife/23/St Pancras, Middlesex/Census
1881/Alfred Barker/Barman/19/Shoreditch, Middlesex/Census
1881/Ann Clarborough/Domestic Servant/45/Holborn, Middlesex/Census
1881/Chas Weller/Lodger, Commercial Traveller/65/Brighton, Sussex/Census

1884/Henry H Finch/../../../Post Office Directory

1886/Joseph D Bouffler/../../../Business Directory of London **

1891/Joseph Bouffler/../../../Post Office Directory **

1893/Henry Hobson Finch/../../../Post Office Directory **


** Provided By Stephen Harris