Search London wiki and Pub wiki history sites
All public house, restaurants, bars etc closed for the forseeable future on 20th March 2020, but this is a history site. But how about the landlords give their tenants a break, no business, then please charge them no rent.
Hoop & Grapes, 14 Widegate Street, Bishopsgate E1
Bishopsgate index
Existed from at least 1805. This pub started life as the Hoop & Grapes and was rebuilt in its present form in 1902 - from that time it took the name of the Kings Stores, under which it is still known today. **
Historical London public houses, Taverns, Inns, Beer Houses and Hotels.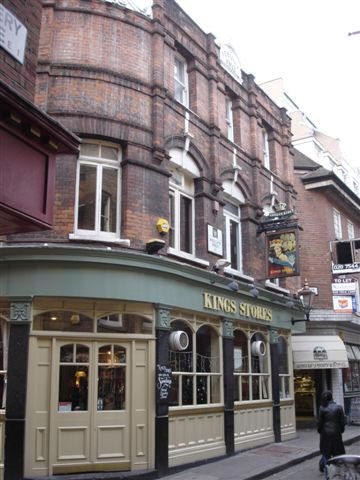 Kings Stores, 14 Widegate Street - in December 2006
Kindly provided by Stephen Harris
Residents at this address.
1805/Eliz Sadler, Hoop and Grapes, Widegate street, Bishopsgate street/../../Holdens Directory

1819/Samuel Hanneford /Victualler/../../Sun Fire Office records, held at Guildhall Library **

1824/John Tomkins /Victualler/../../Sun Fire Office records, held at Guildhall Library **

1825/Mr Tomkins, Hoop and Grapes, Widegate alley, Bishopsgate/../../Licensed Victuallers Association

April 1827/John Tomkins/../../../Licensed Victuallers Association

1830/John Tomkins /Victualler/../../Sun Fire Office records, held at Guildhall Library **

1834/John Tomkins/../../../Licensed Victuallers Association

1839/John Tomkins/../../../Pigots Directory

1842/W Trinnick/../../../Robsons Directory

April 1849/Richard Smith/Outgoing Licensee/../../Era

April 1849/Edward Downing Burton/Incoming Licensee/../../Era

1851/George Kennedy/../../../Kelly's Directory **

July 1853/John Peppiatt/Outgoing Licensee/../../Era

July 1853/Thomas Platt/Incoming Licensee/../../Era

1856/Thomas Platt/../../../Post Office Directory

October 1860/William Padgin/Outgoing Licensee/../../London City Press

October 1860/James Greenacre/Incoming Licensee/../../London City Press

1861/James Greenacre/Victualler, Widow/39/Norwich, Norfolk/Census
1861/Miriam Neale/Sister in Law, Victualler/29/Mumford, Ilford/Census
1861/Louisa Neale/Sister in Law, Victualler/23/Mumford, Ilford/Census
1861/Ann Elmer/General Servant/18/Mumford, Ilford/Census

January 1862/James Greenacre/Outgoing Licensee/../../Era

January 1862/Alfred Evans/Incoming Licensee/../../Era

July 1864/Edwin Sacker/Outgoing Licensee/../../Era

July 1864/Robert Horn/Incoming Licensee/../../Era

1869/Caleb Copley/../../../Post Office Directory

July 1869/Caleb Copley/Outgoing Licensee/../../Era

July 1869/William Emms/Incoming Licensee/../../Era

September 1870/W Emms/Outgoing Licensee/../../London City Press

September 1870/L J Aarons/Incoming Licensee/../../London City Press

1871/John Aaron/Licensed Victualler/46/Gravel lane, City/Census
1871/Abby Aaron/Wife/48/City London/Census
1871/Samuel Aaron/Son, Cigar Maker/18/City London/Census
1871/Barnet Aaron/Son, Cigar Maker/15/City London/Census
1871/Abraham Aaron/Son/12/City London/Census
1871/Richard Morgan/Potman/20/Bethnal Green, Middlesex/Census

1874/J Aaron/../../../LV Directory

1881/George A Banham/Licensed Victualler/31/Inworth, Essex/Census
1881/Blach Banham/Wife/30/Perth, Scotland/Census
1881/John Rochford/Potman/24/England/Census
1881/Martha Thomas/Servant/13/Spitalfields, Middlesex/Census
1881/William S Banham/Son/1//Census

1882/George Alfred Banham/../../../Post Office Directory

1884/George a Banham/../../../Post Office Directory

1888/W H Burden/../../../Post Office Directory **

1891/Peter Morris/../../../Post Office Directory

1893/James A Deller/../../../Post Office Directory **

1895/Anthony Thomas Furse/../../../Post Office Directory

1899/Frank Charles Evans/../../../Post Office Directory

1902/Arthur Robert Evans/../../../Post Office Directory **

1902/Edgar F Musgrove/../../../Post Office Directory **



** Provided By Stephen Harris