Search London wiki and Pub wiki history sites
All public house, restaurants, bars etc closed for the forseeable future from 20th March 2020, but this is a history site.
Kings Arms, Bishopsgate Churchyard,Bishopsgate EC2
Bishopsgate index
Existed from at least 1769. Address originally given as 'Bishopsgate Churchyard'. In its rebuilt form at the foot of a modern office block this pub has the address 27 Wormwood Street, although it still backs on to Bishopsgate Churchyard. This pub was rebuilt in its present form in 1972. **
Historical London public houses, Taverns, Inns, Beer Houses and Hotels.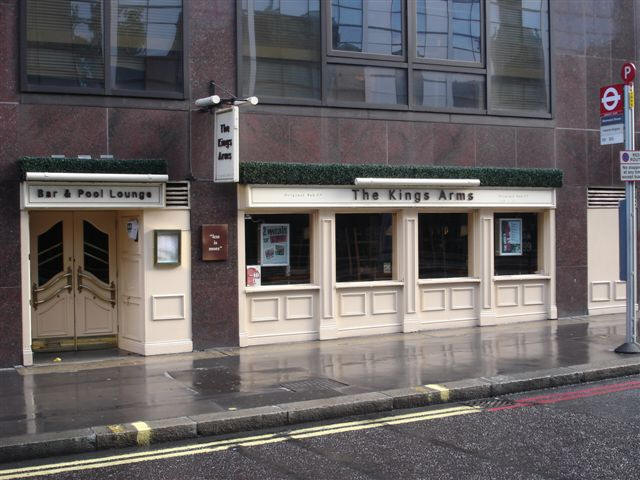 King's Arms, 27 Wormwood Street, EC2 - in September 2006
Kindly provided by Stephen Harris
Residents at this address.
1769/Benjamin Marshall/../../../Proceedings of the Old Bailey **

1803/Thomas Maryatt /Victualler/../../Sun Fire Office records, held at Guildhall Library **

1825/Mr Lee/../../../Licensed Victuallers Association

1833-34/William Lee, Kings Arms, Bishopsgate church yard/../../Pipots Directory **

1839/James Smith/../../../Pipots Directory **

1841/James Smith/../../../Post Office Directory **

1843/Sarah Golding (Miss), Kings Arms, Bishopsgate church yard /../../Kellys Directory

1848/Edward Cropley/../../../Post Office Directory

1851/Edward Cropley/../../../Post Office Directory

1851/Edward Cropley/Licensed Victualler/58/Soham, Cambridge/Census
1851/Christiana Cropley/Wife/50/St Lukes, Middlesex/Census
1851/Sarah Cropley/Daughter/10/Aldgate, Middlesex/Census
1851/Ann Cropley/Daughter/4/Hackney, Middlesex/Census
1851/Elizabeth Stopton/Visitor, Wife of Wharfinger/36/Putney, Surrey/Census
1851/Frederick Bacon/Visitor, Traveller/32/Suffolk/Census
1851/Frederick Bailey/Potman/24/Middlesex/Census
1851/John Fuller/Visitor/16/Middlesex/Census
1851/Mary Banyard/House Servant/21/Suffolk/Census
1851/Thomas Becket/Lodger, Surgical Instrument Maker/23/Barnes, Surrey/Census
1851/Charles Finch/Lodger, House Painter/22/Cottenham, Cambridge/Census
1851/Robt Gerold/Lodger, Barristers Clerk/24/Cambridge/Census
1851/George Masters/Lodger, Grocers Shopman/22/Bowlsey, Norfolk/Census
1851/Robert Hagreen/Lodger, Baker/24/Cambridge/Census
1851/Robert Clements/Lodger, House Painter/21/Soham, Cambridge/Census

1856/Richard Felton/../../../Post Office Directory

1861/Richard Felton/Licensed Victualler/49/Bridgnorth, Shropshire/Census
1861/Amelia Felton/Wife/26/Northamptonshire/Census
1861/Sarah Matheson/Visitor, Widow/54/St Georges, Middlesex/Census
1861/Elizabth Latham/Visitor/18/Folkestone, Kent/Census
1861/Mary A Leighton/Cook/22/Lincolnshire/Census
1861/Georga Shipman/Pot Boy/31/Hoxton, Middlesex/Census

July 1861/Richard Felton/Outgoing Licensee/../../London City Press

July 1861/James Wake/Incoming Licensee/../../London City Press

May 1863/James Blake/Outgoing Licensee/../../London City Press

May 1863/Richard Gully Amos/Incoming Licensee/../../London City Press

1869/Richard Gully Amos/../../../Post Office Directory

1871/Richard Amos/Licensed Victualler/34/Daynton, Gloucestershire/Census
1871/Louisa Amos/Wife/35/Buston, St Georges/Census
1871/Naomin Dunham/Barmaid/23/Spilsby, Lincolnshire/Census
1871/Emily Silverlock/Cook/24/Bethnal Green, Middlesex/Census
1871/Emma Young/Housemaid/29/Ross, Herefordshire/Census
1871/William Selfe/Potmsn/36/Godstone, Surrey/Census

1891/Thomas Norton/../../../Planning Documents held at Corporation of London Records Office **

1893/T Norton & Son/../../../Post Office Directory **

1894/Norton & Son/../../../City of London Directory **

1899/H W Brown & Co/../../../Post Office Directory **

1902/H W Brown & Co/../../../Post Office Directory **

1921/H W Brown & Co/../../../Post Office Directory **

1927/Bradings Ltd/../../../Post Office Directory

1938/Frank Daltrey/../../../Post Office Directory **

1944/Mrs M Daltrey/../../../Post Office Directory **



** Provided By Stephen Harris