Search London wiki and Pub wiki history sites
All public house, restaurants, bars etc closed for the forseeable future from 20th March 2020, but this is a history site.
Ship, 14 Artillery lane, Bishopsgate E1
Bishopsgate index
Existed from at least 1790. This pub was known as the Ship from at least 1851 and was renamed 'Williams' in around 1980. The address is at 24 Artillery lane by at least the 1911 census. **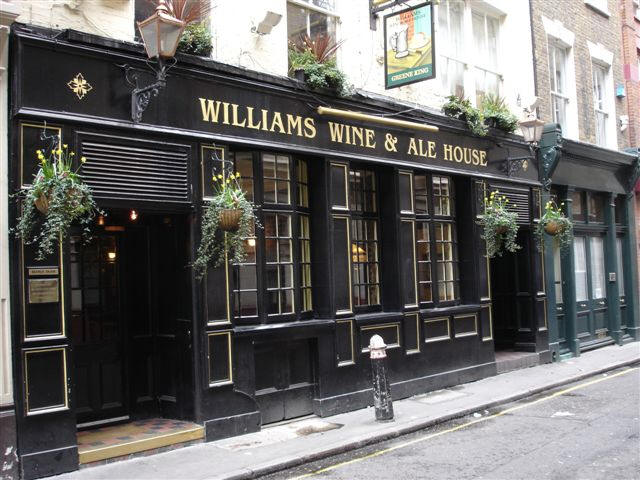 Williams Wine & Ale House, 22 & 24 Artillery Lane
Kindly provided by Stephen Harris
Historical London public houses, Taverns, Inns, Beer Houses and Hotels.
Residents at this address.
1790/Thomas Eve/../../../Proceedings of the Old Bailey **

April 1827/Mrs Wood/../../../Licensed Victuallers Association

1832/D Wood, Ship, 14 Artillery lane/../../Robsons Directory

1833-34/Dinah Wood/../../../Pigots Directory

1839/Dinah Wood/../../../Pigots Directory

1841/Mrs Dinah Wood/../../../P.O. Directory **

1842/Mrs Dinah Wood/../../../Robsons Directory

1844/Mrs D Wood/../../../Post Office Directory

1845/J T Glazier/../../../Post Office Directory

July 1849/William Robins/Outgoing Licensee/../../Era Newspaper

July 1849/William Gibson/Incoming Licensee/../../Era Newspaper

In the 1841 census, Samuel East is the victualler at the Crown & Sceptre, 22 Old Change.

1851/Samuel East/../../../Kellys Directory

1851/Harriet East/Publican/62/Suffolk/Census *
1851/William R Piper/Servant/44/Surrey/Census

Harriet's husband Samuel was in the Debtor's Prison in Whitecross Street. In his bankruptcy hearing of 9 Jan 1852 Samuel was cited as having been of "The Ship", Artillery Lane. *
In the 1851 census, listed in the District Debtors Prison, Whitecross Street, St Giles Cripplegate, is :
Samuel East, prisoner, married, 61, licensed victualler, Lavenham Suffolk

1852/George Prentice/../../../Watkin's Directory **

In 1853, James Samuel Williams, Inn Keeper, aged 26, of 13 & 14 Artillery lane marries Elizabeth Harris Barth, aged 20, at St Boto0lph Bishopsgate

1854/James S Williams/../../../Post Office Directory

1856/James Sam Williams/../../../Post Office Directory

1861/James Samuel Williams/Licensed Victualler/34/London/Census
1861/Eliz Williams/Wife/27/London/Census
1861/Frances George Williams/Son/1/London/Census
1861/Anna Maria Williams/Mother/67/London/Census
1861/George Cornwall/Barman/22/Isleham, Cambridgeshire/Census
1861/William Laraham/Barman/32/Shoreditch/Census
1861/Robert Catlin/Barman/19/Hemel Hempstead, Hertfordshire/Census
1861/Fanny Knightsbridge/House Servant/21/Moulson, Essex/Census

1869/Jas Samuel Williams & Son/Wine Merchant/../../Post Office Directory

1874/J S Williams/Ship, Artillery lane/../../Licensed Victualler & Hotelier Directory

1877/James Samuel Williams & Son/Wine Merchant/../../Post Office Directory

1881/William H Sneth/Licensed Victualler/28/Bletchley, Buckingham/Census
1881/Sarah M Sneth/Wife/25/Clerkenwell, Middlesex/Census
1881/George Sneth/Brother, Barman/22/Bletchley, Buckingham/Census
1881/Henry White/Barman/18/Sutton, Surrey/Census
1881/Charles Wiggins/Barman/18/Sydenham, Kent/Census

1882/James, Samuel Williams & Son/Wine Merchants/../../Post Office Directory

1889/James Williams & Son, wine merchants, 14 Artillery lane/../../Post Office Directory

In the 1911 census, James Williams, a wine & spirit merchant, aged 84, is living at a private address with an extended family at 11 Springfield, Upper Clapton, Hackney; and in 1891 he is already at a private address at 39 Downs road, Hackney

1914, James Samuel Williams of 14 Artillery lane Bishopsgate street London and 26 Stanhope road Highgate Middlesex died 15 March 1914 at 26 Stanhope road Probate London 8 April to Annie Williams widow. Effects £24635 14s 2d.

1930/James Samuel Williams & Son, wine merchants, 22 & 24 Artillery lane E1/../../Post Office Directory

1936/Levy & Franks Ltd, The Ship, 22 & 24 Artillery lane E1/../../Post Office Directory

1940/Henry J Hicks, Ship, 22 & 24 Artillery lane E1/../../Post Office Directory

1944/Rt Fras Borrow, Ship, 22 & 24 Artillery lane E1/../../Post Office Directory

1983/../Williams, 22 & 24 Artillery lane E1 : Whitbreads. Used to be called 'The Ship'. Recreated Georgian style wine & ale pub with beamed ceiling and wall/../../Pub Directory



* Provided By Ken Ripper

** Provided By Stephen Harris