Search London wiki and Pub wiki history sites
All public house, restaurants, bars etc closed for the forseeable future from 20th March 2020, but this is a history site.
Bombay Grab, 246 Bow Road, Bow E3
Bow pubs history index
This pub was established by 1805. It was probably rebuilt in its current form in 1933 and it closed in 1992, since when it has been in use as a mosque. Address is at 49 Bow High Street in 1871 and earlier. **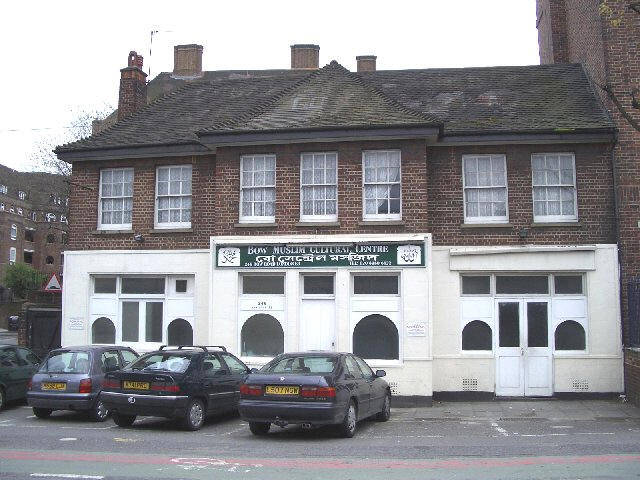 The Bombay Grab, in recent years
Kindly provided by Philip Mernick
Historical London public houses, Taverns, Inns, Beer Houses and Hotels.
Residents at this address.
1805/Elin Adams, Bombay Grab, Bow bridge, Middlesex/../../Holden's Directory *

1826/James Culyer/../../../Pigots Directory

1833-34/James Culyer/../../../Pigots Directory

1836/James Culyer, Bombay Grab, High street, Bow/../../Pigots Directory

1838/Robert Hall / Victualler /../../Sun Fire Office records, held at Guildhall Library **

1841/Robert Ambrose Hall/../../../Post Office Directory

1843/Richard Ridler/../../../Post Office Directory *

1848/Isaac Harris/../../../Post Office Directory

1851/Isaac Harris/../../../Kellys Directory

1851/Isaac Harris/Licensed Victualler/57/Writtle, Essex/Census
1851/Louisa W Harris/Wife/51/Writtle, Essex/Census
1851/Liberal Harris/Son/13/Writtle, Essex/Census
1851/William Harris/Son/11/Writtle, Essex/Census
1851/Emily Harris/Daughter/8/Writtle, Essex/Census
1851/Emma Crush/Barmaid/25/Writtle, Essex/Census
1851/Simon Alridge/Potboy/14/Good Easter, Essex/Census

1856/Isaac Harris/../../../Post Office Directory

1861/Isaac Harris / Head / 67 / Victualler / Writtle, Essex /census **
1861/Louisa Harris / Wife / 61 / / Writtle, Essex /census
1861/Liberal Harris / Son / 23 / / Writtle, Essex /census
1861/William Harris / Son / 21 / Chemist / Writtle, Essex /census
1861/Eliza Millichamp / Daughter / 21 / Gentlewoman / Pimlico, Middlesex /census
1861/Emily Harris / Daughter / 18 / / Writtle, Essex /census
1861/Emma Crush / / 35 / Bar Maid / Writtle, Essex /census
1861/William Hayter / / 26 / Pot Man / Portsmouth, Hampshire /census

1862/Isaac Harris/../../../P.O. Directory **

1869/L Harris/../../../Post Office Directory

July 1870/Liberal Harris/Outgoing Licensee/../../East London Observer

July 1870/William Harris/Incoming Licensee/../../East London Observer

1871/William Harris/Licensed Victualler/31/Writtle, Essex/Census
1871/Mary Ann Harris/Wife/28/Hackney, Middlesex/Census
1871/Emily Louisa Harris/Daughter/3/Stratford, Essex/Census
1871/Catherine Hawksworth/Wifes Sister/18/Whitechapel, Middlesex/Census
1871/Lavina White/Barmaid/28/Edmonton, Middlesex/Census
1871/Mary Pipkin/Servant/20/Stock, Essex/Census
1871/Arthur Smith/Potman/21/Cambrige/Census

October 1872/William Harris/Outgoing Licensee/../../East London Observer

October 1872/Thomas Renwick/Incoming Licensee/../../East London Observer

1881/Robert Tate Barrett/Licensed Victuallers Manager/44/Walworth, Surrey/Census
1881/Harriet Dunbar Barrett/Wife/39/Belper, Derby,/Census
1881/Arabella Dunbar Barrett/Daughter/15/Harwich, Essex/Census
1881/Edward Biles Barrett/Nephew/8/Bow, Middlesex/Census
1881/Sarah Barrett/Aunt, Widow/62/Islington, Middlesex/Census

1882/Robert Barrett/../../../Post Office Directory

1884/Thomas Catlin/../../../Post Office Directory

1886/James P Rising/../../../Business Directory of London **

1891/Alfred Cakebread/../../../Post Office Directory

1891/Alfred Cakebread/Publican/45/London/Census
1891/A A Cakebread/Wife/38/Staffordshire/Census
1891/A Cakebread/Son/2/London/Census
1891/A A Cakebread/Daughter/10 months/London/Census
1891/W Watson/Barman/23/London/Census
1891/J Brad/Potman/30/London/Census
1891/R Carter/Barmaid/18/London/Census
1891/E Payne/General Servant/22/Suffolk/Census

15th August 1891/Alfred Cakebread/Outgoing Licensee/../../East London Observer +

15th August 1891/Charles Frederick Young/Incoming Licensee/../../East London Observer +

1892/Charles Young/../../../P.O. Directory **

1895/Charles Frederick Young/../../../Post Office Directory *

1899/George Peter Hans/../../../Post Office Directory

1901/George P Hans/Inn Keeper/38/Walthamstow, Essex/Census
1901/Rosina B Hans/Wife/40/Colchester, Essex/Census
1901/Dorothy E P Hans/Daughter/7/Poplar, London/Census
1901/George P Hans/Son/4/Poplar, London/Census
1901/Edith S Blatch/General Servant/29/Colchester, Essex/Census
1901/Florence M Knight/General Servant/17/Plaistow, Essex/Census
1901/Robert Gastel/Barman/27/Bow, London/Census
1901/Alba G Mumford/Barmaid/23/Ongar, Essex/Census

1910/George Peter Hans/../../../Post Office Directory *

1915/William Shakespeare/../../../Post Office Directory

1917/William Shakespeare/../../../P.O. Directory **

1921/William Shakespeare/../../../Hughes Directory

1926/William Shakespeare/../../../P.O. Directory **

1934/William Shakespeare/../../../Kelly's

1935/William Shakespeare /../../../P.O. Directory **

1938/Donald A Phillips/../../../Post Office Directory

1940/Donald A. Phillips/../../../Post Office Directory *

1942/James C. Lane/../../../Post Office Directory *

1944/James C Lane/../../../Post Office Directory



+ Provided by Friends of Tower Hamlets Cemetery Park

* Provided By Ewan

** Provided By Stephen Harris