Search London wiki and Pub wiki history sites
All public house, restaurants, bars etc closed for the forseeable future from 20th March 2020, but this is a history site.
John Bull, 490 Roman road, Bow E3
Bow pubs history index
Existed from at least 1848. The address is at 200 & 202 Roman Road by 1910, and at 490 Roman Road by 1942, following street renumbering. *
Historical London public houses, Taverns, Inns, Beer Houses and Hotels.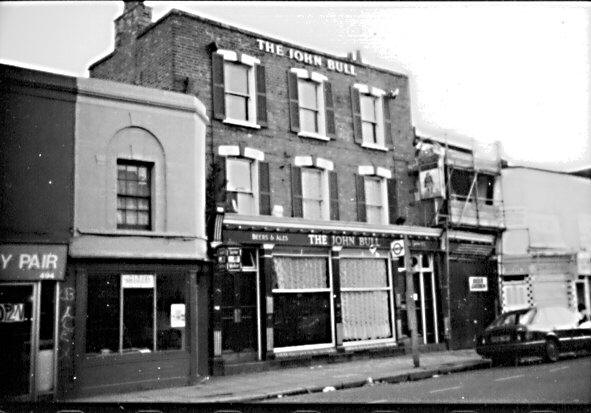 John Bull, 490 Roman Road, E3 - in 1987
From the Archives of East London & City CAMRA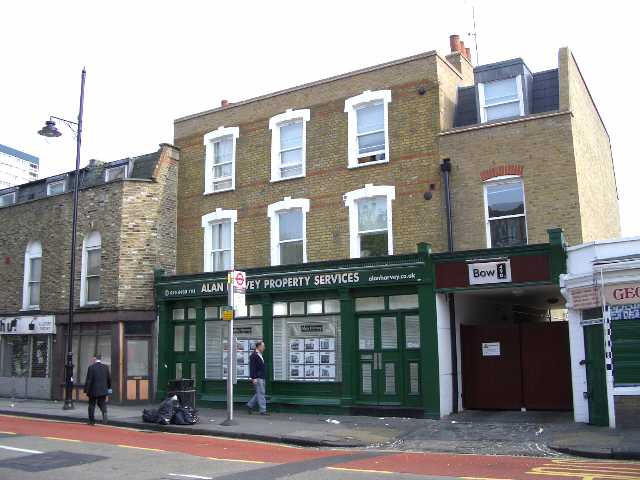 John Bull, in recent years
Kindly provided by Philip Mernick
Residents at this address.
1848/Richard H. Hammond/../../../Post Office Directory *

1850/R H Hammond/../../../P.O. Directory **

1851/Richard H Hammond/../../../Kelly's Directory **

1851/Richard H Hammond/Licensed Victualler/53/Cambridgeshire/Census
1851/Bethia Hammond/Wife/42/Southwark, Surrey/Census
1851/Rd Holmes Hammond/Son/5/Bethnal Green, Middlesex/Census
1851/Bethia Harriet Hammond/Daughter/3/Old Ford, Middlesex/Census
1851/Sarah/House Servant/16/Hackney, Middlesex/Census
1851/Samuel Shepherd/Pot Boy/30/Middlesex/Census
1851/L R Grening/Visitor, Sadler/21/Walworth, Surrey/Census

1856/Richard Holmes Hammond/../../../Post Office Directory

1860/Richard Holmes Hammond/../../../Post Office Directory **

2nd July 1860/Richard Hammond/Outgoing Licensee/../../East London Observer +

2nd July 1860/John Coe/Incoming Licensee/../../East London Observer +

1861/John Coe/Victualler/35/Bethnal Green, Middlesex/Census ***
1861/Jane Coe/Wife/28/Shoreditch, Middlesex/Census
1861/Henry Fenton/Servant/28/Paddington, Middlesex/Census
1861/Mary Lilly/Lodger/30/Shoreditch, Middlesex/Census
1861/Mary Lilly/Daughter/1/Shoreditch, Middlesex/Census

November 1864/John Bellet/Outgoing Licensee/../../East London Observer

November 1864/Thomas Coombs/Incoming Licensee/../../East London Observer

May 1865/Thomas Coombs/Outgoing Licensee/../../Era

May 1865/Henry Bales/Incoming Licensee/../../Era

November 1865/Henry Wales/Outgoing Licensee/../../Era

November 1865/Samuel Price/Incoming Licensee/../../Era

29th September 1866/Samuel Price/Outgoing Licensee/../../East London Observer +

29th September 1866/Thomas Coombs/Incoming Licensee/../../East London Observer +

26th January 1867/Thomas Coombs/Outgoing Licensee/../../East London Observer +

26th January 1867/Thomas Hatchard/Incoming Licensee/../../East London Observer +

1869/Thomas Hatchard/../../../Post Office Directory

1871/Thomas Hatchard/Licensed Victualler/49/Dorsetshire/Census ***
1871/Margaret Hatchard/Wife/48/St Georges, Middlesex/Census
1871/Susan Day/Niece/20/Dorsetshire/Census
1871/Charlotte Hagan/Servant/25/Poplar, Middlesex/Census

1872/Thomas Hatchard/../../../Post Office Directory **

1874/T. Hatchard/../../../Licensed Victuallers and Hotel Keepers Directory *

1875/Thomas Hatchard/../../../Post Office Directory **

July 1877/Thomas Hatchard/Outgoing Licensee/../../East London Observer

July 1877/Henry Hawkes/Incoming Licensee/../../East London Observer

1879/Ambrose Morley/../../../Post Office Directory **

1881/Ambrose Morley/Licensed Victualler/35/Bethnal Green, Middlesex/Census
1881/Louisa Morley/Sister, Assistant in Bar/38/Bethnal Green, Middlesex/Census
1881/Alice Morley/Sister, Assistant in Bar/36/Bethnal Green, Middlesex/Census

1882/Ambrose Morley/../../../Post Office Directory *

1884/Ambrose Morley/../../../Post Office Directory

1891/Henry Cox & Co/../../../Post Office Directory

1891/Robert Coombs/Publicans Manager/21//Census
1891/Alice Coombs/Wife/21//Census
1891/Caroline Neunig??/Mother, House Keeper, Widow/44/Norwich, Norfolk/Census
1891/Harry Coringe/Barman/22/Millwall, London/Census
1891/George Knapp/Barman/13/Maidstone, Kent/Census
1891/Harry Couchman/Barman/15/West London/Census
1891/William Hendy/Barman/17/Old Ford, London/Census
1891/Samuel Last/Barman/23/Plaistow, Essex/Census
1891/William Yawson/Potman/23/St Georges E, London/Census

1895/Henry Cox & Co/../../../Post Office Directory

1901/John Daly/Licensed Victualler/34/Lambeth/Census
1901/Lucy Daly/Wife/33/Bow, London/Census
1901/John Daly/Son/3/Brockley, Deptford/Census
1901/Florence Greenstreet/Step Daughter/11/Brixton, London/Census
1901/Henry Heffer/Boarder, Barman/35/Brixton, London/Census
1901/Emily Heffer/Domestic Servant/35/Chislehurst, Kent/Census
1901/Jeanette Taylor/Barmaid/28/Bankside/Census
1901/John Brown/Potman/20/Whitechapel, London/Census

1906/Henry Coward Warth Emery/../../../Post Office Directory *

1910/Michael Charles Evans/../../../Post Office Directory

1915/Isaac Mandola Henrique/../../../Post Office Directory

1921/Thomas Henry Parnham/../../../Post Office Directory *

1923/Thomas Henry Parnham/../../../Post Office Directory **

1927/Thomas Henry Parnham/../../../Post Office Directory *

1934/William Robert Sewell/../../../Post Office Directory *

1938/William Rt Sewell/../../../Post Office Directory

1940/William Robert Sewell/../../../Post Office Directory **

1941/William Robert Sewell/../../../Post Office Directory **

1942/William Robert Sewell/../../../Post Office Directory *

1944/William Rt Sewell/../../../Post Office Directory



+ Provided by Friends of Tower Hamlets Cemetery Park

* Provided By Ewan

** Provided By Stephen Harris

*** Provided By Chris Trendall