Lord Cardigan, 112 Anglo road Road, Bow E3
Bow pubs history index
Existed from at least 1863. At Cardigan road, Old Ford in 1869; 15 Cardigan Road in 1901 census; The address is at 72 Eglinton Road by 1915 (the intersecting road with Cardigan Road), which becomes 112 Saxon Road by 1938 following street renaming. The later address is at 112 Anglo Road, and the modern name is the Green Goose.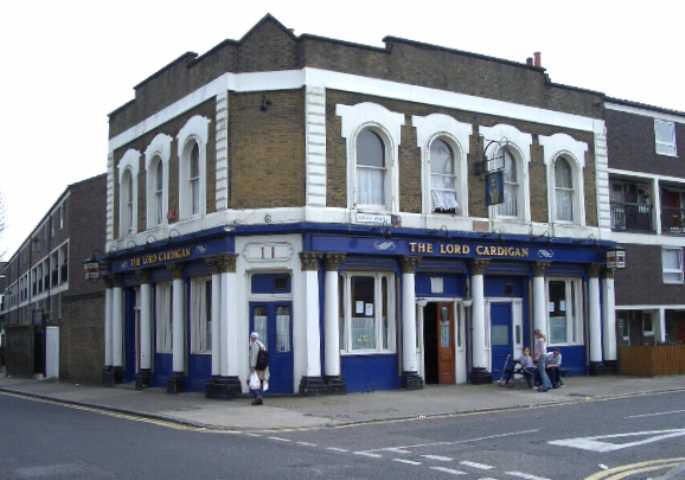 Lord Cardigan, in recent years
Kindly provided by Philip Mernick
Historical London public houses, Taverns, Inns, Beer Houses and Hotels.
Residents at this address.
July 1863/Robert Raynham/Outgoing Licensee/../../Era

July 1863/Richard Bryant/Incoming Licensee/../../Era

1869/R Bryant/../../../Post Office Directory

1871/Richard Bryant/Licensed Victualler/43/Cornwall/Census
1871/Elizabeth Bryant/Wife/41/Cornwall/Census
1871/Mary Bryant/Daughter, Barmaid/14/Bow, Middlesex/Census

January 1874/Richard Bryant/Outgoing Licensee/../../East London Observer

January 1874/Frank Jones/Incoming Licensee/../../East London Observer

January 1877/Frank Jones, deceased/Outgoing Licensee/../../East London Observer

January 1877/Martha Mary Jones, widow and executrix of Frank Jones/Incoming Licensee/../../East London Observer

1881/Martha M Jones/Licensed Victualler, Widow/35/Eltham, Kent/Census
1881/Martha M Jones/Daughter/5/Bow, Middlesex/Census
1881/Harriett Martin/Sister/37/Eysford, Kent/Census
1881/Emma Martin/Sister/29/Eltham, Kent/Census
1881/Hannah Martin/Sister/19/../Census
1881/Elizabeth Keddle/General Servant/20/London, Middlesex/Census
1881/John Marshall/Potman/18/Stepney, Middlesex/Census

1882/Mrs Martha Mary Jones/../../../Post Office Directory

1884/Martha M Jones/../../../Post Office Directory

1891/Mrs Martha Mary Jones/../../../Post Office Directory

1895/Mrs Martha Mary Jones/../../../Post Office Directory

1899/Mrs Martha Mary Jones/../../../Post Office Directory

1901/Martha Jones/Victualler, Widow/55/Eltham, Kent/Census
1901/Harriet Martin/Sister, Barmaid/58/Eynsford, Kent/Census
1901/Fanny Martin/Sister, Barmaid/53/Eltham, Kent/Census
1901/Martha Jones/Daughter, Barmaid/25/Bow, London/Census
1901/Robert Robinson/Visitor, Drapers Assistant/28/Woolwich, London/Census
1901/Elizabeth Birch/Barmaid/28/Halstead, Essex/Census
1901/Caroline Cross/Barmaid/22/Clapton, London/Census
1901/Jane Ash/General Servant/21/Bow, London/Census
1901/William Graham/Barman/22/Stepney, London/Census

1906/Mrs Martha Mary Jones/../../../Post Office Directory *

1910/Mrs Martha Mary Robinson/../../../Post Office Directory *

1915/Mrs Martha Mary Robinson/../../../Post Office Directory

1921/Joseph Mudge/../../../Post Office Directory *

1927/Frederick Knott/../../../Post Office Directory *

1934/Frederick Knott/../../../Kelly's

1938/Frederick Knott/../../../Post Office Directory **

1940/Frederick Knott/../../../Post Office Directory *

1944/Frederick Knott/../../../Post Office Directory