Railway Arms / Iceland, 421 Wick Lane, London,E3 2JG
Bow pubs history index
Existed from at least 1869. In 1899, and by using a street directory for 1921 it is clear that the earlier address of 421 Old Ford road is at the junction with Iceland road. The address is latterly 421 Wick lane, and the Railway Arms is renamed the Iceland by 1983. It is still trading in 2018.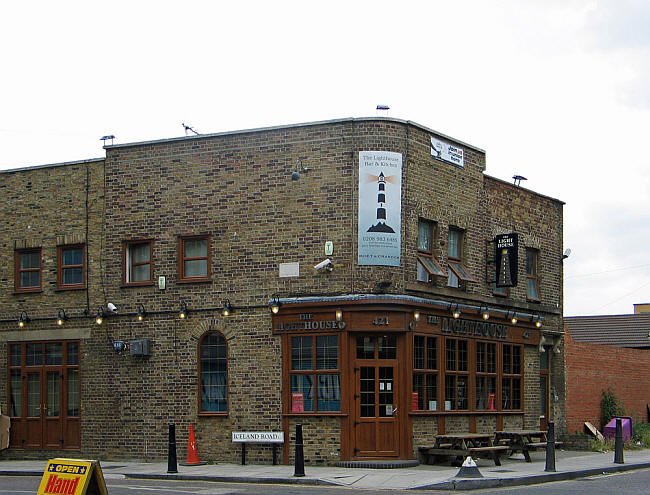 Railway Arms / Iceland, 421 Wick Lane, London,E3 2JG - in June 2014
Kindly provided by Tris
Historical London public houses, Taverns, Inns, Beer Houses and Hotels.
Residents at this address.
1869/John Freshwater/Beer Retailer/../../Post Office Directory

1871/William Johnson/Beer Retailer/../../Post Office Directory

1871/William Johnson/Ale House Keeper/48/Stratford, essex/Census
1871/Eliza Johnson/Wife/44/St Georges in East, Middlesex/Census
1871/Alfred Johnson/Son, Lighterman/19/St Georges in East, Middlesex/Census
1871/Elizabeth Johnson/Daughter/22/Bow, Middlesex/Census
1871/David Frederick Johnson/Son/15/Bow, Middlesex/Census
1871/William Edward Johnson/Son/13/Bow, Middlesex/Census
1871/Alice Frances Johnson/Daughter/9/Bow, Middlesex/Census

1879/Adolphus Paxman/Beer Retailer/../../P.O. Directory **

1881/Adolphus Paxman/Beer Retailer/43/Spitalfeilds, Middlesex/Census
1881/Elizabeth Paxman/Wife/43/Holmworthy, Devon/Census
1881/Percy Bebb/Son In Law/19/Islington, Middlesex/Census

1882/Adolphus Paxman/Beer Retailer/../../Post Office Directory

1891/William Thomas Forrow/beer retailer/../../Post Office Directory *

1894/Fras. Forrow/Beer Retailer/../../P.O. Directory **

1895/John Wilkinson/beer retailer/../../Post Office Directory *

1899/John Wilkinson/Beer Retailer/../../P.O. Directory

1901/Bernard E Wilkinson/Licensed Victualler/28/Old Ford, London/Census
1901/Alice L wilkinson/Wife/25/Mile End, London/Census

1907/George Stevens/Beer Retailer/../../P.O. Directory **

1911/Frederick Houghton/Publican/42/Springfield, Essex/Census
1911/Mary Houghton/Wife, Assistant/43/Hornchurch, Essex/Census
1911/Frederick Houghton/Son, Cabinet Maker/20/Dagenham, Essex/Census
1911/Ethel Houghton/Daughter, Box Maker/15/Dagenham, Essex/Census
1911/Lily Houghton/Daughter/13/Dagenham, Essex/Census
1911/Samuel Baker/Father in Law, Potman, Widow/68/Navestock, Essex/Census

1914/Frederick Francis Houghton/beer retailer/../../Post Office Directory *

1915/William Rayner/beer retailer/../../Post Office Directory *

1921/George Bowra/Beer Retailer/../../Post Office Directory

1923/William Richd. Light/Beer Retailer/../../P.O. Directory **

1924/Carlo Albert Bassi/Beer Retailer/../../P.O. Directory **

1934/David Owen Fray/beer retailer/../../Post Office Directory *

1938/Rt John Fairbairn/Beer Retailer/../../Post Office Directory

1942/Robert John Fairbarn/beer retailer/../../Post Office Directory *

1944/Rt John Fairbairn/Beer Retailer/../../Post Office Directory

1971/../Railway Arms,421 Old Ford Road,,E3 /../../Pub Directory

1983/../Iceland: 421 Wick Lane E3 : Watneys. /../../Pub Directory

1988/Mrs Scanlon/Iceland 421 Wick Lane, Old Ford, Bow,E3,/../../Pub Directory

1990/Mrs Scanlon/Iceland 421 Wick Lane, Old Ford, Bow,E3,/../../Pub Directory

1991/../ICELAND: 421 Wick Lane. E3 : Grand Met-Watneys. /../../Pub Directory


* Provided By Ewan

** Provided By Stephen Harris