Search London wiki and Pub wiki history sites
All public house, restaurants, bars etc closed for the forseeable future from 20th March 2020, but this is a history site.
White Horse, 163 Roman Road, Bow E3
Bow pubs history index
Existed from at least 1869. At 167 Roman Road by 1921, & 473 Roman Road by 1944, always on the corner of Ford Street. This pub closed in 2005 and is now a fast food outlet (2006). At the time of closure it had been trading as the Lounge Bar **
Historical London public houses, Taverns, Inns, Beer Houses and Hotels.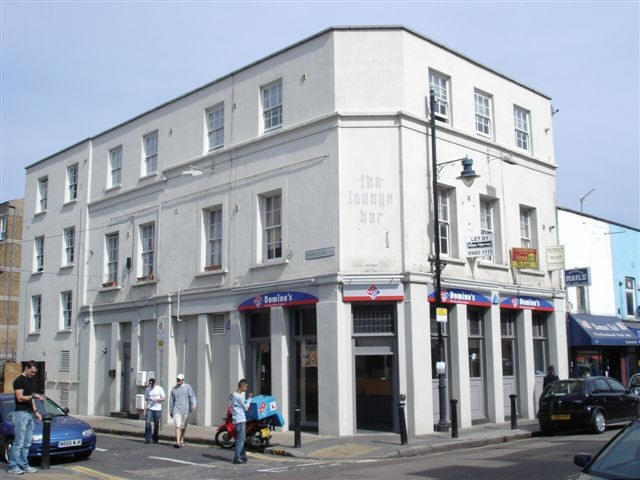 White Horse, 473 Roman Road - in September 2006
Kindly provided by Stephen Harris
Residents at this address.
1869/William Veale/../../../Post Office Directory

August 1869/William Veale/Outgoing Licensee/../../Era

August 1869/George Hillyer/Incoming Licensee/../../Era

1871/George Hillyer/Licensed Victualler/42/Warendon, Buckinghamshire/Census
1871/Mary Ann Hillyer/Wife/34/Brecon/Census
1871/Mary Ann Hillyer/Daughter/6/Clerkenwell, Middlesex/Census
1871/George Hillyer/Son/4/Clerkenwell, Middlesex/Census
1871/Laura Minsall/Barmaid/39/Barley, Hampshire/Census
1871/Emma Spiller/General Servant/32/White Roothing, Essex/Census

1872/George Hillyer/../../../Post Office Directory

1875/George Hillyer/../../../Post Office Directory

1879/George Hillyer/../../../Post Office Directory

1881/George Hillyear/Publican/50/Warrender, Bucks/Census
1881/Marianna Hillyear/Daughter/15/Holborn, Middlesex/Census
1881/George Hillyear/Son/13/Holborn, Middlesex/Census
1881/Alice Row/Domestic Servant/29/Bow, Middlesex/Census
1881/Laura Hendry/Barmaid/18/Bow, Middlesex/Census
1881/Ellen Cook/Barmaid/24/Norfolk/Census

1882/George Hillyer/../../../Post Office Directory

1884/George Hillyer/../../../Post Office Directory

1891/James Hodge/../../../Post Office Directory

1891/James Aylott/Public House Manager/31/Poplar/Census *
1891/Emma Aylott/Wife/29/Poplar/Census
1891/James Aylott/Son/8/Millwall/Census
1891/John Aylott/Son/1/Old Ford Road, London/Census
1891/William Botting/Barman/19/Peckham/Census
1891/Francis W. Ewan/Barman/18/City, London/Census
1891/Albert Hooper/Barman/18/City Road, London/Census
1891/Harriett Tapp/Servant/18/Old Ford/Census
1891/Mary Ireland/Servant/16/Stepney/Census

1894/James Hodge (Exors of)/../../../Post Office Directory **

1895/James Hodge (executors of)/../../../Post Office Directory *

1899/William Thomas Hooper/../../../Post Office Directory **

1900/William Thomas Hooper/../../../Post Office Directory **

1901/Joseph Johnson/Manager (Public House)/55/Bishopsgate Street, London/Census
1901/Emily Johnson/Wife, Manageress/35/Mile End, London/Census
1901/Emily Johnson/Daughter, Barmaid/16/Leyton, Essex/Census
1901/Joseph St Johnson/Son/7/Bow, London/Census
1901/Emily Olney/Barmaid/17/Bethnal Green, London/Census
1901/Annie sullivan/Domestic Servant/36/Poplar, London/Census

1906/George Hughes/../../../Post Office Directory *

1910/Jacob Musaphia/../../../Post Office Directory

1914/Jacob Musaphia/../../../Post Office Directory

1915/Jacob Musaphia/../../../Post Office Directory

1921/Bert Robertson/../../../Post Office Directory

1923/Jn Edward Beckwith/../../../Post Office Directory **

1934/Charles William West/../../../Post Office Directory *

1938/Charles William West/../../../Post Office Directory **

1940/Charles William West/../../../Post Office Directory **

1941/Charles William West/../../../Post Office Directory **

1944/Charles William West/../../../Post Office Directory **

1988/Mr R E Crane/../../../Watney Truman List

1990/Mr R E Crane/../../../Watney Truman List



* Provided By Ewan

** Provided By Stephen Harris