Search London wiki and Pub wiki history sites
All public house, restaurants, bars etc closed for the forseeable future from 20th March 2020, but this is a history site.
Bow Bells, 116 Bow Road, Bromley E3
Bromley pubs history index
This pub was built in the 1860s.. opposite Railway Station, Bow in 1869 **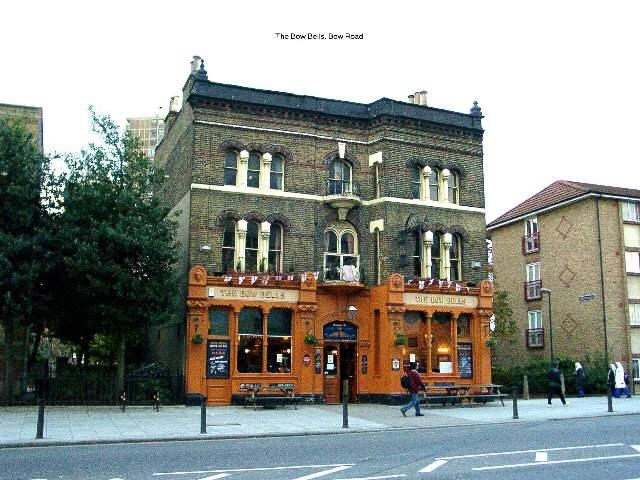 Bow Bells, in recent years
Kindly provided by Philip Mernick
Historical London public houses, Taverns, Inns, Beer Houses and Hotels.
Residents at this address.
August 1866/Thomas A Moore/ Outgoing Licensee /../../Morning Advertiser *+

August 1866/Elizabeth Morgue/ Incoming Licensee /../../Morning Advertiser *+

1869/Mrs Elizabeth Mourgue/../../../Post Office Directory

November 1869/Elizabeth Morgue/ Outgoing Licensee /../../East London Observer

November 1869/Richard Robert Parry/ Incoming Licensee /../../East London Observer

1871/Richard R Parry/Licensed Victualler/31/Norwood, Surrey/Census
1871/Louisa Parry/Housekeeper/26/Camberwell, Surrey/Census
1871/Betsy Dunn/Barmaid/23/Bow, Middlesex/Census
1871/Emily Burgin/Barmaid/23/Bristol/Census

23rd March 1872/licensee removed/../../../East London Observer +

23rd March 1872/bought by Mrs Gibbs/Incoming Licensee/../../East London Observer +

1874/Mrs Charlotte P Gibbs/../../../Post Office Directory **

1881/Charlotte P Gibbs/Licensed Victualler, Widow/61/London, Middlesex/Census
1881/James W Gibbs/Son, Manager/29/London, Middlesex/Census
1881/Emma L Gibbs/Daughter/27/London, Middlesex/Census
1881/Edgar A Gibbs/Son/19/London, Middlesex/Census
1881/Horatio G Gibbs/Son/17/London, Middlesex/Census
1881/Matilda B Gibbs/Daughter16/London, Middlesex//Census
1881/Ann Casey/Domestic Servant/18/London, Middlesex/Census

1882/Mrs Charlotte Philis Gibbs/../../../Post Office Directory

1884/Charlotte P Gibbs/../../../Post Office Directory

1886/Charlotte P Gibbs/../../../Business Directory of London **

1891/James William Gibbs/../../../Post Office Directory *

1891/James W Gibbs/Licensed Victualler/39/Lambeth, London/Census
1891/Edgar Gibbs/Brother, Licensed Victualler/30/Poplar, London/Census
1891/Horatio Gibbs/Brother, Licensed Victualler/28/Bethnal Green, London/Census
1891/Emma L Gibbs/Sister, Licensed Victualler/34/Lambeth, London/Census
1891/Emma G Jordan/Niece/11/Wandsworth, London/Census
1891/Valentine J Jordan/Nelpew/9/Annerley, London/Census
1891/Sarah A Alexander/General Servant, Widow/43/Bromley, London/Census
1891/Louisa Charlton/General Servant/19/Bromley, London/Census

1895/James William Gibbs/../../../Post Office Directory *

1899/James William Gibbs/../../../Post Office Directory

1901/James W Gibbs/Licensed Victualler/48/Blackfriars. London/Census
1901/Lewis Johnson/Barman/25/Reed, Cambridge/Census
1901/Charles Dunker/Barman/21/Stepney, London/Census
1901/Martha A Bates/Housemaid/41/Warboys, Hunts/Census

1910/Mrs Matilda Blanche West/../../../Post Office Directory *

1915/Mrs Matilda Blanche West/../../../Post Office Directory

1921/Alexander Morris/../../../Post Office Directory

1927/John Naylor Carter/../../../Post Office Directory *

1934/Jno Naylor Carter/../../../Kelly's

1938/Jno Naylor Carter/../../../Post Office Directory

1940/John Naylor Carter/../../../Post Office Directory *

1942/John Naylor Carter/../../../Post Office Directory *

1944/Jno Naylor Carter/../../../Post Office Directory

1983/../Bow Bells: 116 Bow Road E3 : Allied Breweries. /../../Pub Directory

1991/../BOW BELLS: 116 Bow Road. E3 : Ind Coope Taylor Walker./../../Pub Directory



+ Provided by Friends of Tower Hamlets Cemetery Park

* Provided By Ewan

*+ Provided By Bridget Martin

** Provided By Stephen Harris