Search London wiki and Pub wiki history sites
All public house, restaurants, bars etc closed for the forseeable future from 20th March 2020, but this is a pub history site.
Cherry Tree, 321 Brunswick Road, Poplar E14 [ Bromley ]
Bromley pubs history index
At Four Mill Street in 1851 census and earlier. At St Leonard Street in 1856 & 1869. The pub was demolished in 1963 during the building of the A12, Blackwall Tunnel Northern Approach. *
A listing of historical public houses, Taverns, Inns, Beer Houses and Hotels in Bromley, Middlesex - now in East London.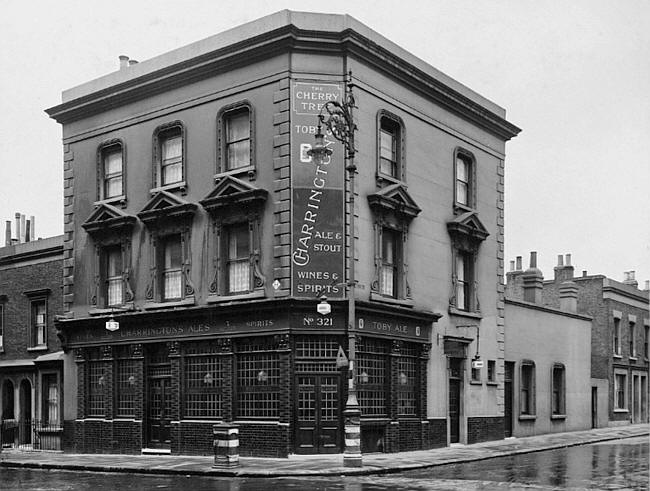 Cherry Tree, 321 Brunswick road and St Leonards road, Bromley - in 1939
Kindly provided by Vincent O'Loughlin
Residents at this address.
1826/David Dove/../../../Middlesex Directory

1836/Ann Boyce, Cherry tree, Four Mill street, Bromley/../../Pigots Directory

1843/John William Turk/../../../Kellys Directory

1848/Henry Colverd/../../../Post Office Directory

1851/Joseph Colverd/Victualler/52/Wormley, Hertfordshire/Census
1851/Ann Colverd/Wife/48/Melford, Hampshire/Census
1851/Henry Colverd/Son, Victualler/31/Edmonton, Middlesex/Census
1851/Elizabeth Colverd/Daughter, Assistant/18/Kingsland, Middlesex/Census
1851/Fredk J Colverd/Son/16/City London, Middlesex/Census

1856/Thomas Price/../../../Post Office Directory

1861/Emily Smith/Daughter, Licensed Victualler/25/../Census
1861/David Smith/Head, Traveller Wine & Spirit Trade/50/Warbleton, Sussex/Census
1861/Lucy Smith/Wife, Assistant at Bar/40/Richmond, Surrey/Census
1861/Alice Ayles/Adopted Daughter/10/Lambeth, Surrey/Census
1861/David H Smith/Son/3 month/Bromley, Middlesex/Census
1861/Mary M Donald/Nurse Maid/13/Poplar, Middlesex/Census
1861/Edward Marsh/Pot Boy/16/Essex/Census
1861/Julia M Longhurst/Daughter/16/Somers Town, Middlesex/Census

1869/David Smith/../../../Post Office Directory

20th May 1876/David Smith/Outgoing Licensee/../../East London Observer +

20th May 1876/Edwin Bonner/Incoming Licensee/../../East London Observer +

July 1877/Edwin Bonner/Outgoing Licensee/../../East London Observer

July 1877/George Thomas Wardell/Incoming Licensee/../../East London Observer

January 1879/George Thomas Wardell/Outgoing Licensee/../../East London Observer

January 1879/Henry Abbott/Incoming Licensee/../../East London Observer

1881/Henry Abbott/Licensed Victualler/59/Bermondsey, Surrey/Census
1881/Eliza Abbott/Wife/32/Bermondsey, Surrey/Census
1881/Florence Abbott/Daughter/4/Poplar, Middlesex/Census
1881/Frances Barnes/Barmaid/22/North Fleet, Kent/Census
1881/John Eastmead/Barmaid/24/Boro, Surrey/Census
1881/Richard C Wilson/Potboy/15/Poplar, Middlesex/Census

1882/Henry Abbott/../../../Post Office Directory

1899/Harry M Jackson/../../../Post Office Directory

1901/Harry M Jackson/Licensed Victualler/49/Marylebone, London/Census
1901/Louisa Jackson/Wife/35/Shoreditch, London/Census
1901/Harry M Jackson/Son/10/Bromley, London/Census
1901/Fred J Jackson/Son/8/North Woolwich, Essex/Census
1901/Albert E Jackson/Son/7/North Woolwich, Essex/Census
1901/Louisa E Jackson/Daughter/6/North Woolwich, Essex/Census
1901/Lilly M Jackson/Daughter/4/Bromley, London/Census
1901/Emma Jackson/Mother, Widow/75/Soho, London/Census
1901/Sarah Young/Boarder, Widow/65/Wiltshire/Census
1901/Jane Searle/Cook/27/Mile End, London/Census
1901/Ann Wilson/Housemaid/21/S Woolwich, Kent/Census
1901/Chas Dann/Potman/26/St Albans/Census
1901/Lottie Willis/Nursemaid/17/Chelsea, London/Census
1901/Clara Cresswell/Barmaid/20/Poplar, London/Census

1915/William Frederick Temple/../../../Post Office Directory

1921/Wm F Temple/../../../Hughes Directory

1934/Jonah F Lovejoy/../../../Kelly's

1938/Herbert Thompson/../../../Post Office Directory



+ Provided by Friends of Tower Hamlets Cemetery Park

* Provided by Vincent O'Loughlin