Search London wiki and Pub wiki history sites
All public house, restaurants, bars etc closed for the forseeable future from 20th March 2020, but this is a history site.
Anchor, 162 Chrisp Street, Bromley E14
Bromley pubs history index
At 1 Mary Anne Place in 1861 census
A listing of historical public houses, Taverns, Inns, Beer Houses and Hotels in Bromley, Middlesex - now in East London.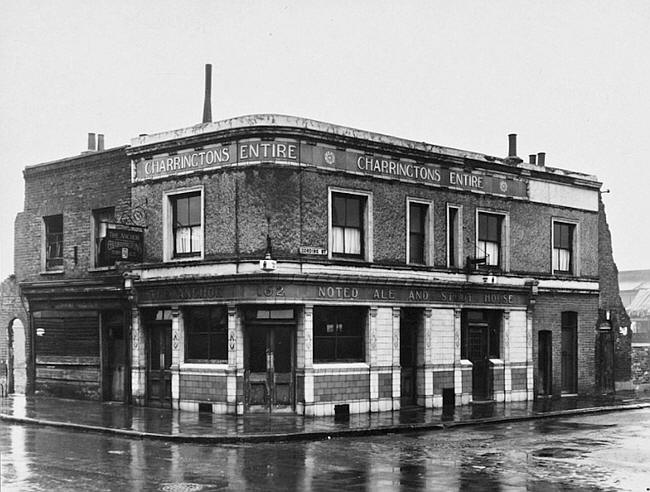 Anchor, 162 Chrisp Street and Cording street, Bromley - in circa 1950
Kindly provided by Vincent O'Loughlin
Residents at this address.
1861/Charles Smith/Commercial Traveller/25/Islington, Middlesex/Census
1861/Ellen Smith/Wife, Beer House Keeper/24/Stepney, Middlesex/Census
1861/Jane May/Servant/18/Bristol, Gloucestershire/Census

1871/John Winfield/Beer Retailer/28/Shoreditch, Middlesex/Census
1871/Eliza Winfield/Wife/27/Hackney, Middlesex/Census
1871/Susannah Winfield/Daughter/11 months/Bow, Middlesex/Census

1876/John Edward Jackson / Beer Retailer /../../P.O. Directory **

1877/John Edward Jackson / Beer Retailer /../../P.O. Directory **

1878/John Edward Jackson/../../..// Beer Retailer / P.O. Directory **

1881/Edwin Brett/Beer House Keeper/34/Kennington/Census
1881/Mary A Brett/Wife/33/St Martins, Middlesex/Census
1881/Jane E Warren/Sister in Law/35/St Martins, Middlesex/Census
1881/William Denyar/Potman/14/Bloomsbury, Middlesex/Census

1882/Edwin Brett/Beer Retailer/../../Post Office Directory

1891/Horace Turner/Beer Retailer/../../Post Office Directory

1891/Elizabeth J Turner/Beer Retailer, Widow/54/Kessingland, Suffolk/Census
1891/Arthur Turner/Son, Beer Retailer/20/Hackney, London/Census
1891/Owen S Cunningham/Nephew, Drapers Asistant/29/Lowestoft, Suffolk/Census
1891/Frank B Bansley/Potman/21/Stepney, London/Census
1891/Louisa Livermore/General Servant/20/Bethnal Green, London/Census

1893/Richard Foot / Beer Retailer /../../P.O. Directory **

1898/Fredk. Sharp Foulger / Beer Retailer /../../P.O. Directory **

1901/George N Schwinge/Beer Retailer/28/St Georges, London/Census
1901/Emily R Schwinge/Wife/25/Stepney, London/Census
1901/George Schwinge/Son/3/Hackney, London/Census
1901/Harry W Schwinge/Son/1/Bromley, London/Census
1901/Nellie Hodges/Housemaid/14/Limehouse, London/Census

1910/George Schwinge/Beer Retailer/../../Post Office Directory

1921/James Hall/Beer Retailer/../../Post Office Directory

1934/Alfred Peterken/Beer Retailer/../../Kellys Directory

1938/Alfred Peterken/Beer Retailer/../../Post Office Directory



** Provided By Stephen Harris