Devon Stores / Bricklayers Arms, 171 - 173 Devons Road, Bromley E3
Bromley pubs history index
Named the Devon Stores in the 1911 census. It was rebuilt in around the 1930s, and not actually listed in 1938. Sometime after, it takes the name of the previous Bricklayers Arms, and certainly between 1950 and 1984 at minimum.
The name was changed to the Liquor Inn in 2005. ** Closed in 2014. *+ It is now the Angel of Bow, in 2018.
Historical London public houses, Taverns, Inns, Beer Houses and Hotels.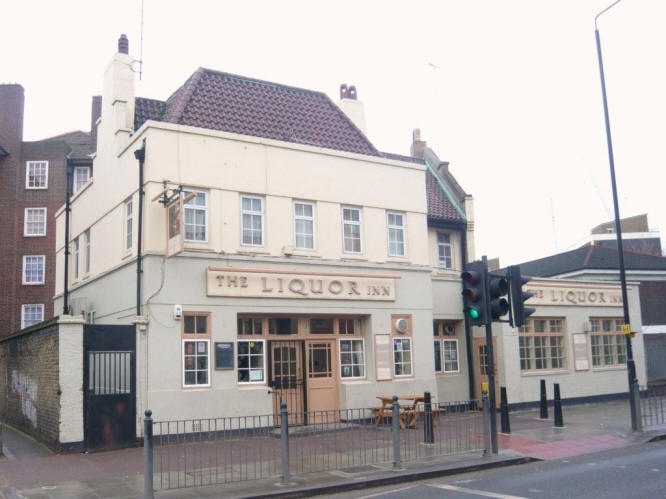 Devon Stores, 171/173 Devons Road, E3 - in March 2009
Kindly provided by Stephen Harris
Residents at this address.
January 1879/Richard Collyer/New License/../../East London Observer

1882/Richard Collyer/Beer Retailer/../../P.O. Directory **

1888/Richard Collyer/Beer Retailer/../../P.O. Directory **

1891/Frederick J Holterman/Publican/21/Whitechapel, London/Census
1891/Francis A Holterman/Wife/19/Whitechapel, London/Census

1895/James Frederick Illingworth/beer retailer/../../Post Office Directory *

1899/George Berry/beer retailer/../../Post Office Directory *

1901/Henry Galloway/Beer House Keeper, Off Licence/34/Kent/Census
1901/Madge Galloway/Wife/27/Richmond, Surrey/Census
1901/Rita Galloway/Daughter/3/Brighton, Sussex/Census

1909/Mrs Alice Dunham/Beer Retailer/../../P.O. Directory **

1910/Mrs Alice Dunham/Beer Retailer/../../Post Office Directory

1911/Alice Dunham/Beer Retailer, Widow/36/East Tilbury, Essex/Census
1911/Mabel Dunham/Daughter/14/Plaistow, Essex/Census
1911/Ann Hing/Sister/39/East Tilbury, Essex/Census

1912/Mrs Alice Dunham/Beer Retailer/../../Post Office Directory

1914/Mrs Alice Livens/beer retailer/../../Post Office Directory *

1915/Mrs Alice Livens/Beer Retailer/../../Post Office Directory

1921/Mrs Alice Livens/Beer Retailer/../../Post Office Directory

1924/Mrs Alice Livens/Beer Retailer/../../P.O. Directory **

1932/Mrs Alice Livens/Beer Retailer/../../P.O. Directory **

1934/Mrs Alice Livens/beer retailer/../../Post Office Directory *

1939/Leonard Ward/Licensee of Public House/Born 4th October 1889/../Electoral Register

1940/Mrs Ada F Ward/Beer Retailer/../../P.O. Directory

1942/Mrs Ada F Ward/Beer Retailer/../../P.O. Directory

1943/Mrs Ada F Ward/Beer Retailer/../../P.O. Directory

My aunt and uncle were the landlords from the 1950ís to the 1980ís, i.e. Tommy & Doris Thompson. It was always the Bricklayers Arms they while had it, but all the regulars still referred to it as Kitsons! It has been re named again recently to the Angel of Bow!

1949/George Lawrence Thompson/Beer Retailer/../../P.O. Directory **

1950/G L Thompson, Bricklayers Arms, 171 Devons road E3/../../BT Telephone Directory

1955/G L Thompson, Bricklayers Arms, 171 Devons road E3/../../BT Telephone Directory

1964/G L Thompson, Bricklayers Arms, 171 Devons road E3/../../BT Telephone Directory

1968/../Bricklayers Arms, 173 Devons road E3/../../BT Telephone Directory

1975/../Bricklayers Arms, 173 Devons road E3/../../BT Telephone Directory

1982/../Bricklayers Arms, 173 Devons road E3/../../BT Telephone Directory

1984/../Bricklayers Arms, 173 Devons road E3/../../BT Telephone Directory



* Provided By Ewan

*+ Provided By Tris

** Provided By Stephen Harris

*** Provided By Michelle Orchard