Search London wiki and Pub wiki history sites
All public house, restaurants, bars etc closed for the forseeable future from 20th March 2020, but this is a pub history site.
Dock House Tavern, 293 - 295 East India Dock Road, Bromley E14
Bromley pubs history index
Historical London public houses, Taverns, Inns, Beer Houses and Hotels.
The East India Dock Road pub also appears to have traded under the name East India Dock Tavern (eg in 1865 and 1925). At 4 East India Road in 1856. This pub was re-built on the site of an earlier tavern in 1818 and was again rebuilt between 1927 and 1935. It was demolished in 1958 during the widening of the approach road to the Blackwall Tunnel. **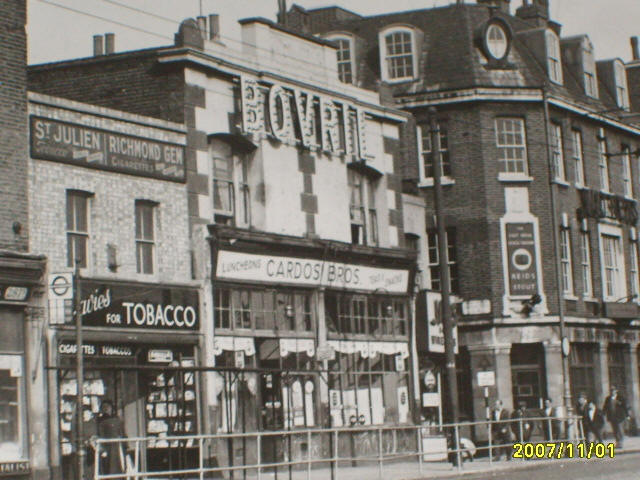 Dock House Tavern, 293 - 295 East India Dock Road - in 1955
Kindly provided by Alan Casatico
The Cardosis cafe is on the corner of East India and Brunswick Road, as is the tavern. My family's cafe was Cardosis which is central in the picture, I think the year is 1955.
Residents at this address.
1848/John Pritchard/../../../Post Office Directory

1851/John Pritchard/Victualler/47/St Georges, Norwich/Census
1851/Mary Ann Pritchard/Wife/42/Harefield, Hertfordshire/Census
1851/Ann Pritchard/Daughter/19/Southwark, Surrey/Census
1851/Emma Pritchard/Daughter/6/Bromley, Middlesex/Census
1851/Alfred Pritchard/Son/5/Bromley, Middlesex/Census
1851/Emma Hamar/Sister in Law, Barmaid/28/Buckinghamshire/Census
1851/Mary Burkley/Cook/25/Stangon, Essex/Census
1851/Rosetta Gilson/Nursemaid/15/Ipswich/Census
1851/Alpett Westwood/Pot Noy/11/Bromley, Middlesex/Census

1856/John Pritchard/../../../Post Office Directory

1861/John Pritchard/Licensed Victualler/57/Norwich/Census
1861/Emma Pritchard/Wife/38/Gerrards Cross, Buckinghamshire/Census
1861/Alfred Pritchard/Son/15/Bromley, Middlesex/Census
1861/Emma Pritchard/Daughter/16/Bromley, Middlesex/Census
1861/Fredk Wm Pritchard/Son/1/Bromley, Middlesex/Census
1861/Julia Harry/Barmaid/19/Bromley, Middlesex/Census
1861/Mary Ann Jennings/Nursemaid/15/Lambeth, Surrey/Census
1861/Mary Ann Sweetman/Cook, widow/25/City of London/Census

October 1865/John Pritchard/Outgoing Licensee/../../Era Newspaper

October 1865/Mark Ayres/Incoming Licensee/../../Era Newspaper

1869/Mark Ayres/../../../Post Office Directory

1871/Mark Ayres/Licensed Victualler, Widow/36/Paddington, Middlesex/Census
1871/George James Ayres/Son/13/Poplar, Middlesex/Census
1871/Frederick Twining/Visitor, Engineer/26/Woolich, Kent/Census
1871/Mark W Palmer/Servant/20/Stepney, Middlesex/Census
1871/James Hunt/Servant/19/Poplar, Middlesex/Census
1871/Eliza Parr/Domestic Servant/22/Poplar, Middlesex/Census
1871/Eliza Hunt/Domestic Servant/18/Bromley, Middlesex/Census

1884/Mark Ayres/../../../Post Office Directory

1891/Henry Wickes/../../../Post Office Directory

1891/John Ayres/Licensed Victuallers Manager/44/Kentisbeare, Devonshire/Census
1891/Elizh Ayres/Wife, Manageress/37/City of London/Census
1891/Emily M Jeffreys/Niece/14/St Pancras, London/Census
1891/Violet Hayard/Barmaid/17/Broadmoor, Berkshire/Census
1891/Clare Bennett/Barmaid/35/Ponders End, Essex/Census
1891/Thos Fielder/Barman/21/Poplar, London/Census
1891/Thos Duncan/Barman/23/Stratford, Essex/Census
1891/Thos Figho/Barman/18/Canning Town, Essex/Census
1891/Lizze MacDowell/Cook/22/Poplar, London/Census
1891/Alice Cook/Housemaid/22/Poplar, London/Census

1895/Henry Wickes/../../../Post Office Directory

1899/Henry Wickes/../../../Post Office Directory

1901/Hy Wickes/../../../Post Office Directory **

1901/Thomas H Trainer/Manager Public House/40/Ireland/Census
1901/Jane Trainer/Wife/22/Scotland/Census
1901/Elizabeth Little/Cook/38/Poplar, London/Census
1901/Annie J Crews/Housekeeper, Widow/35/Camden Town, London/Census
1901/William A Lash/Barman/28/Purleigh, Essex/Census
1901/Jessie T Donaldson/Barmaid/24/Stepney, London/Census
1901/Henry A Peck/Barman/23/Stepney, London/Census
1901/Sarah M Wickham/Barmaid/22/Kings Lynn, Norfolk/Census
1901/Arthur A Cook/Potman/23/Bethnal Green, London/Census
1901/Lewis J Nason/Barman/18/Canning Town, Essex/Census

1907/Henry Wickes/../../../Post Office Directory **

1910/Mrs Georgina Wickes/../../../Post Office Directory

1915/Mrs Georgina Wickes/../../../Post Office Directory

1921/Mrs Georgina Wickes/../../../Post Office Directory

1931/Daniel Hickey/../../../Post Office Directory **

1934/Stephen Geo Darby/../../../Kellys Directory

1944/Darby & Joan (Caterers) Ltd/../../../Post Office Directory



** Provided By Stephen Harris