Search London wiki and Pub wiki history sites
All public house, restaurants, bars etc closed for the forseeable future from 20th March 2020, but this is a history site.
Earl of Devon, 213 Devons Road, Bromley E3
Bromley pubs history index
It is long closed, and now in residential use **
Historical London public houses, Taverns, Inns, Beer Houses and Hotels.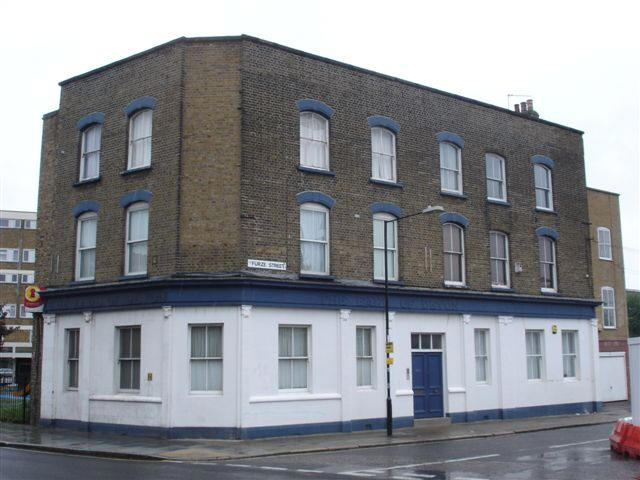 Earl of Devon, 213 St Paulís Way, E3 - in May 2007
Kindly provided by Stephen Harris
Residents at this address.
1869/Isaac Fisher/../../../P.O. Directory **

1873/Isaac Fisher/../../../P.O. Directory

1876/Henry Cheltnam/../../../P.O. Directory **

July 1877/Henry Cheltman/Outgoing Licensee/../../East London Observer

July 1877/William Morley/Incoming Licensee/../../East London Observer

1878/William Morley/../../../P.O. Directory **

1879/William Morley/../../../P.O. Directory **

July 1879/W Morley/Outgoing Licensee/../../East London Observer

July 1879/H A Bevan/Incoming Licensee/../../East London Observer

1880/George Hermann Augustus Bevan/../../../Post Office Directory **

1881/George W Bevan/Licensed Victualler/44/London, Middlesex/Census
1881/Emma J Bevan/Wife/32/Liverpool, Lancs/Census
1881/Hermann Bevan/Son/7/At sea/Census
1881/Edith Bevan/Daughter/5/Homerton, Middlesex/Census
1881/Evelyn Bevan/Daughter/4/Brixton, Surrey/Census
1881/LLewellyn Bevan/Son/1 month/Bromley, Middlesex/Census
1881/Christopher Shacklady/Barman/21/Grays, Essex/Census
1881/Emma Mowatt/Barmaid/20/At sea/Census
1881/Rosetta Ingram/Barmaid/16/Lambeth, Surrey/Census
1881/Catherine McDonald/General Servant/21/Wapping, Middlesex/Census
1881/Louisa Robez/General Servant/18/Limehouse, Middlesex/Census

1882/G H A Bevan/../../../Post Office Directory **

1884/George H A Bevan/../../../Post Office Directory **

1888/George Brown/../../../Post Office Directory **

1888/Edward John Cormack/../../../Post Office Directory **

1891/Edward G Cormack/Licensed Victualler/40/Limerick, Ireland/Census
1891/Louisa A Cormack/Wife/40/Brompton, London/Census
1891/Alfred J Cormack/Son, Barman/17/Plaistow, Essex/Census
1891/Horace Cormack/Son/9/Plaistow, Essex/Census
1891/May Cormack/Daughter/2/Whitechapel, London/Census
1891/Edgar Cromer/Nephew, Barman/18/Hoxton, London/Census
1891/Maud Cromer/Niece/12/Hoxton, London/Census
1891/Charlotte Frost/Domestic Servant/29/Finsbury, London/Census

1895/Edward George Cormack/../../../Post Office Directory

1899/Arthur Henry Rowland/../../../Post Office Directory **

1901/Edward Polyblank/Public House Manager/41/Poplar, London/Census
1901/May Tate/Housekeeper/25/Homerton, London/Census
1901/Ida Tate/Cook/26/Homerton, London/Census
1901/Fred A Oxford/Barman/18/Ipswich, Suffolk/Census
1901/Mary A Stringer/Barmaid/18/Plaistow, Essex/Census

1909/Charles Edwin Lamble/../../../P.O. Directory **

1910/Charles Edwin Lamble/../../../Post Office Directory

1911/Charles Edwin Lamble/Licensed Victualler/44/Kingsbridge, Devon/Census
1911/Elizabeth Lamble/Wife, Assistant/46/Paddington, London/Census
1911/Edwin George Lamble/Son, Clerk/19/Fulham, London/Census
1911/Hilda Helen Lamble/Daughter/16/Fulham, London/Census
1911/Harold Charles Lamble/Son/13/Plaistow, Essex/Census
1911/Annie Mann/Domestic Servant/27/Plaistow, Essex/Census

1915/Eliz. Lamble/../../../Morris Directory **

1921/Charles Neale Adams/../../../Post Office Directory

1924/John S Starnes/../../../P.O. Directory **

1927/William James Wright/../../../Post Office Directory

1934/Henry Scott/../../../Kellys Directory

1938/Alan Frederick Anscombe/../../../Post Office Directory

1940/Albert F Cadwell/../../../Post Office Directory

1944/Albert Victor Bailey/../../../Post Office Directory

1949/Joseph. John Tuson/../../../P.O. Directory **

J J Tyson, former tenant of the White Thorne, & the Earl of Devon, Bow; and manager of the Perseverance, Dalston, when he died on October 25th, 1950 - Black Eagle Journal ***



** Provided By Stephen Harris

*** Provided by Alex Wilkinson