Search London wiki and Pub wiki history sites
All public house, restaurants, bars etc closed for the forseeable future from 20th March 2020, but this is a history site.
Rose & Crown, 2 Devons Road, Bromley E3
Bromley pubs history index
It was first built in the 1720s as the Bowling Green Inn and was rebuilt in its present form as the Rose & Crown in around 1880. This pub closed in 2007. ** Now a coffee shop and fast food outlet (2014). *+ The Rose and Crown, High street in the 1854,1868 and 1877 license transfers.
Historical London public houses, Taverns, Inns, Beer Houses and Hotels.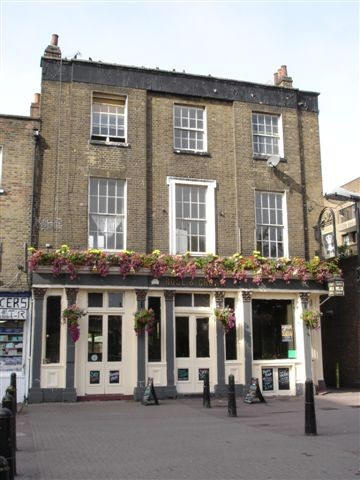 Rose & Crown, 8 Stroudley Walk, Devons Road - in September 2006
Kindly provided by Stephen Harris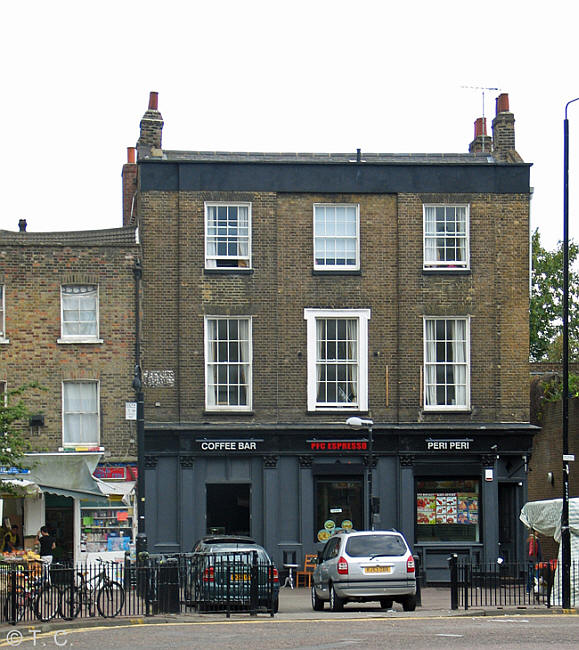 Rose Crown, 8 Stroudley Walk E3 - in June 2014
Kindly provided by Tris
Residents at this address.
1826/George Grover/../../../Pigots Directory

1836/George Grover, Rose & Crown, High street, Bromley/../../Pigots Directory

1844/George Grover/../../../Thompson's Directory **

1851/Joseph Sacker/../../../Kelly's Directory

1851/Joseph Sacker/Licensed Victualler/47/Whitechapel, Middlesex/Census
1851/Elizabeth Sacker/Wife/29/Bath, Somerset/Census
1851/Sarah Sacker/Daughter/16/Whitechapel, Middlesex/Census
1851/William Sacker/Son/9/Whitechapel, Middlesex/Census
1851/Penelope Sacker/Daughter/7/Whitechapel, Middlesex/Census
1851/Harkor/Son/6/Whitechapel, Middlesex/Census
1851/Elizabeth Sacker/Daughter/2/Whitechapel, Middlesex/Census
1851/Walter Sacker/Son/9 months/Whitechapel, Middlesex/Census
1851/John Brown/Potman/21/Whitechapel, Middlesex/Census
1851/Eliza Walters/House Servant/22/Bow, Middlesex/Census

May 1852/Joseph Sacker/ Outgoing Licensee /../../The Era

May 1852/John William Bacon/ Incoming Licensee /../../The Era

January 1854/John William Bacon/Outgoing Licensee/../../Era

January 1854/Richard Everard/Incoming Licensee/../../Era

1856/Richard Everard/../../../Post Office Directory *

September 1860/Ellen Ashlin (late Everard)/Outgoing Licensee/../../Era

September 1860/Joseph Ashlin/Incoming Licensee/../../Era

1861/Joseph Ashlin/Victualler/54/Lincolnshire/Census
1861/Ellen Ashlin/Wife/37/Ireland/Census
1861/Kate Alice Everard/Step Daughter/4/Bromley, Middlesex/Census
1861/Martha Turner/Maid/21/Bethnal Green, Middlesex/Census
1861/Ellen Driscoll/Domestic Servant/21/Ireland/Census
1861/George Savage/Pot Boy/15/Huntingdonshire/Census
1861/John Webb/Lodger, Wheelwright/21/Bishop Stortford, Hertfordshire/Census

November 1868/Joseph Ashlin/Outgoing Licensee/../../Era

1869/Joseph Ashlin/../../../Post Office Directory *

November 1868/William Charles Wright/Incoming Licensee/../../Era

November 1870/William Charles Wright/Outgoing Licensee/../../Era

November 1870/Benjamin Beach/Incoming Licensee/../../Era

1872/Benjamin Beech/../../../P.O. Directory **

March 1872/Benjamin Beach/Outgoing Licensee/../../Era

March 1872/Samuel Spill/Incoming Licensee/../../Era

August 1874/Samuel Spill/Outgoing Licensee/../../East London Observer

August 1874/Thomas George Pross/Incoming Licensee/../../East London Observer

October 1875/Thomas George Pross/Outgoing Licensee/../../East London Observer

October 1875/Henry Scott/Incoming Licensee/../../East London Observer

March 1877/Henry Scott/Outgoing Licensee/../../East London Observer

March 1877/Alfred Kay/Incoming Licensee/../../East London Observer

1881/John Chase/Publican/30/Springfield, Essex/Census
1881/Esther Chase/Publican Wife/22/Bath/Census
1881/William Chase/Son/2/Hoxton, London, Middlesex/Census
1881/Jas Chase/Brother, Barman/14/Springfield, Essex/Census
1881/Alford Mercer/Barman/19/Kensington, London, Middlesex/Census
1881/George Jackson/Potman/41/Mile End, London, Middlesex/Census
1881/William Burton/Barman/17/Harlow, Essex/Census
1881/Ann Murry/Domestic Servant/40/Boro, London, Middlesex/Census

1882/John Chase/../../../Post Office Directory *

1891/Henry John Squires/../../../Post Office Directory

1891/Henry Squires/Licensed Victualler/43/Leytonstone, Essex/Census
1891/Susanna Squires/Wife/40/Suffolk/Census
1891/Harry G Squires/Son, Barman/17/Stratford, Essex/Census
1891/Dudley Squires/Son/14/Stratford, Essex/Census
1891/Fanny Squires/Daughter/7/Poplar/Census
1891/Fanny English/Servant, Widow/47/Suffolk/Census

1895/Henry John Squires/../../../Post Office Directory

1899/Mrs Susannah Squires/../../../Post Office Directory

1901/Susannah Squires/Licensed Victualler, Widow/49/Bacton, Suffolk/Census
1901/Frances Squires/Daughter/16/Poplar, London/Census
1901/Frances English/Aunt, House Keeper/57/Bacton, Suffolk/Census
1901/Joseph Chamberlain/Visitor/47/Wickford, Essex/Census
1901/Walter Reynolds/Manager/30/Needingworth, Hunts/Census

1909/Mrs S Squires/../../../P.O. Directory **

1915/Walter Abbes Reynolds/../../../Post Office Directory *

1921/Walter Abbes Reynolds/../../../Post Office Directory

1924/Walter Abbess Reynolds/../../../P.O. Directory **

1934/Samuel J Carter/../../../Kelly's

1935/Alfred Jas Buggey/../../../Post Office Directory **

1938/Alfred Jas Buggey/../../../Post Office Directory

1940/Frederick William Gregory/../../../Post Office Directory *

1944/William Gregory/../../../Post Office Directory *

1949/Frederick William Gregory/../../../P.O. Directory **



* Provided By Ewan

*+ Provided by Tris

** Provided By Stephen Harris