St Leonards Arms, 162 St Leonards Road, Bromley E14
Bromley pubs history index
At 17 Wilson Terrace in 1861 census. Closed in 1988 and converted to residential use in 2002. *+
Historical London public houses, Taverns, Inns, Beer Houses and Hotels.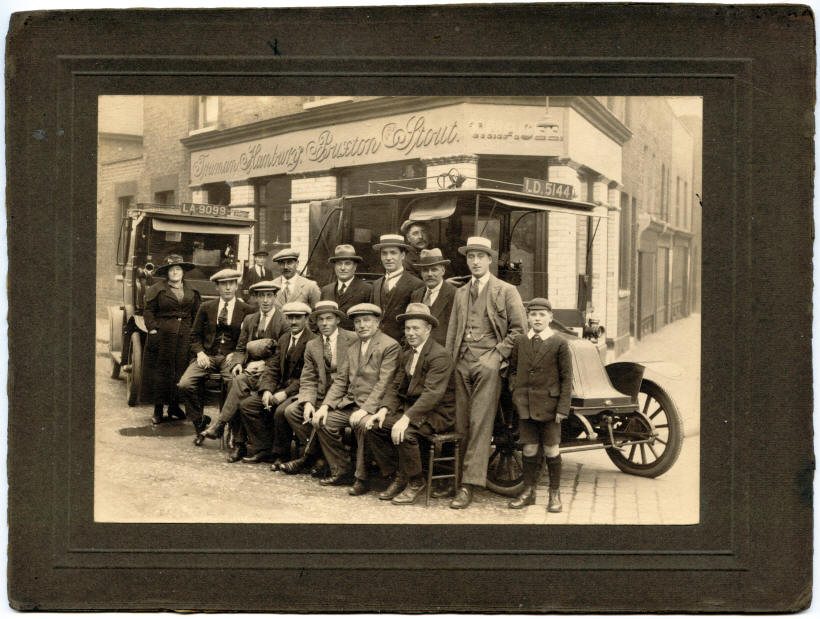 St Leonards Arms in the 1920s
Kindly provided by Garry Douglas
I assume that one of the group in the attached photograph is my Dad's uncle, Henry Sargeant, who married his aunt, Rose Gadd, in 1900. All I can make out from the writing on the back of the photo is what looks like the name "Mr Sargeant" and "Bow", . Henry was born in Bromley-by-Bow and his marriage to Rose was registered in West Ham. I would estimate the photo to be circa 1910-1920 and is most likely of a pub or off license in Bow or Poplar.

The name T Magee is above the entrance and a Thomas Magee was listed in the 1922 London Telephone Directory as living at the St Leonard's Arms, St Leonard's Road E14. I can't be sure but I think I've found the correct pub! However, as my photograph shows the ground floor and the October 2007 shot shows the first floor there is still some doubt in my mind. **
I've been puzzling over the 1920s Gary Douglas photo for a while now and have compared it to the existing St Leonards Arms, which is a much larger building. I wonder if this is actually an earlier Thomas Magee pub, The West Arms on Birchfield Street, E14 at the corner of the current Pinefield Close. Magee was there from 1915 to 1921. **+
St Leonards Arms, 162 St Leonards Road, Bromley - Licensee T W Mercer
Kindly provided by Vincent O'loughlin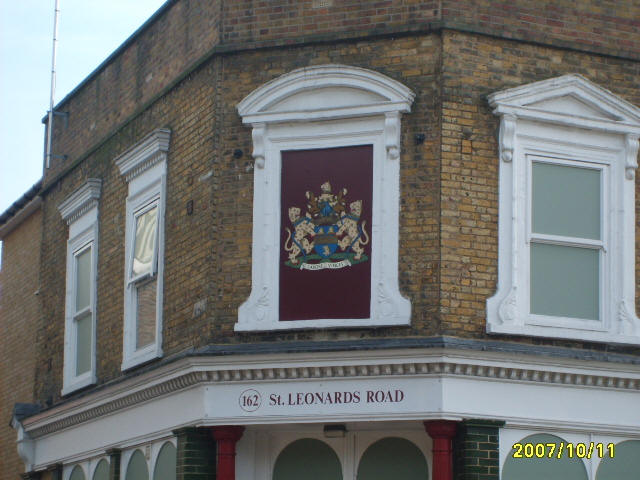 St Leonards Arms, 162 St Leonards Arms - in October 2007
Kindly provided by Alan Casatico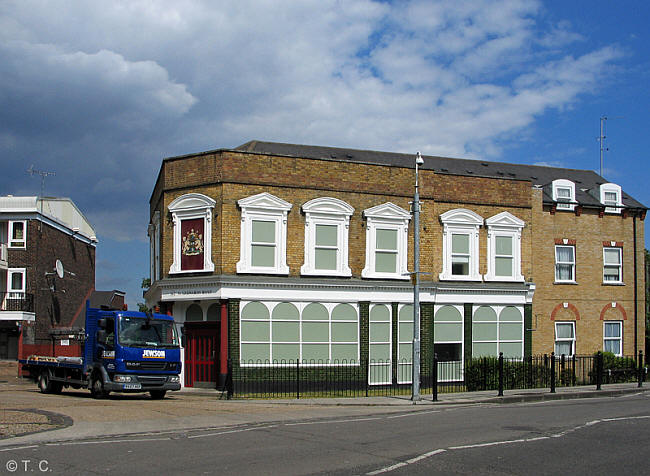 St Leonards Arms, 162 St Leonards Street E14 - in July 2014
Kindly provided by Tris
Residents at this address.
1856/James Morris/../../../Post Office Directory

1861/James Morris/Victualler/52/Whitechapel, Middlesex/Census
1861/Sarah S Morris/Wife/51/St Giles, Middlesex/Census
1861/Jemima Morris/Daughter/21/Stepney, Middlesex/Census
1861/Elizabeth Squire/Aunt, Widow/76/St James, Middlesex/Census
1861/Mary A Humpey/Barmaid/25/Stanmore, Middlesex/Census
1861/Susannah Raymony/General Servant/30/East Indies/Census
1861/Robert Bird/Pot Man/24/Chelsea, Middlesex/Census

1869/Jas Morris/../../../Post Office Directory

1871/Thomas E Holbrook/Manager Pub/24/Aldgate, Middlesex/Census
1871/John Parsons/Domestic Servant/15/Isle of Wight/Census
1871/Samuel Hollis/Domestic Servant/49/St Luke, Middlesex/Census
1871/Emma Binks/Domestic Servant/21/Staffordshire/Census

March 1872/Frederick Page/Outgoing Licensee/../../Era

March 1872/William James Scotchman/Incoming Licensee/../../Era

19th July 1873/William James Scotchman, late occupier/Outgoing Licensee/../../East London Observer +

19th July 1873/Caroline Scotchman, widow/Incoming Licensee/../../East London Observer +

1874/Mrs Caroline Scotchman/../../../Post Office Directory *

23rd May 1874/Caroline Scotchman/Outgoing Licensee/../../East London Observer +

23rd May 1874/William Henry Pavey/Incoming Licensee/../../East London Observer +

October 1874/William Henry Pavey/Outgoing Licensee/../../East London Observer

October 1874/Samuel Spill/Incoming Licensee/../../East London Observer

1875/Samuel Spill/../../../Post Office Directory *

1876/Samuel Spill/../../../P.O. Directory *

John Battes is at the Salisbury Arms, Burdett Road, Mile End in 1871

1878/John Battes/../../../P.O. Directory *

1879/John Battes/../../../P.O. Directory *

1880/ John Battes/../../../Post Office Directory *

1881/John Battes/Licensed Victualler/43/Limehouse, Middlesex/Census
1881/Louisa Battes/Wife/38/Limehouse, Middlesex/Census
1881/Louisa F Battes/Daughter/20/Stepney, Middlesex/Census
1881/Amy Battes/Daughter/17/Bromley, Middlesex/Census
1881/Clara Battes/Daughter/11/Mile End, Middlesex/Census
1881/Emma Mackrow/Niece/16/Poplar, Middlesex/Census
1881/Charles Mackrow/Nephew, Barman/24/Poplar, Middlesex/Census

1882/ John Battes/../../../Post Office Directory

1884/ John Battes/../../../Post Office Directory

1891/Charles Mackrow/Licensed Victualler, Widow/33/Poplar, London/Census
1891/Charles Mackrow/Son/6/Poplar, London/Census
1891/Ada Palmer/Barmaid/19/Canning Town, London/Census
1891/Annie Young/General Servant/23/Southampton, Hants/Census

1895/ Charles Heath Mackrow/../../../Post Office Directory

1899/ Charles Heath Mackrow/../../../Post Office Directory

1901/Charles Mackrow/Publican/43/Poplar, London/Census
1901/Florence Mackrow/Wife/36/Poplar, London/Census
1901/Clifford Mackrow/Son/8/Wanstead, Essex/Census
1901/Elsie Mackrow/Daughter/7/Poplar, London/Census
1901/Albert Mackrow/Cousin, Barman/28/Poplar, London/Census
1901/Arthur Lewis/Barman/18/Clerkenwell, London/Census
1901/Ethel Groff/Cook/23/Japan/Census
1901/Ruby Mackrow/Daughter/5/Poplar, London/Census

My great grandfather was Charles Heath Mackrow, our Grandmother being Elsie Maud, the name Mrs Clara Emma Mackrow – is a new one on us! Unless she was married to one of the other Mackrow (There were quite a few around the area)
1901/Clifford Mackrow died in 1940 - see British War Graves *

Clara Emma Battes was married to Frederick Mackrow in 1890 *

1905/Charles Heath Mackrow/../../../Post Office Directory *

1910/Charles Heath & Mrs Clara Emma Mackrow/../../../Post Office Directory

1910/Charles Heath & Mrs Clara Emma Mackrow/../../../Post Office Directory *

1912/Chas. Heath & Mrs Clara Emma Mackrow/../../../P.O. Directory *

1915/Frederick Seymour Mackrow/../../../Post Office Directory

1921/Frederick Seymour Mackrow/../../../Post Office Directory

1922/Thomas Magee/../../../BT Telephone Directory [East 4828] **

1923/Thos. Magee/../../../P.O. Directory *

1924/Thomas Magee/../../../BT Telephone Directory [East 4828] **

1925/Thomas Magee/../../../BT Telephone Directory [East 4828] **

Thomas Magee is at the Lovatt Arms, Burdett Road by 1926

1934/Mrs Mary Alice Trace Weller/../../../Kellys Directory

T W Mercer, St Leonards Arms, Poplar, has been elected a Trustee of the Incorporated Society of Licensed Victuallers and the Licensed Victuallers School for the year 1949-50 ***

1938/Thomas William Mercer/../../../Post Office Directory

1944/Thomas William Mercer/../../../Post Office Directory

1949/ T W Mercer/../../../Black Eagle Journal ***

Mr & Mrs C S Page have come from the Princess of Prussia, Prescott Street

1952/Mr & Mrs C S Page/../../../Black Eagle Journal ***



+ Provided by Friends of Tower Hamlets Cemetery Park

* Provided by Fiona Aucott

*+ Provided By Tris

** Provided by Garry Douglas

**+ Provided by Vincent O'loughlin

*** Provided by Alex Wilkinson