Duke of Kent, 365 Old Kent road, Camberwell SE1
Camberwell pubs history index
Actually named the Duke of Clarence in the 1881 census, but this could be an error; The pub has closed fairly recently and been converted for use as a mosque (2008). ** The earlier address before Old Kent Road is renumbered is at 11 Hanover Place, Old Kent Road.
Historical London public houses, Taverns, Inns, Beer Houses and Hotels.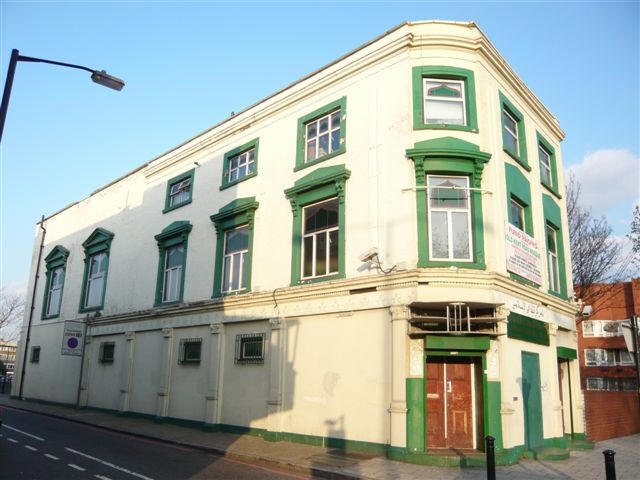 Duke of Kent, 365 Old Kent Road, SE1 - in April 2008
Kindly provided by Stephen Harris
Residents at this address.
1856/William Hersee/../../../../Post Office Directory

September 1855/William Hersee/ Outgoing Licensee /../../The Era

September 1855/Edwin Hayward/ Incoming Licensee /../../The Era

1861/Edwin Hayward/Victualler/31/Islington, Middlesex/Census *
1861/Clara C Hayward/Wife/28/Lambeth, Surrey/Census
1861/Clara J Hayward/Daughter/6 months/Camberwell, Surrey/Census
1861/Eliza Micklefield/Barmaid/20/Lambeth, Surrey/Census
1861/Martha Boran/Domestic Servant/19/Whitechapel, Middlesex/Census

1869/William Sidney Trery/../../../../Post Office Directory

June 1870/William Sidney Trery/Outgoing Licensee/../../Era

June 1870/Joseph George Stoten/Incoming Licensee/../../Era

1874/J G Stoten/../../../Licensed Victualler & Hoteliers Directory

1881/Joseph J Stoten/Licensed Victualler/54/Hackney, Middlesex/Census
1881/Phillis Stoten/Wife/54/Brisper, Sussex/Census
1881/Emily Smith/Domestic Servant/15/Deptford, Kent/Census
1881/James A Stodart/Barman/27/London, Middlesex/Census
1881/James Drake/Barman/22/Lambeth, Surrey/Census

1882/Joseph Gow Stoten/../../../../Post Office Directory

1884/Joseph G Stoten/../../../../Post Office Directory

1891/Mrs Emily Goodman/../../../../Post Office Directory

1891/Robert Turnham/Licensed Victuallers Manager/34/St Pancras, London/Census
1891/Emily Turnham/Wife, Assists the Manager/26/Camberwell, London/Census
1891/Henry Clark/Barman/22/Greenwich, London/Census
1891/Jphn Rix/Barman/21/Chatham, Kent/Census
1891/Mary Cummings/General Servant/28/North Lambeth, London/Census
1891/Alice Chambers/Barmaid/19/Westminster, London/Census

1895/Mrs Hannah Groom/../../../../Post Office Directory

1899/John Edward Pratt/../../../../Post Office Directory

1910/Charles Bradshaw/../../../../Post Office Directory

1921/Charles Bradshaw/../../../../Post Office Directory

1938/Rt Rd Carr/../../../../Post Office Directory

1944/Rt Rd Carr/../../../../Post Office Directory



* Provided By Carl White

** Provided By Stephen Harris