Search London wiki and Pub wiki history sites
Plough, 381 Lordship Lane, East Dulwich SE22
Camberwell pubs history index
The Plough, at 381 Lordship Lane - the oldest pub in the area still operating continuously since 1791 - the first picture is an 1875 woodcut of the original pub which was pulled down in 1858 to be replaced by what's there now and shown in the second picture. * This is a Castle (Mitchell & Butlers) pub in 2017.
Historical London public houses, Taverns, Inns, Beer Houses and Hotels.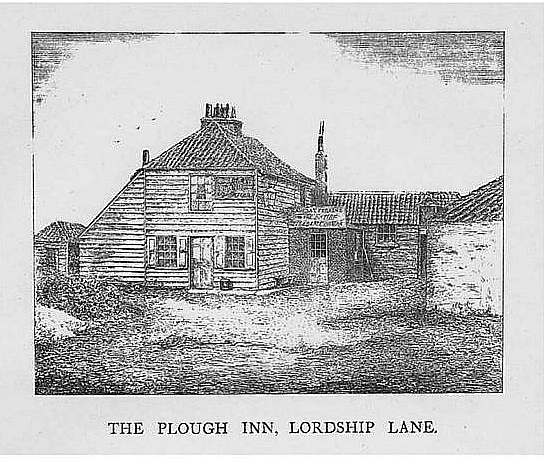 The Plough Inn, Lordship Lane - in 1875
Kindly provided by Colleen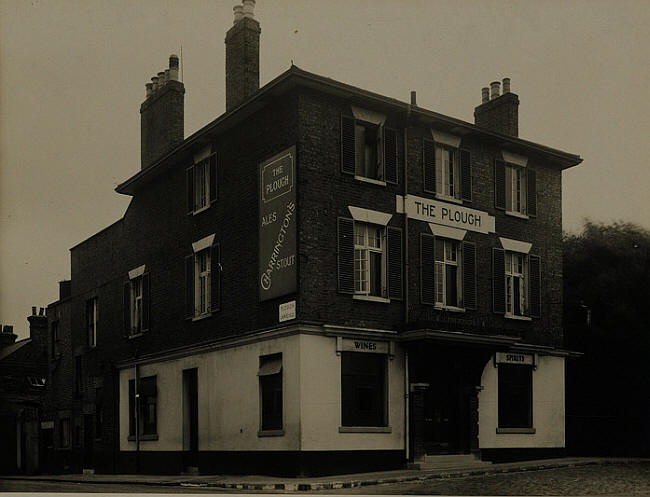 Plough, 381 Lordship Lane, East Dulwich SE22 - in 1941
Residents at this address.
Sun Fire Office Insurance Certificate: Richard Reynolds 28 July 1791 - MS 11936/378/586727 *

1825/William Coombs/Plough, Lordship lane/../../Petty Sessions

1827 List of Licensed Victualler Asylum and School subscribers: William Coombs, Plough, Lordship lane, Peckham *

Morning Advertiser 17/05/1834: Mr Coombs of the Plough, Lordship Lane, noted as giving three Guineas to the Licensed Victuallers Asylum *

1841/William Coombs/Victualler/55/Surrey/Census *
1841/Mary Coombs/../52/../Census
1841/William Coombs/Independant/25/Surrey/Census
1841/Thomas Coombs/../15/Surrey/Census
1841/Henry Coombs/../14/Surrey/Census
1841/Charles Coombs/../12/Surrey/Census
1841/Emma Coombs/../15/Surrey/Census
1841/Thomas White/Labourer/40/../Census
1841/George Thorn/Labourer/25/../Census
1841/James Linnett/Labourer/28/Surrey/Census

1851/William Coombs/Licensed Victualler/37/../Census *
1851/Martha Coombs/Wife/25/../Census
1851/Lydia Coombs/Sister/25/../Census
1851/Thomas Coombs/Servant/35/../Census
1851/Emma Exwell/Servant/20/../Census

1855/William Coombs/Lordship lane, Dulwich/../../../Electoral Register

The Era 21 March 1858: Camberwell, March 15 - Plough, Lordship Lane – William Coombs applied for a license for this house in lieu of an old licensed house, which he intends to pull down. License granted. *

1859/William Coombs/Lordship lane, Dulwich/../../../Electoral Register

1861/William Coombs/Licensed Victualler, Widow/47/Newington, Surrey/Census *
1861/Martha Coombs/Cousin, Housekeeper/42/Camberwell, Surrey/Census
1861/Henry Coombs/Cousin, Barboy/14/Chelsea, Middlesex/Census
1861/John Luck/Visitor, Baker (Journeyman)/26/Ealing, Middlesex/Census
1861/Deborah Brown/House Servant/42/Kensington, Middlesex/Census
+ Lodgers

1864/William Coombs/Lordship lane, Dulwich/../../../Electoral Register

South London Press 20 September 1866: William Fountain, The Plough, Lordship Lane, Dulwich: Three measures, Fined 15s. *
In 1851 he is at the Hope Tavern, 63 (30) Arthur Street, Chelsea with 5 daughters and 4 sons & he is still there in 1858

1871/Charles Gould/Oil man, clerk & publican/39/Staffordshire Leek/Census *
1871/Jessie Gould/Wife & landlady/27/Barnsley/Census
1871/Ada Gould/Daughter/6/Middlesex St Pancras/Census
1871/Charles S Gould/Son/3/Islington St Mary's/Census
1871/Frederick Gould/Son/2/ Islington St Mary's/Census
1871/Sarah Gould/Daughter/7 months/Surrey Camberwell/Census
1871/Louisa A Cook/Mother in law/47/Suffolk/Census
1871/Eva Burgers/Barmaid/17/Downton/Census
1871/Emma Couchman/General domestic servant/24/London/Census
1871/Alice Nucas/Nurse/22/Norfolk Thetford/Census

1874/Charles Gould/../../../../Suburban Post Office Directory

1878/George Gould/../../../../Suburban Post Office Directory

Shipping and Mercantile Gazette 15 November 1878: Firing a Haystack – Two youths, named Spencer and Tull, apparently not more than 11 years old, and said to be respectably connected, were charged at Lambeth Police court with setting fire to a hayrick, value £30, the property of Mr Paulton, landlord of the Plough tavern Dulwich. Mr Ellison the magistrate, remanded the prisoners, but intimated his intention of sending them for trial. *

South London Press 20/09/1879: Unjust weights and measures: Charles Gould, Plough, Lordship Lane: eight measures, fined £3 7s 6d. *

1881/William R Dyer/(Manager)/46/London, Middlesex/Census
1881/Sarah Ann Dyer/Wife/45/London, Middlesex/Census
1881/Alexander F Smith/Potman/36/Islington/Census
1881/Thos Stacey Jeans/Barmaid/16/Greenwich/Census

1891/William Henry Jarvis/Licensed Victualler/58/Marlborough/Census *
1891/Elizabeth A Jarvis/Wife/43/London St Georges/Census
1891/William A Jarvis/Son & engineering student/17/London New Cross/Census
1891/Arthur E Jarvis/Son & wharfinger collector/16/London New Cross/Census
1891/Ann Bostock/Widow & mother in law/68/London Clerkenwell/Census
1891/Ann Bostock/Sister in law/34/London St Georges/Census
1891/Amelia Jack/Visitor/82/London Aldgate/Census

1896/Henry William Jarvis/../../../../Post Office Directory

1901/Augustus George Mann (jnr)/Son & manager of hotel/18/Parish of Camberwell/Census *
1901/Mary Ann Holland/Cook domestic/46/Parish of Deptford/Census
1901/Cyril Beaumont/Barman/17/Parish of Finsbury/Census
1901/Eleanor M Major/Barmaid/21/Parish of Beckenham/Census
1901/Maude Salisbury/Barmaid/20/London Borough/Census

1904/Augustus G Mann/../../../../Post Office Directory

1905/Augustus G Mann/../../../../Post Office Directory

1908/Augustus G Mann/../../../../Post Office Directory

1911/Augustus G Mann/../../../../Post Office Directory

1911/Alfred Henry Mann/Quantity Surveyor, Admiralty/30/Surrey Camberwell/Census *
1911/Florence Mary Mann/Wife/29/Surrey Camberwell/Census
1911/Peggy Florence Mann/Daughter/1/Surrey Dulwich/Census
1911/Alice Louise Kentish/Barmaid/38/Surrey Byfleet/Census
1911/Emily Key/Barmaid/31/Surrey Kennington/Census
1911/Gertrude Maggie Marsh/Barmaid/33/St Brelades Jersey (British subject by parentage)/Census
1911/Madge Horae/General servant/16/Surrey Peckham/Census

Augustus George Mann (snr) was living elsewhere in 1911, at No 1 Eynella Road on the other side of Lordship Lane. *
1911/Augustus George Mann/Licensed Victualler/58/Islington, London/Census
1911/Eliza Mann/Wife/56/Berkshire/Census
1911/Alice Maud Mary Mann/Daughter/31/Camberwell, London/Census
1911/Elizabeth Ann Marshall/Servant/30/Deptford, London/Census

1919/Augustus G Mann/../../../../Post Office Directory

1934 - 1945/A H & A G Mann/../../../../Freehold

1940/Augustus George Mann/../../../../Post Office Directory

1944/Augustus George Mann/../../../../Post Office Directory

1946 - 1948/AA G Mann/../../../../Freehold

1949 - 1950/Mrs E M Mann/../../../../Freehold

1951 - 1965/H J Emery/../../../../Freehold



* Provided By Ian McInnes