Princess Charlotte, 409 Albany road, Camberwell SE5
Camberwell pubs history index
At 409 Albany Road by 1910. The address is listed as 379 Albany Road in 1899 and earlier, as 385 Albany Road in 1856 and earlier, and as 2 Albany Road in 1839, prior to street renumbering. * Closed because of enemy action in July 1944.
Historical London public houses, Taverns, Inns, Beer Houses and Hotels.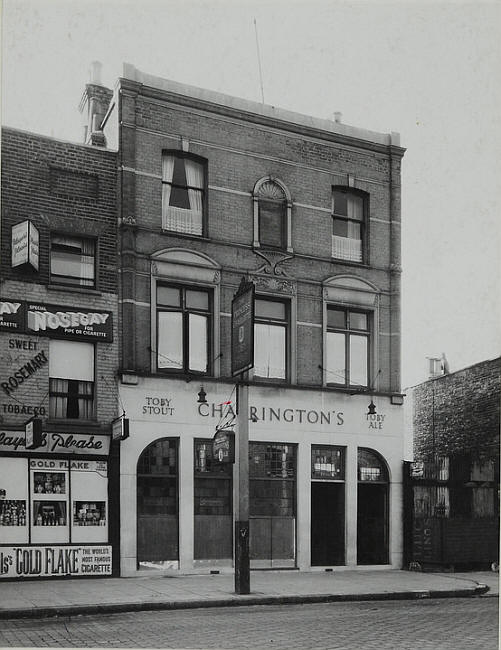 Princess Charlotte, 409 Albany Road, Camberwell - in 1942
Residents at this address.
1825/Samuel Abraham Smith/Princess Charlotte, Albany road/../../Petty Sessions

1827/Samuel Smith, Princess Charlotte, Albany road/../../Pigots Directory

1833-34/Thomas Burnell, Princess Charlotte, Albany Road/../../Pigot's Directory

1839/Elizabeth Burnell/../../../Pigot's Directory *

1848/Hen. Burton/../../../Post Office Directory *

January 1848/Henry Burton/Outgoing Licensee/../../Era Newspaper

January 1848/William Lee/Incoming Licensee/../../Era Newspaper

February 1850/William Lee/Outgoing Licensee/../../Morning Advertiser

February 1850/Thomas Pearman/Incoming Licensee/../../Morning Advertiser

December1853/Thomas Pearman/Outgoing Licensee/../../Era

December 1853/Samuel Small Clark/Incoming Licensee/../../Era

1856/William John Cripps/../../../Post Office Directory *

April 1862/William John Cripps/Outgoing Licensee/../../Era

April 1862/James Cooper/Incoming Licensee/../../Era

Era - September 27 1864 :
Princess Charlotte, Albany road, Thomas Rands to William Grosant

1869/William Treadwell/../../../Post Office Directory *

February 1870/Susanna Treadwell/Outgoing Licensee/../../Era

February 1870/William Treadwell/Incoming Licensee/../../Era

March 1870/Susannah Treadwell/Outgoing Licensee/../../Era

March 1870/William Robert Queers/Incoming Licensee/../../Era

September 1878/Leonard Polden/Outgoing Licensee/../../South London Chronicle

September 1878/William Oxford Ponsonby/Incoming Licensee/../../South London Chronicle

1881/William Penseney/Licensed Victualler/42/Mile End, Middlesex/Census
1881/Eliza Penseney/Wife/34/Bermondsey, Surrey/Census
1881/Ethel Penseney/Daughter/7 months/Camberwell, Surrey/Census
1881/Melium Archonaul/Potman/16/Bermondsey, Surrey/Census

1882/William O. Penseney/../../../Post Office Directory *

1884/William O Penseney/../../../Post Office Directory

1891/Edward Mayo/../../../Post Office Directory

1895/Mrs An Bromley/../../../Post Office Directory

1899/Mrs An Bromley/../../../Post Office Directory

1910/Tom Cross/../../../Post Office Directory

1915/Tom Cross/../../../Post Office Directory

1921/Jessie Bowden/../../../Hughes Directory

1934 - 1938/F G Dove/../../../Freehold

1938/Frederick G Dove/../../../Post Office Directory

1939/Mrs A R Barker/../../../Freehold

1940 - 1944/now Mrs Crouch/../../../Freehold

1944/Hy Crouch/../../../Post Office Directory



* Provided By Ewan