Red Bull, 116 High Street. Peckham SE15
Camberwell pubs history index
at 104 High Street in 1881 & earlier. Incorrectly named the Kings Arms in 1911 census summary, but the actual census refers to the Red Bull.
Historical London public houses, Taverns, Inns, Beer Houses and Hotels.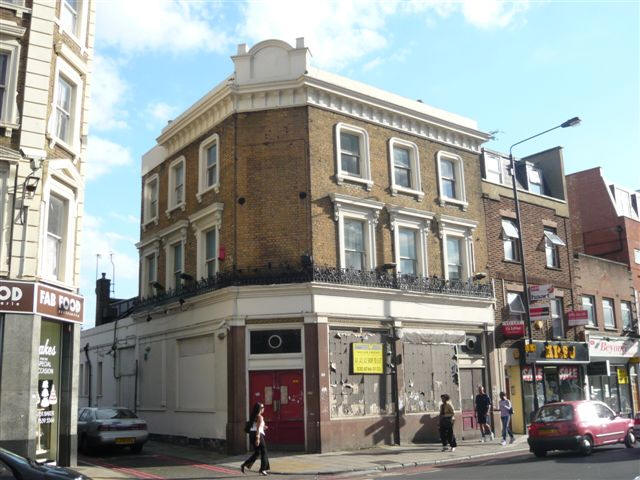 Red Bull, 116 Peckham High Street, SE15 - in June 2008
Kindly provided by Stephen Harris
Residents at this address.
1825/Charles Willson/Red Bull, Peckham/../../Petty Sessions

1826/Chas. Wilson/Red Bull Inn, High Street/../../Pigot's Directory *

1830/Mr Willson/../../../Licensed Victuallers Association

1836/James M Green, Adam & Eve, Peckham/../../Pigot's Directory

1839/John Phillips, Red Bull, Peckham/../../Pigot's Directory *

September 1851/Samuel Bird/Outgoing Licensee/../../Era Newspaper

September 1851/William Robert Hayes/Incoming Licensee/../../Era Newspaper

November 1852/William Robert Hayes/Outgoing Licensee/../../Era Newspaper

November 1852/William Richardson/Incoming Licensee/../../Era Newspaper

November 1853/William Richardson/Outgoing Licensee/../../Era

November 1853/Thomas Shepard/Incoming Licensee/../../Era

1855/T. Shephard/../../../Essex, Herts, Kent, Middlesex, Surrey & Sussex Directory *

April 1856/Thomas Shepherd, deceased/Outgoing Licensee/../../Era

April 1856/Ann Shepherd, widow and executrix of Thomas Shepherd/Incoming Licensee/../../Era

September 1857/Richard Goodwin/Outgoing Licensee/../../Era

September 1857/Charles Hayward jun/Incoming Licensee/../../Era

October 1865/Thomas Spreadbury/Outgoing Licensee/../../Era

October 1865/George Sarls/Incoming Licensee/../../Era

1867/G Sares/../../../../Suburban Post Office Directory

June 1868/Maria Sares/Outgoing Licensee/../../South London Chronicle

June 1868/John Martin/Incoming Licensee/../../South London Chronicle

1871/Pamela Cook/Licensed Victualler, Widow/48/Norfolk/Census
1871/Pamela Cook/Daughter/14/Middlesex/Census
1871/Juat Cook//8/Daughter/Surrey/Census
1871/Elizabeth Fuller/Sister, Widow/65/Norfolk/Census
1871/Thomas Barrett/Waiter/19/Peckham, Surrey/Census
1871/Thomas Ralph/Lodger/23/../Census

January 1872/Pamela Cook/Outgoing Licensee/../../Era Newspaper

January 1872/Thomas Rands/Incoming Licensee/../../Era Newspaper

1878/John Roberts/../../../../Suburban Post Office Directory

1881/Edwin Richard Coles/Licensed Victualler/39/Devon/Census
1881/Susannah Coles/Wife/38/Lincoln/Census
1881/Minnie Susannah Coles/Daughter/11/Brompton/Census
1881/Rosa Emily Coles/Daughter/10/Brompton/Census
1881/Ada Grace Coles/Daughter/8/Brompton/Census
1881/Edwin Richd Coles/Son/7/Brompton/Census
1881/Elizabeth Mary Coles/Daughter/5/Brompton/Census
1881/Alice Amelia Coles/Daughter/3/Woolwich/Census
1881/Walter John Coles/Son/1 month/Peckham/Census
1881/Catherine H Pound/Barmaid/21/Gloucester/Census
1881/Louis Baker/Barman/17/Devon/Census
1881/Rebecca Smith/General Servant/15/Peckham/Census

South London Press 27 September 1884 - Newington Transfer of Licenses
Red Bull, High street, Peckham, A R Hoe to Georgiana Hoe, widow and executrix

1891/Thomas Duffell/Pub Manager/28/Great Yarmouth, Norfolk/Census
1891/Harriett Duffell/Wie, Manageress/28/Great Yarmouth, Norfolk/Census
1891/Anne Voller/Barmaid/29/Fleet, Hampshire/Census
1891/Elizabeth Brown/Barmaid/22/York, Yorkshire/Census
1891/Florence Wilkins/Barmaid/19/Southampton, Hampshire/Census
1891/Alfred B Fairbrother/Barman/18/Hampshire/Census
1891/Charles Clements/Barman/16/Peckham, Surrey/Census
1891/John Hunter/Barman/18/London, Middlesex/Census
1891/Elizabeth Boddy/Domestic Servant/21/Buntingford, Hertfordshire/Census
1891/George Huntley/Barman/19/Bures, Suffolk/Census
1891/John Moth/Manager/30/Howley, Hampshire/Census
1891/Annie E Cant/Housekeeper, Widow/58/Messing, Essex/Census

1896/Thomas Richards & Co/../../../../Post Office Directory

1904/Thomas Layton/../../../Post Office Directory *

1905/Thomas Layton/../../../../Post Office Directory

1908/Thomas Weever/../../../../Post Office Directory

1911/Thomas Weever/../../../../Post Office Directory

1911/Thomas Weever/Licensed Victualler/49/Wem, Shropshire/Census
1911/Kate Weever/Wife/40/Stepney, London/Census
1911/Alice Townson/Barmaid/24/Battersea, London/Census
1911/Charles Oliver/Barman/38/Chelmsford, Essex/Census
1911/Richard Omeard/Barman/24/Dublin, Ireland/Census
1911/John Streeter/Barman/19/South Norwood, Surrey/Census
1911/Albert Turner/Barman/23/Deptford, London/Census
1911/Ellen Reid/Cook, Widow/58/St Pancras, London/Census
1911/Annie King/Housemaid/29/Camberwell, London/Census

1914/Henry William Paskins/../../../Post Office Directory *

1919/Alfred John Capp/../../../../Post Office Directory

1921/Alfred John Capp/../../../../Hughes Directory

1944/R C Medhurst/../../../../Post Office Directory

1971/../Red Bull/../../../Post Office Directory



* Provided By Ewan

** Provided By Stephen Harris