Shard Arms, 610 Old Kent road, Peckham SE15
Camberwell pubs history index
Historical London public houses, Taverns, Inns, Beer Houses and Hotels.
At 1 Canal Place, Old Kent Road in 1843 and 1856. The address is also listed as Peckham Wharf, Old Kent Road in the 1839 Directory *.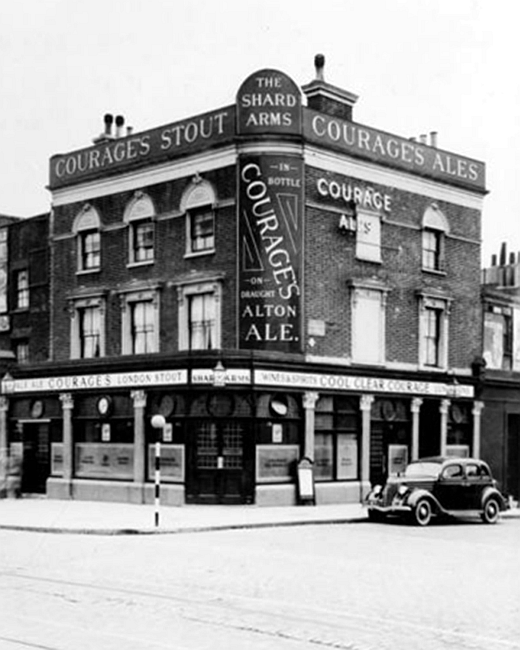 Shard Arms, 610 Old Kent Road - circa 1950s
Kindly provided by Fred Roll
Residents at this address.
1825/William Watts/Shards Arms, Kent road/../../Petty Sessions

1826/Benj. Watts/../../../Pigot's Directory *

1839/John Thompson/../../../Pigot's Directory *

1843/John Thompson/../../../Kellys Directory

1848/James P. Ives/../../../Post Office Directory *

1851/James P. Ives/../../../Post Office Directory *

November 1850/James Payne Ives/Outgoing Licensee/../../Era

November 1850/John Philps Kemp/Incoming Licensee/../../Era

June 1852/John Philps Kemp/Outgoing Licensee/../../Era Newspaper

June 1852/Joseph Powell/Incoming Licensee/../../Era Newspaper

1856/Joseph Powell/../../../../Post Office Directory

1869/Elijah Evans Land/../../../../Post Office Directory

February 1870/Louisa Land/Outgoing Licensee/../../Era

February 1870/Robert Corbett/Incoming Licensee/../../Era

1881/William J Huxley/Publican/27/Balhard Green, Middlesex/Census
1881/Mary Huxley/Wife/25/Mile End, Middlesex/Census
1881/William J Huxley/Son/4/Camberwell, Surrey/Census
1881/William S Huxley/Son/2/Camberwell, Surrey/Census
1881/Mary A Huxley/Daughter/2 months/Camberwell, Surrey/Census
1881/Thomas Cockrell/Barman/19/Deptford, Kent/Census
1881/George Murphy/Barman/33/Romford, Essex/Census
1881/John H Flint/Barman/18/Birmingham, Warwick/Census
1881/Ann Golding/Nurse/32/../Census
1881/Emma Searle/General Servant/30/West Ham, Essex/Census
1881/Charlotte Shepperd/Nurse, Widow/60/Tiverton, Devon/Census

1882/Wm Jno Huxley/../../../../Post Office Directory

1884/William J Huxley/../../../../Post Office Directory

1891/Venner & Taylor/../../../../Post Office Directory

1895/Edwin Venner/../../../../Post Office Directory

1899/Everett & Dowsett/../../../../Post Office Directory

1910/George Percy Lambert/../../../../Post Office Directory

1911/George Percy Lambert/Licensed Victualler/35/Soho/Census *
1911/Daisy Lambert/Wife, Assisting in the Business/27/Penge/Census
1911/Fredk. George Lambert/Son/1/Peckham/Census
1911/Sidney Lister/Barman/28/Chatteriss, Cambridgeshire/Census
1911/Albert Hollington/Barman/18/Stepney/Census
1911/Gertrude Dyer/Barmaid/22/Bermondsey/Census
1911/Minnie Tippen/Barmaid/20/Canning Town/Census

1915/George Percy Lambert/../../../../Post Office Directory

1921/Charles Simpson/../../../../Post Office Directory

1938/Wm Edward Risby/../../../../Post Office Directory

1944/Joseph Monger/../../../../Post Office Directory



* Provided By Ewan