St Georges Tavern, 14 Coleman road, Camberwell SE5
Camberwell pubs history index
The St Georges Coffee House, Coleman street, Southampton street in 1855 and 1856 license transfers. At 14 Coleman Road by 1921.
Historical London public houses, Taverns, Inns, Beer Houses and Hotels.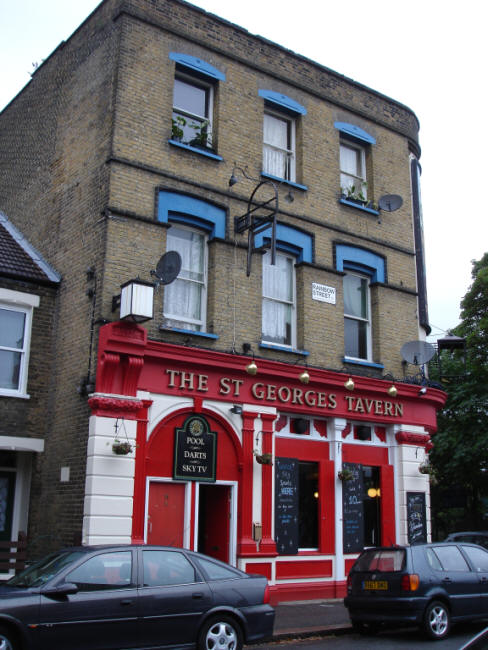 St Georges Tavern, Rainbow Street SE5 - in August 2011
Kindly provided by Simon Langton
Residents at this address.
September 1851/Augustus George Stead/Outgoing Licensee/../../Era Newspaper

September 1851/William Wallden/Incoming Licensee/../../Era Newspaper

June 1855/George Sheppard/Outgoing Licensee/../../Era Newspaper

June 1855/Thomas Marsden/Incoming Licensee/../../Era Newspaper

April 1856/Thomas Marsden/Outgoing Licensee/../../Era

April 1856/William Price/Incoming Licensee/../../Era

December 1856/Robert Laidlaw/Outgoing Licensee/../../Era

December 1856/John Crewe/Incoming Licensee/../../Era

Era - September 27 1864 :
St Georges coffee house, Coleman street, Southampton street, Sophia Payne to Mary Ann Salmon

October 1865/Mary Ann Salmon/Outgoing Licensee/../../Era

October 1865/Mansfield Parkyns, official assignee of James William Brett/Incoming Licensee/../../Era

1867/S Barber/../../../../Surrey Post Office Directory

June 1870/Samuel HarberOutgoing Licensee/../../Era

June 1870/David Spence/Incoming Licensee/../../Era

Robert Hasler is a cheesemonger and builders foreman in the 1871 census.

1878/Robert Hasler/../../../../Surrey Office Directory

1881/Robert Hasler/Licensed Victualler/52/Enfield, Middlesex/Census
1881/Emily Hasler/Wife/53/Crondal, Hampshire/Census
1881/Emily A Hasler/Daughter/22/Over Stoway, Somerset/Census
1881/Beatrice Hasler/Daughter/16/Lambeth, Surrey/Census

1891/Robert Hasler/Licensed Victualler/61/Enfield, Middlesex/Census
1891/Emily Hasler/Wife/62/Crondal, Hampshire/Census
1891/Emily A Hasler/Daughter/32/Over Stocy, Somerset/Census
1891/Sarah Scutt/Servant/16/Walworth, London/Census

1896/Joseph Elias Turner/../../../../Post Office Directory

1905/James Smith/../../../../Post Office Directory

1908/Andrew Wood/../../../../Post Office Directory

My great-grandfather, Harry Langton, was the publican here in 1911. *

1911/Harry Langton/../../../../Post Office Directory

1914/James Davidson/../../../Post Office Directory **

1919/John George Hook/../../../../Post Office Directory

1921/John George Hook/../../../../Post Office Directory

1938/Victor Wm Garwood/../../../../Post Office Directory

1944/Victor Wm Garwood/../../../../Post Office Directory



* Provided By Simon Langton

** Provided By Ewan