Search London wiki and Pub wiki history sites
All public house, restaurants, bars etc closed for the forseeable future from 20th March 2020, but this is a history site.
King of Prussia, 50 Leather Lane, Charterhouse EC1
Charterhouse pubs history index
This pub was re-named the King on the outbreak of the First World War. It is now long-closed and houses a cafť, a shoe shop and a dentist's surgery. ** The address is 50 Leather Lane by 1910, following street renumbering; previously at 30 Leather Lane. *
Historical London public houses, Taverns, Inns, Beer Houses and Hotels.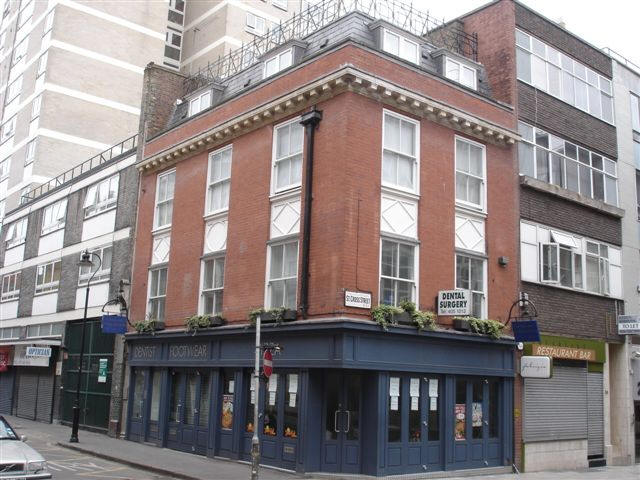 King of Prussia, 50 Leather Lane, EC1 - in May 2007
Kindly provided by Stephen Harris
Residents at this address.
1789/Philip Manly/victualler/../../Sun Fire Office records held at the London Metropolitan Archives *

1792/Philip Manly/victualler/../../Sun Fire Office records held at the London Metropolitan Archives *

1794/Philip Manly/victualler/../../Sun Fire Office records held at the London Metropolitan Archives *

1809/William Loveless / Victualler //../../../Sun Fire Office records, held at Guildhall Library **

1816/Charles Stewardson/../../../Proceedings of the Old Bailey **

1831/Thomas Bayless, King of Prussia, Leather lane, in addition to 5 guineas, 1 guinea/../../Licensed Victuallers Association

1839/Paul John Reynolds/../../../Pigotís Directory **

1841/Benj. Robinson/../../../P.O. Directory **

1841/Benjamin Robinson/Publican/35/Middlesex/Census
1841/Sarah Robinson/../30/Middlesex/Census
1841/Augustus Robinson/../8/Middlesex/Census
1841/Hellen Robinson/../6/Middlesex/Census
1841/Sarah Robinson/../4/Middlesex/Census
1841/Lucy Robinson/../2/Middlesex/Census
1841/Benjamin Robinson/../8 months/Middlesex/Census
1841/Elizabeth Bishop/Female Servant/17/Middlesex/Census
1841/James Crowder/Male Servant/13/Middlesex/Census
..

1842/William Clew/../../../Robsonís Directory **

1848/David Allen Cave/../../../Post Office Directory *

1851/David Allen Cave/../../../Kellyís Directory **

1851/David A Cave/Publican/38/St Georges East/Census
1851/James Cave/Brother, Publican/35/St Georges East/Census
1851/Hannah H Cave/Mother, Widow/68/Greenwich/Census
1851/Deborah Maymahan/Housemaid/21/Deptford, Kent/Census

1856/D Cave/../../../Post Office Directory

1869/David A Cave/../../../Post Office Directory

October 1869/W A Chapman and Edward Letts, executors of Dennis Cave Chapman, late occupier/Outgoing Licensee/../../Era

October 1869/Henry Young/Incoming Licensee/../../Era

July 1870/Henry Young/Outgoing Licensee/../../Era

July 1870/William Henry Hicks/Incoming Licensee/../../Era

1871/William H Hicks/Licensed Victualler/39/Tiverton, Devon/Census
1871/Sarah F Hicks/Wife/30/London, Middlesex/Census
1871/Florence S H Hicks/Daughter/13/London, Middlesex/Census
1871/George W H Hicks/Son/11/London, Middlesex/Census
1871/Mabel E H Hicks/Daughter/9/London, Middlesex/Census
1871/Sydney F J M A Hicks/Son/7/London, Middlesex/Census
1871/Lillian M C H Hicks/Daughter/5/London, Middlesex/Census
1871/Ernest A S H Hicks/Son/1/London, Middlesex/Census
1871/Alfred Johnstone/Barman/22/London, Middlesex/Census
1871/Jane Page/Cook/23/Jersey/Census
1871/Sophia Hopkins/Nursemaid/18/London, Middlesex/Census

April 1872/William Henry Hicks/Outgoing Licensee/../../Era Newspaper

April 1872/George Augustus Webb/Incoming Licensee/../../Era Newspaper

1880/Mrs Emeline Peck/../../../Post Office Directory

1881/John Isaac Howe/Licensed Victualler/44/Bow, Devon/Census
1881/Jane Humphris/Wife/37/Charlbury, Oxford/Census
1881/Frederick Howe/Son/10/St Marylebone, Middlesex/Census
1881/Albert Howe/Son/8/St Marylebone, Middlesex/Census
1881/George Howe/Son/7/St Marylebone, Middlesex/Census
1881/Ella Urinott/Domestic Servant/20/Stautscin, Germany/Census

1882/John Trace Howe/../../../Post Office Directory

1884/John T Howe/../../../Post Office Directory

1891/John Trace Howe/../../../Post Office Directory

1895/John Trace Howe/../../../Post Office Directory

1899/John Trace Howe/../../../Post Office Directory

1910/Henry J McSorley/../../../Morris Directory **

1915/Henry J McSorley/../../../Morris Directory **

1935/Jas. Attle/../../../P.O. Directory **

1940/Jas Attle/../../../Post Office Directory **

1944/William E. Hardiman/../../../Post Office Directory *



* Provided by Ewan

** Provided By Stephen Harris