Search London wiki and Pub wiki history sites
All public house, restaurants, bars etc closed for the forseeable future from 20th March 2020, but this is a history site.
Windmill, 96 Leather Lane, Charterhouse EC1
Charterhouse pubs history index
The address is at 47 Leather Lane in 1895 and 1899, and at 49 Leather Lane in 1884 and earlier, prior to street renumbering. *
Historical London public houses, Taverns, Inns, Beer Houses and Hotels.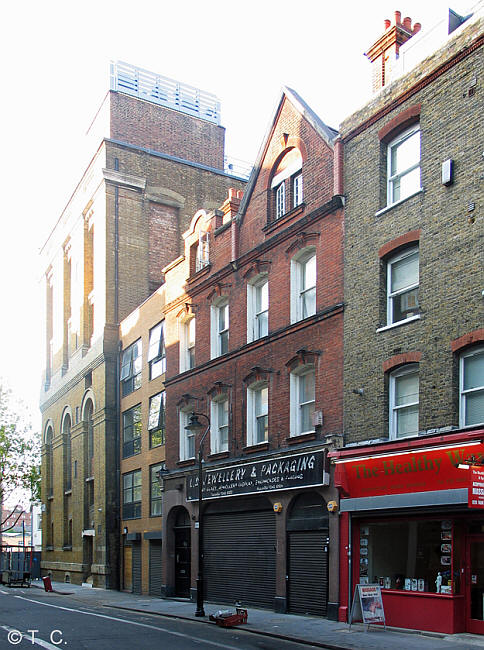 Windmill, 96 Leather Lane EC1 - in June 2013
Kindly provided by Tris
Residents at this address.
1787/Richard Edleston/victualler/../../Sun Fire Office records held at the London Metropolitan Archives *

1825/Mr White, Windmill, Leather lane/../../Licensed Victuallers Association

1829/J White/../../../Robsons Directory

1831/Thomas Marshall, Windmill, Leather lane, in addition to 2 guineas, 3 guineas/../../Licensed Victuallers Association

1832/Thomas Marshall, Windmill, 49 Leather lane/../../Robsons Directory

1833-34/Thomas Marshall, Windmill, 49 Leather lane/../../Pigotís Directory

1834/Mrs Marshall/../../../Licensed Victuallers Association

1836/John Jenkins, Windmill, 49 Leather lane/../../Pigotís Directory

1839/John Jenkins/../../../Pigotís Directory **

1841/John Jenkins/../../../Post Office Directory *

1841/John Jenkins/Licensed Victualler/32/../Census
1841/Elizabeth Jenkins/../32/../Census

1848/John Christoffers/../../../Post Office Directory *

1851/John Christoffers/../../../Kellyís. Directory **

1851/John Christoffers/Licensed Victualler, Widow/48/Hamburg/Census
1851/Sarah Ann Christoffers/Daughter/12/City of London/Census
1851/Catherine Christoffers/Daughter/8/City of London/Census
1851/Eliza Ludlow/Barmaid/40/Brighton, Sussex/Census
1851/Priscilla Jefferys/Barmaid/19/Brompton, Middlesex/Census
1851/Elena Taylor/General Servant/35/Westminster, Middlesex/Census
1851/Frederick Salter/Potman/24/St Andrews, Middlesex/Census
1851/George Trabron/Lodger, Bran Worker/30/St Andrews, Middlesex/Census

1852/John Cristoffers/../../../Watkins Directory **

September 1853/John Christoffers/Outgoing Licensee/../../Era

September 1853/John Andrew Jones/Incoming Licensee/../../Era

January 1854/John Andrew Jones/Outgoing Licensee/../../Era

January 1854/John Denton/Incoming Licensee/../../Era

1856/Samuel Gogay/../../../Post Office Directory

1861/Charles Batchelor/Licensed Victualler/42/St Giles, Dorset/Census
1861/Mary A Batchelor/Wife/36/St Pancras, Middlesex/Census
1861/William J Bentley/Son in Law, Barman/17/Colchester, Essex/Census
1861/Maria Morris/Mother in Law, Laundress/62/West Ham, Essex/Census
1861/Emily Major/Niece/7/St Pancras, Middlesex/Census
1861/Caroline Freeman/Servant/30/Windsor, Berkshire/Census

October 1861/Charles Batchelor/Outgoing Licensee/../../Morning Post

October 1861/Thomas Mills/Incoming Licensee/../../Morning Post

May 1862/Thomas Mills/LV Association, Governor/../../Era

1869/Thomas Walton/../../../Post Office Directory

1871/Thomas Walton/Licensed Victualler/35/Coventry, Warwickshire/Census
1871/Jane Walton/Wife/31/Pall Mall, Middlesex/Census
1871/Thomas H Walton/Son/10/Strand, Middlesex/Census
1871/Alice Fanny Walton/Daughter/7/Oxford Street, Middlesex/Census
1871/Ada E Walton/Daughter/5/Leather Lane, Middlesex/Census
1871/Arthur W Walton/Son/2/Leather Lane, Middlesex/Census
1871/Annie Radford/Barmaid/20/Grays Inn Road, Middlesex/Census
1871/Elizabeth Edwards/General Servant/39/Holborn, Middlesex/Census
1871/Harriett Tily/General Servant/19/Thames Street, Middlesex/Census
1871/William Noble/Potman/45/Hounslow, Middlesex/Census

1881/William Hackney/Licensed Victualler/32/Shoreditch, Middlesex/Census
1881/Mary Hackney/Wife/26/Finsbury, Middlesex/Census
1881/Bertha Mary Hackney/Daughter/2/Finsbury, Middlesex/Census
1881/Daisy Winifred Hackney/Daughter/1/Finsbury, Middlesex/Census
1881/Edith Penny/Cousin/15/Wandsworth, Middlesex/Census
1881/Annie Adams/Barmaid/19/Portsmouth/Census
1881/Fred Rivers Shepherd/Barman/19/Chelmsford/Census
1881/Emily Hobson Hopkins/Domestic Servant/21/Oakington, Cambridge/Census

1882/William Hackney/../../../Post Office Directory

1884/William Hackney/../../../Post Office Directory

1886/John Fuller/../../../Business Directory of London **

1891/Mrs Mary Hackney/../../../Post Office Directory

1895/Miss Emily Ann Fuller/../../../Post Office Directory

1899/Miss Emily Ann Fuller/../../../Post Office Directory

1910/Miss Emily Ann Fuller/../../../Post Office Directory

1915/Miss Emily Ann Fuller/../../../Post Office Directory

1921/Emily A Fuller/../../../Hughes Directory

1935/Jsph. Ward/../../../P.O. Directory **

1938/Wm Fredk Stacey & Jas Nangle/../../../Post Office Directory

1944/Wm Fredk Stacey/../../../Post Office Directory



* Provided by Ewan

** Provided by Stephen Harris