Admiral Codrington, 17 Mossop Street, Chelsea SW3
Chelsea Pub history index
The very early address is at 2 Green lettuce lane, Marlborough road in 1836. Green lettuce lane, is later renamed to Green street.
The address was formerly given as 17 Green Street and later renamed to 17 Mossop Street by 1938. This pub was established in around 1830. **
Historical London public houses, Taverns, Inns, Beer Houses and Hotels.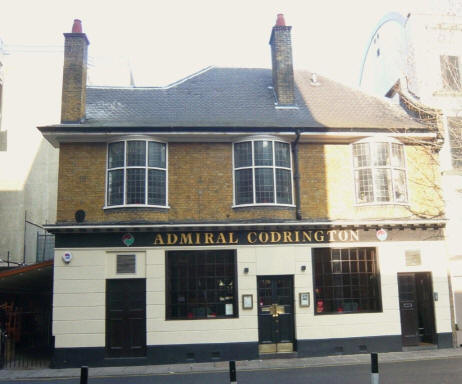 Admiral Codrington Arms, 17 Mossop Street, SW3 - in March 2009
Kindly provided by Stephen Harris
1836/Richard Ambrouse, Admiral Codrington, 2 Green lettuce lane, Marlborough road/../../Pigots Directory

1843/Henry Wakeford/../../../Kellys Directory

1846/Robert Crow/../../../Post Office Directory

1851/Robert Crow/../../../Kellys Directory

1851/James Shepherd/Licensed Victualler/34/Romford, Essex/Census
1851/Elizabeth Shepherd/Wife/36/Ludlow, Shropshire/Census
1851/James George Shepherd/Son/2/Newington, Surrey/Census
1851/Elizabeth Margaret Shepherd/Daughter/2 months/Chelsea, Middlesex/Census
1851/Margaret Pwen/General Servant/16/Stepney, Middlesex/Census

September 1853/James Shepherd/ Outgoing Licensee /../../The Era

September 1853/Adam Delaforce/ Incoming Licensee /../../The Era

1856/E J Delaforce/../../../Post Office Directory

1862/Isaac Lovejoy/../../../Post Office Directory

1866/Isaac Lovejoy/../../../Post Office Directory **

1874/W Stoneman/../../../Licensed Victualler & Hoteliers Directory

1881/Harry S Pulham/Licensed Victualler/27/London, Middlesex/Census
1881/Alice Pulham/Sister/24/London, Middlesex/Census
1881/Edith L Pulham/Sister/20/London, Middlesex/Census
1881/John Hill Pulham/Barman/21/Sunderland, Durham/Census
1881/b/Domestic Servant/18/Peckenham, Suffolk/Census

1882/Harry Pulham/../../../Post Office Directory

1884/Harry Pulham/../../../Post Office Directory

1892/H Pulham/../../../Kellys Directory **

1899/Frederick William Vogt/../../../Post Office Directory

1901/Frederick W Voyt/Licensed Victualler/26/Bethnal Green, London/Census
1901/Alice M Voyt/Wife/24/Kensington, London/Census
1901/Ruth A Voyt/Daughter/1/Chelsea, London/Census
1901/Clara Flynn/Barmaid/18/Chelsea, London/Census

1921/Walter James Whibley/../../../Post Office Directory

1927/John Hartley Hollyer/../../../Post Office Directory

1934/Albert J Bromley/../../../Kellys Directory

1938/Hubert G Haycock/../../../Post Office Directory



** Provided By Stephen Harris