Search London wiki and Pub wiki history sites
All public house, restaurants, bars etc closed for the forseeable future from 20th March 2020, but this is a history site.
Builders Arms, 13 Britten street, Chelsea SW3
Chelsea Pub history index
This pub was built in 1841. Listed in directories as at 16 Russell Street in 1869 directories and earlier *** The 1884 directory entry lists the pub as the Brewery Tap House.
Historical London public houses, Taverns, Inns, Beer Houses and Hotels.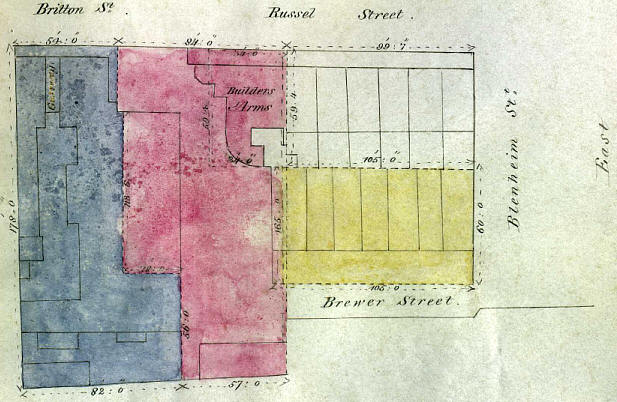 Builders Arms Indenture Mapping in 1854
Kindly provided by Richard Greatorex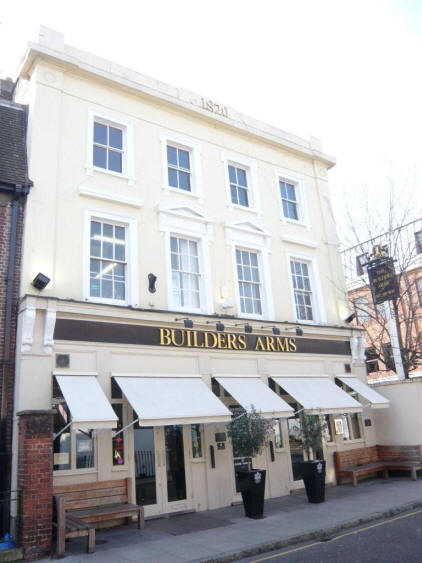 Builders Arms, 13 Britten Street, SW3 - in March 2009
Kindly provided by Stephen Harris
Residents at this address.
Studying a number of old Indentures concerning the Anchor Brewery, Britten Street, I can refine the given date of 1840 to 1841. From an Indenture dated 6th December 1841: Part of the leasehold land held by Henry Plumptre Gipps was sublet to the Chelsea Builder, George Todd (20/Apr/1841) ***

From an Indenture dated 3/Apr/1847: Reciting an Indenture dated 16/Dec/1841 "also all that then New Brick Messuage or Tenements thereon standing and then lately erected and built by the said George Todd and known as and called the Builders Arms (being part of the premises secondly thereinbefore described) were by an Indenture of Lease bearing date the sixth day of December One thousand eight hundred and forty one demised to the said George Todd" ***

1843/George Todd/../../../Kellys Directory

In the 1843 directory, there is also a George Todd, builder living at 10 Marlborough Road, Chelsea

January 1847/James Grossmith/Outgoing Licensee/../../Era

January 1847/Francis Ellison/Incoming Licensee/../../Era

In the 1848 directory, there is also a George Todd, builder living at 10 Orford Place, Marlborough Road, Chelsea

1851/George Dobson/../../../Kellys Directory

1851/George Dobson/Licensed Victualler/35/Elwick, Durham/Census
1851/Eliza Dobson/Wife/30/Tunhill, Hertfordshire/Census
1851/Isabell I Dobson/Daughter/8 months/Chelsea/Census
1851/Ann Foskett/Sister in Law, Farmers Daughter/20/Tunhill, Hertfordshire/Census
1851/Charlotte Foskett/Sister in Law, Farmers Daughter/19/Tunhill, Hertfordshire/Census
1851/Martha Stockton/Niece/7/Tunhill, Hertfordshire/Census
1851/Edward Taylor/Servant/18/Islington/Census
+ Lodgers

1856/George Dobson/../../../Post Office Directory

May 1860/George Allison/Outgoing Licensee/../../West Middlesex Advertiser

May 1860/James Frederick Hallett of New Cross, Kent, Victualle/Incoming Licensee/../../West Middlesex Advertiser

July 1863/William Hart/Outgoing Licensee/../../Era

July 1863/Christopher Martin/Incoming Licensee/../../Era

1869/Benjamin Durkin/../../../Post Office Directory

July 1869/Benjamin Durkin/Outgoing Licensee/../../Era

July 1869/Charles Downie/Incoming Licensee/../../Era

July 1870/Charles Downie/Outgoing Licensee/../../Era

July 1870/Mary Johnson/Incoming Licensee/../../Era

1881/Chas Beamount/Licensed Victualler/41/Bucknall, Shropshire/Census
1881/Clara A Beamount/Wife/33/Pontypool, Monmouth/Census
1881/Edith C Beamount/Daughter/9/Walford, Hertford/Census
1881/Fredk C Beamount/Son/7/Walford, Hertford/Census
1881/John P Beamount/Son/6/Newport, Monmouth/Census
1881/Charles Beamount/Son/4/Battersea, Surrey/Census
1881/Arthur Beamount/Son/1/Chelsea, Middlesex/Census
1881/Alf E Beamount/Son, Barman/16/Radnorshire, Wales/Census
1881/Letitia Lewis/Barmaid/21/Pontypool, Monmouth/Census
1881/Jane Fellows/Domestic Servant/21/Pontypool, Monmouth/Census
1881/Jessitina Lloyd/Domestic Servant/20/Pontypool, Monmouth/Census

1882/Chas Beamount/../../../Post Office Directory

1885/Samuel Varley Simpson/../../../Post Office Directory **

1892/William Sampson/../../../Kelly's Chelsea Directory

1899/Augustus Cowden/../../../Post Office Directory

1901/Augustus Cowden/Licensed Victualler/42/Greenwich, Kent/Census
1901/Annie Cowden/Wife/42/Lighthorne, Warwickshire/Census
1901/Elizabeth Batchelor/Waitress/22/Bermondsey, Surrey/Census
1901/Addie King/Waitress/20/Sandport, Hants/Census

1915/Joseph William Virr/../../../Post Office Directory

1921/Miss Rachel Rees/../../../Post Office Directory

1934/Hy King/../../../Kellys Directory

1944/Alfred H Hoare/../../../Post Office Directory



** Provided By Stephen Harris

*** Provided By Richard Greatorex