Search London wiki and Pub wiki history sites
All public house, restaurants, bars etc closed for the forseeable future from 20th March 2020, but this is a pub history site.
Coopers Arms, 87 Flood street, Chelsea SW3
Chelsea Pub history index
This pub was established in 1831 and rebuilt in its present form in 1874. In 1866 the address was given as 83 Flood Street, and earlier than this was listed as at 33 Queen street. **
Historical London public houses, Taverns, Inns, Beer Houses and Hotels.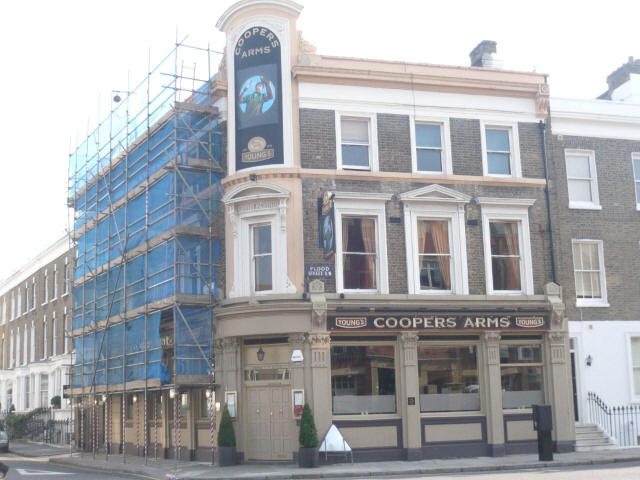 Coopers Arms, 87 Flood Street, SW3 - in March 2009
Kindly provided by Stephen Harris
Residents at this address.
1846/J Wiltshire/33 Queen street, Chelsea/../../Post Office Directory

1848/Thomas Stanley/../../../Post Office Directory

1851/Daniel Pierce/33 Queen street, Chelsea/../../Kellys Directory

1851/Daniel Pierce/Licensed Victualler/32/Christon, Wiltshire/Census
1851/Elizabeth Pierce/Wife/26/Pilton, Devon/Census
1851/William Passmore/Visitor, Farmers Son/25/Chortle, Devon/Census
1851/James Cane/Potboy/15/Poplar, Middlesex/Census
1851/Harriet Lamb/House Servant/21/Isle of Thanet, Kent/Census

1852/Daniel Pierce, Coopers Arms, 33 Queen street, Chelsea/../../Post Office Directory

1856/D Pierce/33 Queen street, Chelsea/../../Post Office Directory

1858/Daniel Pierce, Coopers Arms, 33 Queen street, Chelsea/../../Post Office Directory

1861/Daniel Pierce/Licensed Victualler/41/Chirton, Wiltshire/Census
1861/Elizabeth Pierce/Wife/48/Pilton, Devon/Census
1861/Elizabeth T Pierce/Niece/11/Bishopstone, Wiltshire/Census
1861/Lilly B Rumble/Visitor/4/Snodland, Kent/Census
1861/Sophia Hidson/Barmaid/24/Chelsea, Middlesex/Census
1861/Sarah Heath/House Servant/22/Chelsea, Middlesex/Census
1861/Charles Bartholomew/Waiter/17/Crondall, Hampshire/Census

1866/D Pierce /../../../Post Office Directory **

1869/D Pierce /../../../Post Office Directory

1881/Walter J Holden/Licensed Victualler/26/Chelsea, Middlesex/Census
1881/Frederick J Holden/Brother, Licensed Victualler/20/Chelsea, Middlesex/Census
1881/Elizabeth Ketner/Aunt, House Keeper/57/Linscombe, Somerset/Census
1881/John Ketner/Nephew, Barman/17/Porlock, Somerset/Census
1881/Charles Mason/Barman/27/Yarmouth, Norfolk/Census
1881/John Milton/Barman/25/Chelsea, Middlesex/Census
1881/Mary Burgess/General Servant/30/Norfolk/Census

1882/John Holden & Sons/../../../Post Office Directory

1886/George Block/../../../Kelly's Chelsea Directory **

1891/George Block/Licensed Victualler/44/Bermondsey, London/Census
1891/Mary J Block/Wife/46/Lynn, Norfolk/Census
1891/George J Block/Son/22/Bermondsey, London/Census
1891/Edith A Block/Daughter/18/Bermondsey, London/Census
1891/Louisa A Block/Daughter/17/New Cross, Kent/Census
1891/Beatrice E Block/Daughter/15/New Cross, Kent/Census
1891/Arthur H Block/Son/14/New Cross, Kent/Census
1891/Ernest Block/Son/12/New Cross, Kent/Census
1891/Alfred A Block/Son/11/New Cross, Kent/Census
1891/Samuel P Block/Son/11/New Cross, Kent/Census
1891/Amelia E Scholar/Domestic Servant/29/Blackfriars road, London/Census

1892/George Block/../../../Kelly's Chelsea Directory **

1899/George Block/../../../Post Office Directory

1901/George Block/Licensed Victualler, Widow/54/Bermondsey/Census
1901/Louisa Block/Daughter, Housekeeper/27/New Cross/Census
1901/Beatrice Block/Daughter, Assistant/25/New Cross/Census
1901/Ernest Block/Son, Manager/23/New Cross/Census
1901/Samuel Block/Son, Assistant/20/New Cross/Census
1901/Louise Hull/General Servant/19/Clapham/Census

1910/Ernest Block/../../../Post Office Directory

1915/William Herbert Fry/../../../Post Office Directory

1921/Mrs Alice Emily Fry/../../../Post Office Directory

1927/Mrs Alice Emily Edwards/../../../Post Office Directory

1934/Mrs Alice Emily Edwards/../../../Kellys Directory

1938/Mrs Ann Shore/../../../Post Office Directory

1944/Rt Robertson/../../../Post Office Directory

1971/../Coopers Arms, 87 Flood street SW3/../../Kellys Directory



** Provided By Stephen Harris