Search London wiki and Pub wiki history sites
All public house, restaurants, bars etc closed for the forseeable future on 20th March 2020, but this is a history site
George & Dragon, 17 Queens Road west, Chelsea SW3
Chelsea Pub history index
Queens Road is earlier named Paradise Row. The address in 1851 is at 17 Queens road west.
Historical London public houses, Taverns, Inns, Beer Houses and Hotels.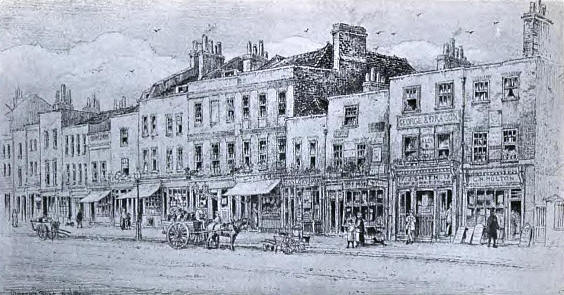 Queens Road West, Chelsea - circa 1901

George & Dragon, 17 Queens Road, Chelsea - circa 1901 (Licensee J Smith)
Kindly provided by Valerie Bushell
Residents at this address.
April 1808/John Chester, the George, Paradise Row, Chelsea, victualler/../../Sun Fire Insurance records at the LMA

April 1809/John Chester the George, Paradise Row Chelsea victualler/../../Sun Fire Insurance records at the LMA

1811/Thomas Leedham, the George & Dragon, Paradise row, Chelsea/../../Holdens Directory

1823-24/Henry Perene, George & Dragon, 17 Paradise row/../../Pigots Directory

1826/Richard Weller, George & Dragon, 17 Paradise Row/../../Pigots Directory

1832/P Young, George & Dragon, Paradise row, Chelsea/../../Robsons Directory

1841/Thomas Driver/Publican/50/../Census ***
1841/Mary Driver/../42/../Census
1841/Mary Driver/../9/Middlesex/Census
1841/Elizabeth Driver/../6/Middlesex/Census
1841/Ellen Read/Female Servant/27/../Census
1841/Henry Andrews/Male Servant/15/Middlesex/Census
1841/William Anslow/Labourer/36/Middlesex/Census
1841/Thomas Tatton/Army Pensioner/80/Middlesex/Census

1851/John Musselwhite/Victualler/46/Wiltshire/Census
1851/Elizabeth Musselwhite/Wife/44/Hertfordshire/Census
1851/Thomas Stroud/Potman/17/Middlesex/Census

September 1853/Elizabeth Mussel White, adminstratrix to her late husband/ Incoming Licensee /../../The Era

1856/Mrs E Mussellwhite/../../../Post Office Directory

1860/Charles John Wright/../../../Post Office Directory

September 1860/Charles John Wright/Outgoing Licensee/../../Era

September 1860/Henry Frederick Harnor/Incoming Licensee/../../Era

September 1863/Frederick Harnor/Outgoing Licensee/../../Morning Advertiser

September 1863/Joseph Parkinson/Incoming Licensee/../../Morning Advertiser

1865/Joseph Parkinson/../../../Post Office Directory

1881/Charles W Kerslake/Publican/42/London, Middlesex/Census
1881/Mary Ann Kerslake/Wife/46/Hampshire/Census
1881/Jessie Kerslake/Daughter/12/London, Middlesex/Census
1881/Albert Weeks/Servant/21/Chelsea, Middlesex/Census
1881/Lizzie M Humphrey/Servant/22/Bristol, Somerset/Census

1882/Charles Kerslake/../../../Post Office Directory

1884/Frederick W Allsep/../../../Post Office Directory

1891/Mrs Emily Osborn/../../../Post Office Directory

1891/Emily Osborn/Publican, Widow/40/Poplar, London/Census
1891/H J Osborn/Son/11/Holloway, London/Census
1891/S G Osborn/Son/9/Belgravia, London/Census
1891/D L Francis/Assistant, Barmaid/16/Charing Cross, London/Census
1891/W Balch/Lodger, Pensioner RN/45/Gosport, Hants/Census
1891/L Smith/Lodger, Pensioner RN/40/Marylebone, London/Census

1895/James Smith/../../../Post Office Directory

1899/James Smith/../../../Post Office Directory

1901/James Smith/Victualler/57/London/Census
1901/William Smith/Son, Gold Finisher/17/London/Census
1901/George Smith/Son, Assistant/15/London/Census
1901/Elizabeth Smith/Wife/35/London/Census
1901/Albert Smith/Son/12/London/Census
1901/Robert Smith/Son/7 months/London/Census
1901/Elizabeth Smith/Daughter/14/London/Census
1901/Frederick/Brother, Widow/68/Norwich, Norfolk/Census