Kings Arms, 114 Cheyne walk, Chelsea SW10
Chelsea Pub history index
The earlier address is at Davis Place, Cheyne Walk in 1856 and earlier. At 2 Cremorne road in the 1861 census; and again in 1869.
Historical London public houses, Taverns, Inns, Beer Houses and Hotels.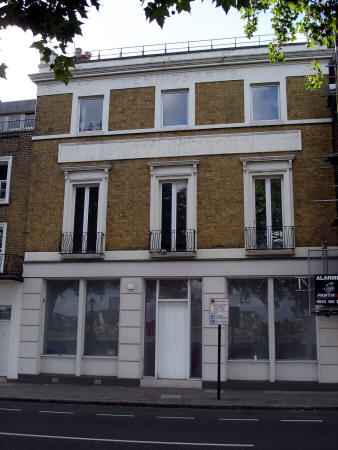 Kings Arms, 114 Cheyne Walk, Chelsea - in August 2009
Kindly provided by Fred Roll
Residents at this address.
1805/Rich Benham, the Kings Arms, Davis street, Chelsea/../../Holdens Directory

1823-24/John Tinley, Kings Arms, Riley street/../../Pigots Directory

1829/J Tindley, Kings Arms, Davis's place, Chelsea/../../Robsons Directory

1839/William Savage, Kings Arms, Davis place, Chelsea/../../Pigots Directory

1848/William Savage/../../../Post Office Directory

1851/George Savage/../../../Kellys Directory

1851/Thomas Wright/Victualler/29/Rushden, Hertfordshire/Census
1851/Rosa Wright/Wife/29/Stockwell, Surrey/Census
1851/Jane Wright/Daughter/3/Marylebone, Middlesex/Census
1851/Ann Theobald/Niece, House Servant/17/Baldock, Hertfordshire/Census

1856/John S Alexander/../../../Post Office Directory

1861/Edward G Chapman/Licensed Victualler/25/Westminster, Middlesex/Census
1861/Harriet A Chapman/Wife/21/Kensington, Middlesex/Census
1861/Edward G Chapman/Son/1 month/Chelsea, Middlesex/Census
1861/Maria Chapman/Barmaid/20/Lambeth, Surrey/Census
1861/Maria Bannister/General Servant/26/Peathmarch, Sussex/Census

1869/Thomas Crane/../../../Post Office Directory

1881/William Fickling/Licensed Victualler/30/St Pancras, Middlesex/Census
1881/Elizabeth G Fickling/Wife/28/Islington, Middlesex/Census
1881/Elizabeth R Fickling/Daughter/3/Chelsea, Middlesex/Census
1881/Lydia Fox/Servant Domestic/19/Chelsea, Middlesex/Census

1882/William J Fickling/../../../Post Office Directory

1884/William J Fickling/../../../Post Office Directory

1891/Benjamin Fickling/../../../Post Office Directory

Walter Clayton and his family are living at the Kings Arms in 1891. His mother Sarah was living there in the 1901 census with her son-in-law William Richardson and family. ***

1891/Walter C Clayton/Public House Manager/29/Stepney, London/Census ***
1891/Ellen Clayton/Wife/27/Northampton/Census
1891/Walter J T Clayton/Son/5/Chelsea, London/Census
1891/Winifred F Clayton/Daughter/4/Chelsea, London/Census

1895/Benjamin Fickling/../../../Post Office Directory

1899/Benjamin Fickling/../../../Post Office Directory

1901/William J Richardson/Manager Public House/49/Chelsea/Census
1901/Elizabeth Richardson/Wife, Manageress/37/Stepney/Census
1901/Sarah A Clayton/Mother in Law, Widow/65/?/Census
1901/Winifred E Clayton/Niece, Apprentice Dressmaker/14/Chelsea/Census
1901/Jessie Clark/Barmaid/19/Clapham/Census
1901/Rose M Withers/Domestic Servant/14/Clapham/Census

1921/Charles Leaphard/../../../Post Office Directory

1934/Chas Everard Fox/../../../Kellys Directory

1944/Albert H Barne & Jas E Crouch/../../../Post Office Directory



*** Provided By Susan Sweetman