Search London wiki and Pub wiki history sites
All public house, restaurants, bars etc closed for the forseeable future from 20th March 2020, but this is a history site.
Marlborough Tavern, 43 Elystan street, Chelsea SW3
Chelsea Pub history index
aka Marlborough Arms; The address was formerly given as 27 College Street, and earlier at 10 College street; now at 43 Elystan Street, changing sometime between 1910 & 1915. This pub was established in 1819 and rebuilt in its present form in 1901. It has closed recently and been converted to restaurant use (2009). **
Historical London public houses, Taverns, Inns, Beer Houses and Hotels.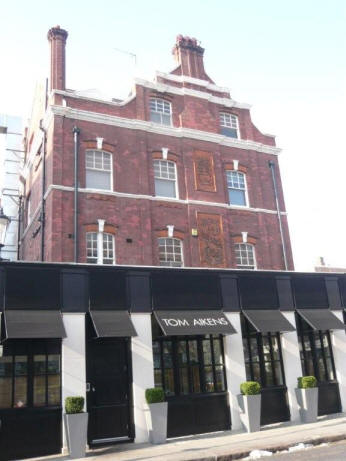 Marlborough Tavern/Arms, 43 Elystan Street, SW3 - in March 2009
Kindly provided by Stephen Harris
Residents at this address.
December 1821/Jeremiah Compton, Marlborough Arms, College Street, Chelsea , victualler/../../Sun Fire Insurance records at the LMA

1822/Mr Compton, Marlborough Arms, Chelsea common/../../Licensed Victuallers Association

1826/Thomas Cass Pitcher/../../../Pigots Directory

October 1828/William Lawrence The Marlborough Arms, College Street, Chelsea victualler/../../Sun Fire Insurance records at the LMA

1843/William Baker/../../../Post Office Directory

1848/William Stanley/../../../Post Office Directory

1851/William Stanley/../../../Kellys Directory

1851/William Stanley/Licensed Victualler/38/St Pancras, Middlesex/Census
1851/Mary Stanley/Wife/39/Chumleigh, Devon/Census
1851/William Stanley/Son/1/Chelsea, Middlesex/Census
1851/Mary Banks/Sister/37/St Pancras, Middlesex/Census
1851/Elizabeth A Banks/Niece/5/Paddington, Middlesex/Census
1851/Thomas Bond/House Servant/24/Shadwell, Middlesex/Census
1851/Elizabeth Greatorex/House Servant/16/St Georges, Middlesex/Census

July 1854/Joseph Wood/Outgoing Licensee/../../Era

July 1854/William Gray/Incoming Licensee/../../Era

November 1854/William Grey jun/Outgoing Licensee/../../Era Newspaper

November 1854/John Starling/Incoming Licensee/../../Era Newspaper

1856/G Starling/../../../Post Office Directory

1861/George Starling/Licensed Victualler/49/Greenwich, Kent/Census
1861/Eliza Starling/Wife/50/Marylebone, Middlesex/Census
1861/Alfred Starling/Son, Printer Compositor/17/St Pancras, Middlesex/Census
1861/Sarah E Starling/Daughter/10/St Pancras, Middlesex/Census
1861/Eliza Grey/Niece, Barmaid/32/Marylebone, Middlesex/Census
1861/Rose Puzey/Servant/23/Ireland/Census
1861/William Gore/Potman/18/Bradford, Wiltshire/Census

1866/G Starling/../../../Post Office Directory **

February 1867/George Starling/Outgoing Licensee/../../West Middlesex Advertiser

George Starling is at the Wallace head, Blandford street, Marylebone by the 1871 census.

February 1867/William Hall/Incoming Licensee/../../West Middlesex Advertiser

1869/William Wykes/../../../Post Office Directory

January 1872/Sarah Wykes, adminitrix of the late William Wykes/Outgoing Licensee/../../Era Newspaper

January 1872/George Hicks James, late of the Caledonian Arms, Princes street, Paddington/Incoming Licensee/../../Era Newspaper

1881/Charles J James/Licensed Victualer/41/Clapton, Middlesex/Census
1881/Harriet E James/Wife/38/Hackney, Middlesex/Census
1881/Charles S James/Son/16/Hoxton, Middlesex/Census
1881/Harriet S James/Daughter/15/Hoxton, Middlesex/Census
1881/Ada M James/Daughter/14/Islington, Middlesex/Census
1881/Sidney H James/Son/10/Islington, Middlesex/Census
1881/James H Bingham/Manager/33/Bourne, Lincoln/Census
1881/John S Bartley/Barman/21/Molecomb, Dorset/Census
1881/Eliza Ward/Domestic Servant/34/Fordham, Cambridge/Census

1882/Chas Joseph James/../../../Post Office Directory

1884/Chas J James/../../../Post Office Directory

1885/Chas Joseph James/../../../Post Office Directory **

1891/Frederick Gannaway/../../../Post Office Directory

1892/Frederick Gannaway/../../../Kelly's Chelsea Directory

1895/Frederick Gannaway/../../../Post Office Directory

1899/Frederick Gannaway/../../../Post Office Directory

1910/Asher Rosenberg/../../../Post Office Directory

1921/Smith & May/../../../Post Office Directory

1938/Thos J Smith/../../../Post Office Directory

1944/Thos J Smith/../../../Post Office Directory



** Provided By Stephen Harris