Search London wiki and Pub wiki history sites
All public house, restaurants, bars etc closed for the forseeable future on 20th March 2020, but this is a history site
Queens Elm Tavern, 241 Fulham road, Chelsea SW3
Chelsea Pub history index
A listing of historical London public houses, Taverns, Inns, Beer Houses and Hotels in Chelsea, London. The Chelsea , London listing uses information from census, Trade Directories and History to add licensees, bar staff, Lodgers and Visitors.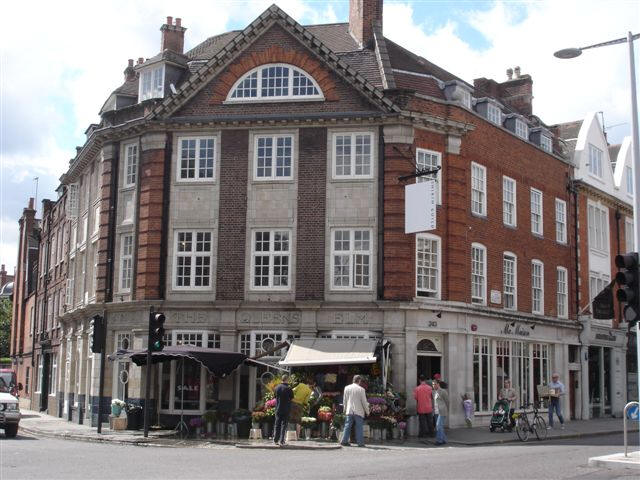 Queen's Elm Tavern, 241 Fulham Road, SW3 - in July 2007
Kindly provided by Stephen Harris
The following entries are in this format:
Year/Publican or other Resident/Relationship to Head and or Occupation/Age/Where Born/Source.
February 1792/Jacob Foster, the Queens Elm, Little Chelsea, victualler/../../Sun Fire Insurance records at the LMA

1805/Thomas Easton, victualler, Queens Elm, Chelsea/../../Holdens Directory

1826/Rt Jameson, Queens Elms, Upper Church Street/../../Pigots Directory

November 1827/Benjamin Berry, the Queens Elm, Chelsea, victualler/../../Sun Fire Insurance records at the LMA

1833-34/Benj Berry, Queens Elms, Queens Elms, Fulham road/../../Pigot's Directory

February 1837/John Jones, The Queens Elm, Fulham Road Chelsea, victualler/../../Sun Fire Insurance records at the LMA

March 1839/Frederick Alder, The Queen Elms, Fulham Road, Chelsea, victualler/../../Sun Fire Insurance records at the LMA

1848/Frederick Alder, Queens Elms, 1 Upper Church street, Chelsea/../../Post Office Directory

May 1851/Frederick Alder/Outgoing Licensee/../../Era

May 1851/George Foreman Arnold/Incoming Licensee/../../Era

1851/George F Arnold/Victualler/37/Staffordshire/Census
1851/Sarah Arnold/Wife/40/Staffordshire/Census
1851/Ann Varley/Niece/12/Staffordshire/Census
1851/Sarah Firth/Servant/27/Staffordshire/Census
1851/Frederick Goodbody/Servant/18/London/Census

1867/Mr George Freeman Arnold/../../../Licensed Victuallers Association

1869/Duncan Scott/../../../Post Office Directory

1874/D Scott, Queens Elms, Church street, Chelsea/../../Licensed Victualler & Hotelier Directory

1877/Edward Crook & Co/../../../Post Office Directory **

1881/Edward Crook/Licensed Victualler/34/Fairford, Gloucester/Census
1881/Ellen Crook/Wife/40/Northfleet, Kent/Census
1881/Henry Rogers/Barman/23/London, Middlesex/Census
1881/George Down/Barman/18/Chelsea, Middlesex/Census
1881/Edward Lindars/Barman/22/Lambeth, Surrey/Census
1881/Martha Fox/Domestic Servant/23/London, Middlesex/Census
1881/Hanna Delf/Sister/59/Bungay, Suffolk/Census
1881/Rose Bennett/Domestic Servant/26/Westbury, Wiltshire/Census

1882/Edward Crook & Co/../../../Post Office Directory

1884/Edward Crook/../../../Post Office Directory

1891/William Treadwell/../../../Post Office Directory

1895/John Parker/../../../Post Office Directory

1899/Francis John Pullen/../../../Post Office Directory

1901/Alan Muddle/Manager for Licensed Victualler/57/Ongar, Essex/Census
1901/Mary A Muddle/Wife/41/Fulham, Middlesex/Census
1901/William Spencer/Barman/30/Chiswick, Middlesex/Census
1901/Annie Spencer/Barmaid/30/Marylebone, London/Census
1901/Frederick Gibbs/Boarder, Police Pensioner/49/Aylesbury, Bucks/Census
1901/George W Spencer/Boarder/10/Marylebone, London/Census
1901/Albert E Spencer/Boarder/5/Fulham, London/Census
1901/John Fiddy/Potman/25/Chelsea, London/Census

1906/Robert James/../../../Post Office Directory

1915/William Metherell/../../../Post Office Directory

1921/Queen Elms Co/../../../Post Office Directory

1940/Michael Joseph Cribbin/../../../Post Office Directory

1944/Michael Joseph Cribbin/../../../Post Office Directory

1971/Sean Tracey, Queens Elm, 241 Fulham Road, SW3/../../Pub Directory