Search London wiki and Pub wiki history sites
Red House, 2 Elystan street, Chelsea SW3
Chelsea Pub history index
The address was formerly given as 35 College Street in 1851, then at 2 College Street, before renaming to 2 Elystan Street, changing between 1910 and 1915. This pub has been through several names in recent years and currently trades as Album. **
A listing of historical London public houses, Taverns, Inns, Beer Houses and Hotels in Chelsea, London. The Chelsea , London listing uses information from census, Trade Directories and History to add licensees, bar staff, Lodgers and Visitors.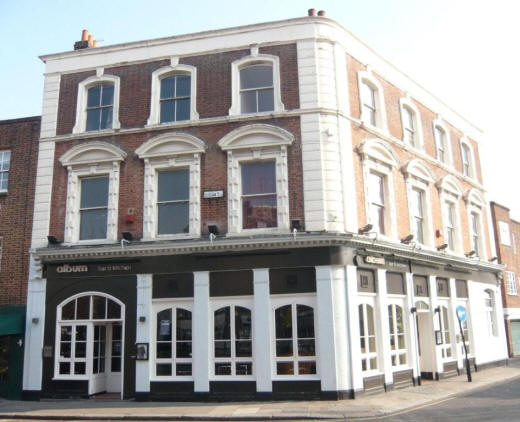 Red House, 2 Elystan Street, SW3 - in March 2009
Kindly provided by Stephen Harris
The following entries are in this format:
Year/Publican or other Resident/Relationship to Head and or Occupation/Age/Where Born/Source.
1825/Mr. Taylor, Red House, College street, Chelsea Common/../../Licensed Victuallers Association

1826/Js Taylor, Red House, College Street, Chelsea Common/../../Pigots Directory

October 1829/James Taylor, of the Red House, College Street Chelsea, victualler/../../Sun Fire Insurance records at the LMA

February 1831/James Taylor, College Street Chelsea, victualler, the Red House/../../Sun Fire Insurance records at the LMA

1833-34/James Taylor/../../../Pigot's Directory

1843/James Taylor/../../../Kellys Directory

1848/Thomas Edward Smith/../../../Post Office Directory

1851/Mrs Mary Smith/../../../Kellys Directory

1851/Mary Smith/Licensed Victualler, Widow/37/Poplar, Middlesex/Census
1851/Elizabeth Smith/Daughter/12/Tower Ward, City/Census
1851/William Smith/Son/8/Tower Ward, City/Census
1851/Frederick Smith/Son/7/Tower Ward, City/Census
1851/Alfred Smith/Son/6/Stepney, Middlesex/Census
1851/Sophia Workman/General Servant/26/Poplar, Middlesex/Census
1851/John Olmer/General Servant/20/Chelsea, Middlesex/Census
1851/Miss Godwin/Visitor/48/Poplar, Middlesex/Census

1856/Charles Carter/../../../Post Office Directory

May 1862/John Greenwood/Licensed Victuallers Association/../../Era

1865/Mr John Greenwood, Red House, 2 College street, Chelsea /../../Licensed Victuallers Association

1866/J Greenwood/../../../Post Office Directory **

1869/J Greenwood/../../../Post Office Directory

1881/Charles Webb/Licensed Victuallers Manager/30/Broome, Norfolk/Censusy
1881/Emily Webb/Wife/32/Brentwood, Essex/Census
1881/William Wheeler/Barman/26/Kingscross, Middlesex/Census
1881/William Cook/Barman/20/Hadleigh, Suffolk/Census
1881/Arthur Manwaring/Barman/14/Lambeth, Surrey/Census
1881/Mary A Smith/Cook/20/London, Middlesex/Census
1881/Henry Parmiter/Barman/28/Oldham, Essex/Census
1881/Ada Hitching/Nurse/14/London, Middlesex/Census
1881/Edith E Webb/Daughter/2/Chelsea, Middlesex/Census

1882/Joseph Eaton/../../../Post Office Directory

1884/Joseph Eaton/../../../Post Office Directory

1885/Joseph Eaton/../../../Post Office Directory **

1891/Frederick Gannaway/../../../Post Office Directory

1892/Frederick Gannaway/../../../Kelly's Chelsea Directory **

1895/Frederick Gannaway/../../../Post Office Directory

1899/Frederick Gannaway/../../../Post Office Directory

1901/Titus Pullen/Publicans Manager/41/Staines, Middlesex/Census
1901/Lizzie Pullen/Wife/40/Poplar, Middlesex/Census
1901/Rose Pullen/Daughter/14/Hemel Hempstead, Herts/Census
1901/Lily Pullen/Daughter/14/Hemel Hempstead, Herts/Census
1901/Violet Pullen/Daughter/13/Dulwich, Surrey/Census
1901/Guy Pullen/Son/12/Peckham, Surrey/Census
1901/Dudley Pullen/Son/11/Chelsea, London/Census
1901/Mandy Pullen/Son/7/Tottenham, Middlesex/Census
1901/Alleyn Pullen/Son/4/Tottenham, Middlesex/Census
1901/Trio Pullen/Daughter/2/Tottenham, Middlesex/Census
1901/Joseph Chappell/Barman/21/Long Acre, Middlesex/Census
1901/John C Young/Barman/24/Clacton, Essex/Census
1901/Alfred Green/Barman/22/Chelsea, London/Census
1901/Jane Steadman/Domestic Servant/39/Marylebone, London/Census

1910/William Hollingbery/../../../Post Office Directory

1915/William Hollingbery/../../../Post Office Directory

1921/Mrs Alice R Hollingbery/../../../Post Office Directory

1938/Leslie Hollingbery/../../../Post Office Directory

1944/Maurice Vincent Grimes/../../../Post Office Directory



** Provided By Stephen Harris