Search London wiki and Pub wiki history sites
Star & Garter, 26 Sloane square, Chelsea SW1
Chelsea Pub history index
As can be seen from the picture, this is at the junction with Kings road. A drapers by 1921.
A listing of historical London public houses, Taverns, Inns, Beer Houses and Hotels in Chelsea, London. The Chelsea , London listing uses information from census, Trade Directories and History to add licensees, bar staff, Lodgers and Visitors.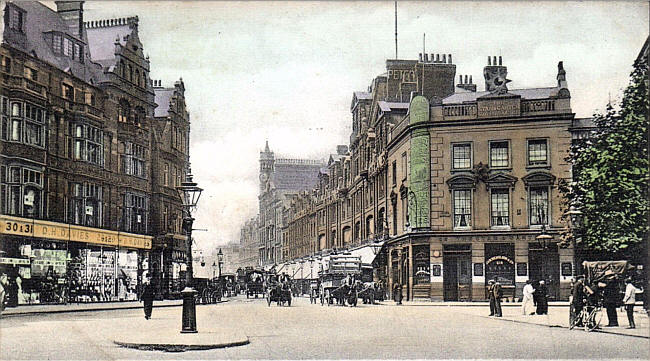 Star & Garter, corner of Sloane Square and Kings road, Chelsea, London - circa 1900
Kindly provided by Vincent O'Loughlin
The following entries are in this format:
Year/Publican or other Resident/Relationship to Head and or Occupation/Age/Where Born/Source.
August 1789/William Norman, The Star and Garter, Sloane Square, Chelsea, victualler/../../Sun Fire Insurance records at the LMA

1805/John Hutchinson, Star and Garter, Sloane square, Chelsea/../../Holdens Directory

1825/Mr Yapp, Star & Garter, Sloane Square/../../Licensed Victuallers Association

1826/George Yapp, Star & Garter, 26 Sloane Square/../../Middlesex Directory

1827/John Hill/../../../Licensed Victuallers Association

May 1828/John Hill the Star and Garter, Sloane Square, Chelsea victualler/../../Sun Fire Insurance records at the LMA

November 1829/John Hill, of the Star and Garter Sloane Square Chelsea, victualler/../../Sun Fire Insurance records at the LMA

1833-34/Richard Wood/../../../Pigots Directory

1839/George Smith/../../../Pigots Directory

1848/George Smith/../../../Post Office Directory

1851/George Smith/../../../Kellys Directory

1851/George Smith/Licensed Victualler/48/Braintree, Essex/Census
1851/Eliza Smith/Wife/38/Marylebone, Middlesex/Census
1851/Ellen Smith/Daughter/5/Chelsea, Middlesex/Census
1851/George E Smith/Son/4/Chelsea, Middlesex/Census
1851/Maria Smith/Daughter/1/Chelsea, Middlesex/Census
1851/John Sully/Barman/25/Lambeth, Surrey/Census
1851/Charles Etheridge/Waiter/25/Thorpe, Norfolk/Census
1851/Thomas Sully/Waiter/21/Lambeth, Surrey/Census
1851/Harriet Jay/Cook/26/London, Middlesex/Census
1851/Frances Waters/Housemaid/26/Newmarket, Cambridgeshire/Census

1856/G Smith/../../../Post Office Directory

1881/Emily Higgins/Housekeeper/43/St Georges, Middlesex/Census
1881/John Barnard/Barman/25/Besthorpe, Norfolk/Census
1881/Albert Ayres/Barman/24/Monks Bistnough, Buckingham/Census
1881/John T Paser/Barman/25/Atherton, Devon/Census
1881/William Herne/Barman/21/Westminster, Middlesex/Census
1881/George T Pusey/Barman/18/Burnham, Buckingham/Census
1881/Harne Easte/Potman/18/Diss, Norfolk/Census
1881/Matilda Little/General Servant/23/Liverpool, Lancashire/Census

1882/John T Gideon/../../../Post Office Directory

1884/John T Gideon/../../../Post Office Directory

1891/Samuel Raven/../../../Post Office Directory

1895/Samuel Raven/../../../Post Office Directory

1899/Samuel Raven/../../../Post Office Directory

1901/Alfred H Quant/Public House Manager/27/Pinhoe, Devon/Census
1901/Elenor Quant/Public House Manageress/23/West Brompton/Census
1901/Charles J Haynes/Barman/22/Deddington, Oxon/Census
1901/Edward G Ransom/Barman/24/Long Melford, Suffolk/Census
1901/Reuben Knott/Barman/20/Stockton, Durham/Census
1901/Sydney Holdgate/Barman/17/North Ockendon, Essex/Census
1901/Mary Woodward/Barmaid/23/Roehampton, Surrey/Census
1901/Queenie Shea/Barmaid/19/Westminster, London/Census
1901/Florence L Baggs/Housemaid/20/Poplar, London/Census

1906/Samuel Raven/../../../Post Office Directory

1911/Herbert Frank Baskett/Licensed Victualler/45/London/Census
1911/Nellie May Baskett/Wife/30/Cambridge/Census
1911/Maud Lilian Alderson/Barmaid/20/London/Census
1911/Herbert Ernest Sawford/Barman/22/Kingston/Census
1911/Herbert George Edwin Payne/Barman/23/London/Census
1911/John G Burns/Potman/30/Southampton/Census
1911/Thomas Horace Elmore/Barman/24/London/Census
1911/Gertrude Martin/Maid/21/Battersea/Census
1911/Martha Harris/Cook/31/Battersea/Census