Search London wiki and Pub wiki history sites
Wellesley Arms, 70 Sydney street, Chelsea SW3
Chelsea Pub history index
This pub was established by 1851 and was named after Arthur Wellesley, Duke of Wellington. Now trading as the Sydney Arms (2016). * The earlier address in 1851 is at 27 Robert street; and in 1884 it is at 36 Robert Street.
A listing of historical London public houses, Taverns, Inns, Beer Houses and Hotels in Chelsea, London. The Chelsea , London listing uses information from census, Trade Directories and History to add licensees, bar staff, Lodgers and Visitors.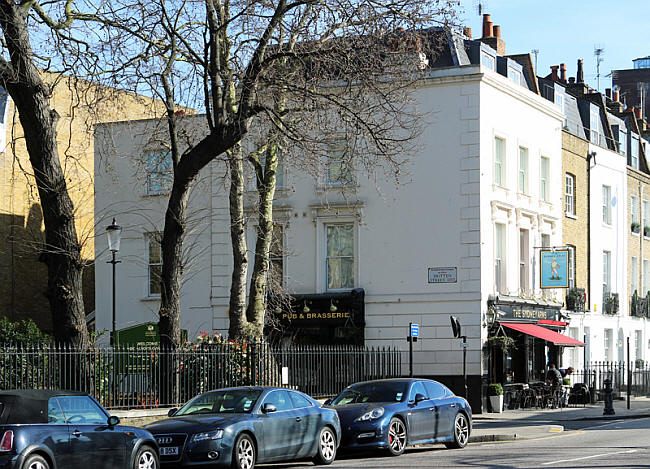 Wellesley Arms, 70 Sydney Street, Chelsea, London SW3 - in March 2016
Kindly provided by Tris
The following entries are in this format:
Year/Publican or other Resident/Relationship to Head and or Occupation/Age/Where Born/Source.
1825/Mr Rolls, Wellesley Arms, Robert street, Chelsea/../../Licensed Victuallers Association

1826/John Pattisson, Wellesley Arms, 26 Robert Street, Kings Road/../../Inns & Taverns of London

October 1832/William George Scarlett, of the Wellesley Arms, Robert Street, Chelsea, victualler/../../Sun Fire Insurance records at the LMA

1833-34/William Scarlett, Wellesley Arms, 27 Robert street, Chelsea/../../Pigots Directory

1836/Jonathan Gibson, Wellesley Arms, 28 Robert street, Chelsea/../../Pigots Directory

1843/Mrs Sarah Bennett/../../../Post Office Directory

1848/Mrs Sarah Bennett/../../../Post Office Directory

1851/Mrs Sarah Bennett/../../../Kellys Directory

1851/Sarah Bennett/Licensed Victualler, Widow/57/Wickhambrook, Suffolk/Census
1851/William G Bennett/Son/32/Crawley, sussex/Census
1851/James Bennett/Son/24/St James Westminster/Census
1851/Jemima C Bennett/Daughter in Law/32/St Marylebone, Middlesex/Census
1851/Betsy Ayland/House Servant/27/Chippenham, Wiltshire/Census
1851/John Pigott/House Servant/18/London, Middlesex/Census

1856/Rd Peck/../../../Post Office Directory

1869/Weller & Lee/../../../Post Office Directory

1881/Alf Hen Scamell/Publican/35/London, Middlesex/Census
1881/Louisa Scamell/Wife/35/Sussex/Census
1881/Henry D Scamell/Son/8/London, Middlesex/Census
1881/Will Burrows/Barman/23/London, Middlesex/Census
1881/Henry Neves/Barman/26/Ringwood/Census
1881/Susan Newbury/Cook/30/Warwick/Census

1882/Alf Henry Scamell/../../../Post Office Directory

1884/Mrs Ann Smith/../../../Post Office Directory

1891/Mrs Ann Smith/../../../Post Office Directory

1899/Mrs Frances Gibson Kirby Humphreys/../../../Post Office Directory

John Albert Partridge is at the Artichoke, 13 White Hart street in the 1901 census.

1910/John Albert Partridge/../../../Post Office Directory

1911/John Albert Partridge/Licensed Victualler, Widow/43/Lipton, Staffordshire/Census
1911/John Alfred Partridge/Son/13/London/Census
1911/Dora Noacks/Manageress/21/London/Census
1911/Nellie Mayor/Cook/25/London/Census
1911/Edith Fergusson/Barmaid/23/London/Census
1911/Herbert Harry Birchmore/Barman/28/Deal, Kent/Census
1911/William Reid/Barman/28/London/Census

1921/John A Partridge/../../../Hughes Directory

1934/Mrs Emily Grace Clark/../../../Kellys Directory

1938/Mrs Emily Grace Clark/../../../Post Office Directory

1944/Mrs Emily Grace Clark/../../../Post Office Directory



* Provided by Tris