Search London wiki and Pub wiki history sites
All public house, restaurants, bars etc closed for the forseeable future from 20th March 2020, but this is a pub history site.
Three Jolly Butchers, 7 1/2 Warwick lane, Christ Church Newgate street EC4
Christchurch Newgate index
This pub was established by 1781 and is now demolished. **
Historical London public houses, Taverns, Inns, Beer Houses and Hotels.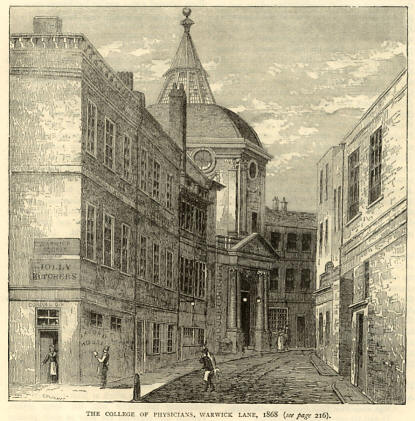 Three Jolly Butchers, Warwick lane in 1868, near the Royal College of Physicians
Kindly provided by Colleen
Residents at this address.
1781/Reeve Martin/ Victualler /../../Sun Fire Office records, London Live *

1802/William Horton / Victualler /../../Sun Fire Office records, held at Guildhall Library **

1825/Horton / Victualler /../../Sun Fire Office records, held at Guildhall Library **

1837/Thomas Knight / Victualler /../../Sun Fire Office records, held at Guildhall Library **

1839/William Weston/../../../Pigots Directory

1841/W Weston/../../../Post office Directory

1841/William Weston/Publican/35/../Census
1841/Ann Weston/../35/../Census
1841/Ann Harmitage/Servant/25/../Census

1842/William Weston/../../../Robsonís Directory **

1843/William Weston/../../../Kellys Directory

1848/Robert C Speller/../../../Post Office Directory

1851/Henry Quick/../../../Kellys Directory

1851/Henry Quick/Licensed Victualler/34/Hanover/Census
1851/Elizabeth Quick/Wife/28/Whitechapel, Middlesex/Census
1851/William Wiley/Potman/25/Whitechapel, Middlesex/Census
1851/Elizabeth Hawke/Servant/25/Birmingham/Census
1851/Emma Legget/Servant/18/St Giles Cripplegate/Census

1856/Henry Quick/../../../Post Office Directory

1861/Henry Quick/Licensed Victualler/44/Germany, British Subject/Census
1861/Elizabeth Quick/Wife/37/Middlesex/Census
1861/Mary Ann Quick/Daughter/9/Newgate Street, London/Census
1861/Eliza Quick/Daughter/3/Newgate Street, London/Census
1861/Clarissa Sharp/Nurse, Widow/64/Middlesex/Census
1861/Catherine Cranley/Servant/24/St Georges/Census
1861/France Kiddell/Pot Man/51/Essex/Census

1869/Henry Quick/../../../Post Office Directory

1871/Henry Quick/Licensed Victualler/54/Hanover/Census
1871/Elizabeth Quick/Wife/48/Whitechapel, Middlesex/Census
1871/Henry Quick/Son/22/Whitechapel, Middlesex/Census
1871/Alfred Quick/Son/6/Christchurch, London/Census
1871/Alfred Dyreman/Potman/41/Clement Danes/Census
1871/Kate Sullivan/Domestic Servant/28/Waterford, Ireland/Census

1872/Henry Quick/../../../P.O. Directory **

1881/Elizabeth Quick/Licensed Victualler/58/Whitechapel, Middlesex/Census
1881/Eliza Quick/Daughter/23/City London, Middlesex/Census
1881/Alfred Quick/Son/16/City London, Middlesex/Census
1881/Alfred Schnackenberg/Nephew, Cellerman/37/Whitechapel, Middlesex/Census
1881/Elizabeth Dunn/General Servant/33/City London, Middlesex/Census
1881/Francis Wright/Potman/30/S Giles, Middlesex/Census

1882/Rd Reader/../../../Post Office Directory

1884/Frank B Mouflet/../../../Post Office Directory



* Provided By Janet Mears

** Provided By Stephen Harris