Search London wiki and Pub wiki history sites
All public house, restaurants, bars etc closed for the forseeable future on 20th March 2020, but this is a history site. But how about the landlords give their tenants a break, no business, then please charge them no rent.
Lord Raglan, 392 Wandsworth road, Clapham SW8
Clapham pub history index
The Lord Raglan, Thurlow street in the 1863 license transfer. It is now called the Horseshoe (2008). ***
Historical London public houses, Taverns, Inns, Beer Houses and Hotels.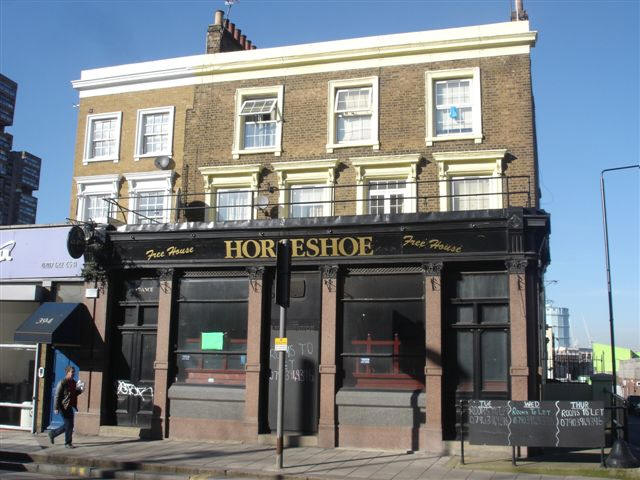 Lord Raglan, 392 Wandsworth Road, SW8 - in February 2008
Kindly provided by Stephen Harris
Residents at this address.
January 1863/assignees of late occupier/Outgoing Licensee/../../Era Newspaper

January 1863/William John Wale/Incoming Licensee/../../Era Newspaper

July 1867/W J Wale, deceased/Outgoing Licensee/../../South London Press

July 1867/Emma Wale, widow and executrix of W J Wale/Incoming Licensee/../../South London Press

January 1870/Emma Wade/Outgoing Licensee/../../Era Newspaper

January 1870/Thomas Williams/Incoming Licensee/../../Era Newspaper

1871/Thomas Williams/Licensed Victualler/30/Pout Y Pridd, South Wales/Census
1871/Emma Williams/Wife/29/Camberwell, Surrey/Census
1871/Emma Wale/Daughter/6/Clapham, Surrey/Census
1871/William W Wale/Son/4/Clapham, Surrey/Census
1871/Ernest Williams/Son/5 months/Clapham, Surrey/Census
1871/Maria Frost/Servant/21/Cotton, Suffolk/Census

1878/John William Beckett/../../../../Surrey Directory

1881/Henry T Fowler/Licensed Victualler/38/Aston Clinton, Buckingham/Census
1881/Mary Fowler/Wife/29/Oakford Fitzpain, Dorset/Census
1881/Anne L Fowler/Daughter/1/Paddington, Middlesex/Census
1881/Cyril J Fowler/Son/6 months/Clapham, Surrey/Census
1881/Frederick Robinson/Barman/18/Aston Clinton, Buckingham/Census
1881/John Benston/Potman/19/Copford, Essex/Census
1881/Christiana A Caines/General Servant/13/Hazelbury Brien, Dorset/Census

1901/William A O'Shea/Licensed Victualler/35/Kingstown, Ireland/Census
1901/Catherine O'Shea/Wife/27/Navan, Ireland/Census
1901/William C O'Shea/Son/2 years 11 months/Kingstown, Ireland/Census
1901/Julia Hall/Domestic Servant, Widow/60/Wexford, Ireland/Census
1901/Ellen K Banham/Barmaid/24/Yarmouth/Census
1901/George Dolley/Barman/24/Whetstone, Middlesex/Census
1901/Edward Dukes/Barman, Widow/55/Leeds/Census
1901/James Mulligan/Barman/27/Wexford, Ireland/Census
1901/Nellie E Thompson/Domestic Servant/17/London/Census
1901/Luke J Dawe/Barman/21/Kingstown, Ireland/Census

1901/William A O'Shea/../../../../Post Office Directory

1911/Mrs Ellen Fowler/../../../../Post Office Directory

1914/Mrs Ellen Fowler/../../../../Post Office Directory

1921/Mrs Ellen Fowler/../../../../Post Office Directory

1938/Mark Emanuel/../../../../Post Office Directory

1944/Pioneer Catering Co Ltd/../../../../Post Office Directory



*** Provided By Stephen Harris