Search London wiki and Pub wiki history sites
All public house, restaurants, bars etc closed for the forseeable future on 20th March 2020, but this is a history site. But how about the landlords give their tenants a break, no business, then please charge them no rent.
Hope, 25 Nursery street, Wandsworth road, Clapham SW8
Clapham pub history index
The 1871 census lists the address as at Hope Beer house, 1 Nursery street; with next address in the census of 27 Heath road. At 21 Nursery Street in 1881, later directory entries just list this address as part of South Lambeth.
Historical London public houses, Taverns, Inns, Beer Houses and Hotels.
Residents at this address.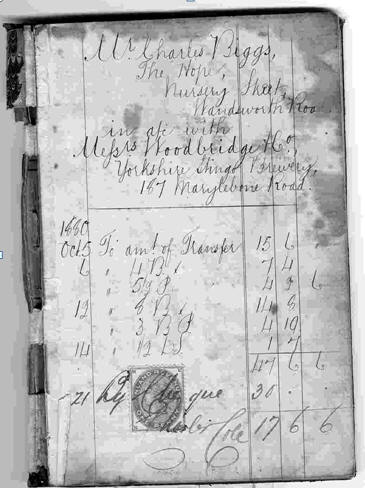 Hope 1880 Order Book page listing Charles Biggs, and the brewery at Yorkshire Stingo, 187 Marylebone Road
Kindly provided by Jon Johnson
1871/Robert W Gibbs/Beer Seller/44/London/Census
1871/Mary A Gibbs/Wife/36/London/Census
1871/Mary A Gibbs/Daughter/20/London/Census
1871/Edward Gibbs/Son/10/London/Census
1871/Elizabeth Gibbs/Daughter/11/London/Census
1871/Ellen Gibbs/Daughter/3/London/Census
1871/Robert Gibbs/Son/1/London/Census

1881/Charles Biggs/Beer Retailer/30/Islington, Middlesex/Census ***
1881/Amelia E Biggs/Wife/35/Southwark, Surrey/Census
1881/Amelia A Biggs/Daughter/3/Kennington, Surrey/Census

1901/George K Mogg/Beer Retailer/35/Sherborne, Dorset/Census
1901/Henrietta Mogg/Wife/31/Wincanton, Somerset/Census
1901/Alfred Mogg/Son/13/Wincanton, Somerset/Census
1901/Lilly V Mogg/Niece/15/Wincanton, Somerset/Census

1904/G H Mogg/Beer Retailer/../../Post Office Directory

1905/G H Mogg/Beer Retailer/../../Post Office Directory

1907/G H Mogg/Beer Retailer/../../Post Office Directory

1921/Arthur Breach/Beer Retailer/../../Post Office Directory

1938/Harold Avery/Beer Retailer/../../Post Office Directory



*** Provided By Jon Johnson