Search London wiki and Pub wiki history sites
All public house, restaurants, bars etc closed for the forseeable future on 20th March 2020, but this is a history site. But how about the landlords give their tenants a break, no business, then please charge them no rent.
Prince of Wales, 99 Union Road, Clapham SW8
Clapham pub history index
The address in the 1861 census is at 5 Alma cottage, and that in 1871 is just after the Alma villas at Lower Union road. The pub is also now known as Feeley's Free House. **
Historical London public houses, Taverns, Inns, Beer Houses and Hotels.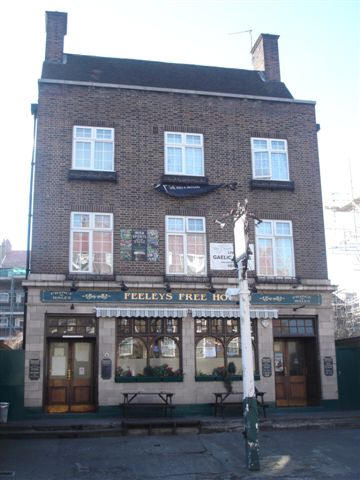 Prince of Wales, 99 Union Road, SW8 - in February 2008
Kindly provided by Stephen Harris
Residents at this address.
1851/John Hancock Morgan, Prince of Wales, Prospect place../../Post Office Directory

September 1855/Francis Morgan/ Outgoing Licensee /../../The Era

September 1855/William Barefield/ Incoming Licensee /../../The Era

January 1860/Eleanor Hunt/Outgoing Licensee/../../Era Newspaper

January 1860/John David Gibb/Incoming Licensee/../../Era Newspaper

September 1860/John David Gibb/Outgoing Licensee/../../Era

September 1860/James Rose/Incoming Licensee/../../Era

1861/Richard W Derry/Publican/31/Islington, Middlesex/Census
1861/Henrietta Derry/Wife/30/Ludlow, Shropshire/Census
1861/Richard W Derry/Son/4/Ealing, Middlesex/Census
1861/Eleanor M Derry/Daughter/1 month/Clapham, Surrey/Census
1861/Elizabeth Slatter/Visitor, Fundholder/20/St Lukes, Middlesex/Census
1861/Deborah Gandel/Monthly Nurse/67/Bow, Middlesex/Census
1861/Julia Hunt/Servant/20/Greenwich, Kent/Census
1861/John Challise/Man Servant/24/Haverhill, Suffolk/Census

March 1863/Richard William Derry, deceased/Outgoing Licensee/../../Era

March 1863/Henrietta Derry, widow and executrix/Incoming Licensee/../../Era

April 1863/Henrietta Derry/Outgoing Licensee/../../South London Chronicle

April 1863/William Peter Lake/Incoming Licensee/../../South London Chronicle

September 1870/John Charles Hall/Outgoing Licensee/../../Era Newspaper

September 1870/William King/Incoming Licensee/../../Era Newspaper

December 1870/William King/Outgoing Licensee/../../Era Newspaper

December 1870/Walter Chapman/Incoming Licensee/../../Era Newspaper

1871/Walter Chapman/Publican/35/Tollesbury, Essex/Census
1871/S A Chapman/Wife/27/Bermondsey, Surrey/Census
1871/Walter Chapman/Son/7/Stockwell, Surrey/Census
1871/Elizabeth Chapman/Daughter/6/Stockwell, Surrey/Census
1871/Alfred Chapman/Son/4/Stockwell, Surrey/Census
1871/Edward Chapman/Son/2/Stockwell, Surrey/Census
1871/Anne Chapman/Daughter/8 months/Stockwell, Surrey/Census
1871/Martha Gile/Servant/18/Yeovil, Somerset/Census
1871/Henry Duffield/Barman/21/Woodham, Essex/Census

1878/Walter Chapman/../../../../Surrey Directory

1881/Walter Chapman/Licensed Victualler/46/../Census
1881/Ann Chapman/Wife/37/London, Middlesex/Census
1881/Walter Chapman/Son, Barman/17/London, Middlesex/Census
1881/Elizabeth Chapman/Daughter/17/London, Middlesex/Census
1881/Edward Chapman/Son/12/London, Middlesex/Census
1881/Annie Chapman/Daughter/11/London, Middlesex/Census
1881/Kate Chapman/Daughter/8/London, Middlesex/Census

1892/Walter Chapman/../../../../Post Office Directory

1901/Walter E Chapman/Licensed Victualler/36/Clapham, London/Census
1901/Kate Chapman/Sister, Housekeeper/27/Clapham, London/Census
1901/Ernest H Kemp/Barman/22/Logwight, Ryde/Census
1901/Mary G Stubbing/General Servant/18/Hempstead, Essex/Census

1901/Walter Edmund Chapman/../../../../Post Office Directory **

1911/W E Chapman/../../../../Post Office Directory

1916/Walter Edmund Chapman/../../../../Post Office Directory **

1921/Walter E Chapman/../../../../Post Office Directory

1938/Alfred Harris & Archibald L Hubbard/../../../../Post Office Directory

1939/Edwin R Farmer/Manager/47/../../1939 Directory *
1939/Ruth K Farmer/Manageress/47/../../1939 Directory
1939/A R Broderick/Barman/52/../../1939 Directory



* Provided By Linda Court

** Provided By Stephen Harris