Search London wiki and Pub wiki history sites
All public house, restaurants, bars etc closed for the forseeable future from 20th March 2020, but this is a history site.
Shakespeare, 472 Wandsworth road, Clapham SW8
Clapham pub history index
The 1930s photo of The Shakespeare 472 Wandsworth road at the corner of St Andrews street (now St Rule street). **
Historical London public houses, Taverns, Inns, Beer Houses and Hotels.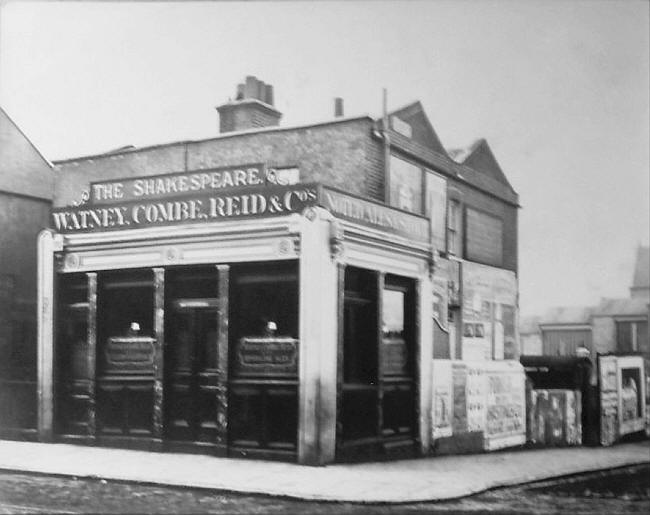 Shakespeare, 472 Wandsworth Road & St Andrews street, Clapham
Kindly provided by Vincent O'Loughlin
Residents at this address.
1861/Frederick Weatherall/Beer Seller/42/Newington, Surrey/Census
1861/Esther Weatherall/Wife, Laundress/45/Ramsden, Oxfordshire/Census
1861/Theresa Dixon/Niece, laundress/24/Ramsden, Oxfordshire/Census
1861/Ann Hodgkins/Niece, House Servant/19/Ramsden, Oxfordshire/Census

1871/Frederick Weatherall/Beer Retailer, Widow/52/Walworth, Surrey/Census
1871/Thereza Dixon/Niece/35/Ramsden, Oxfordshire/Census

1878/William George Oakley/Beer Retailer/../../Surrey Directory

1881/William French/Manager (Beer House), Widow/61/Wandsworth, Surrey/Census
1881/Henry/Son, Assistant/16/Lambeth, Surrey/Census
1881/James/Son, Beer & Ale Bottler/15/Lambeth, Surrey/Census

1901/Charles Humphries/Beer Retailer Shopkeeper/62/Egham, Surrey/Census
1901/Eliza Humphries/Wife/59/Egham, Surrey/Census
1901/James Wm Humphries/Son, Barman/35/Staines, Middlesex/Census
1901/Charles Humphries/Son/32/Staines, Middlesex/Census
1901/William F Humphries/Son, School Master/25/Staines, Middlesex/Census
1901/Emily Humphries/Daughter in Law/32/Pontypridd, Glamorgan/Census
1901/Charles M Humphries/Grandson/5/Egham, Surrey/Census

1905/Charles Humphries/Beer Retailer/../../../Post Office Directory

1914/Charles Humphries/Beer Retailer/../../../Post Office Directory

1921/Charles Humphries/Beer Retailer/../../../Post Office Directory

1934/Charles Morgan Humphries/Beer Retailer/../../../Kellys Directory



** Provided By Vincent O'Loughlin