Search London wiki and Pub wiki history sites
All public house, restaurants, bars etc closed for the forseeable future from 20th March 2020, but this is a history site.
Old Cheshire Cheese, 5 Little Essex Street WC2
St Clement Danes pub history index
The entries for the 1871 and 1901 census are listed as Milford Lane. Rebuilt in its present form in 1929. ** The Cheshire Cheese (or Olde Cheshire Cheese as described on the 1926 drawings) is an Interwar rebuilding to a design by Nowell Parr, senior. It was listed Grade II on Christmas Eve 2015. It recently changed hands and now focusing more on real ale and gastro type food (June 2018). *** It has exactly the same address in 1842 as in 1942 and later (not that this always means that it is the same address), and it is also listed in Little Essex street in 1805.
Historical London public houses, Taverns, Inns, Beer Houses and Hotels.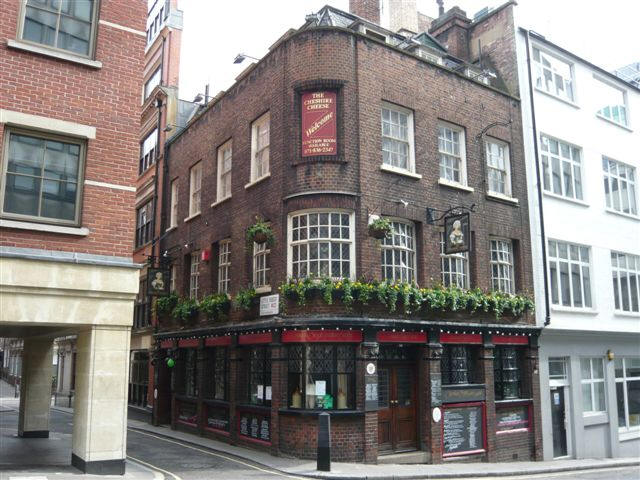 Cheshire Cheese, 5 Little Essex Street, WC2 - in March 2008
Kindly provided by Stephen Harris
Residents at this address.
1805/R Faulkner/../../../Holdens Directory

1827/William Kerslake, Cheshire Cheese, Little Essex Street, Strand/../../Pigots Directory

1829/J Kerslake, Cheshire Cheese, 5 Little Essex Street, Strand/../../Pigots Directory

1842/T Hughes, Old Cheshire Cheese, 5 Little Essex Street, Strand/../../Pigots Directory

1846/J I Griffiths/../../../Post Office Directory

August 1846/John Isaac Griffiths/Outgoing Licensee/../../Era

August 1846/Edward Dowley/Incoming Licensee/../../Era

1848/Edward Dowley/../../../Post Office Directory

November 1847/Edward Dowley/ Outgoing Licensee /../../The Era

November 1847/William Challands/ Incoming Licensee /../../The Era

August 1850/Thomas Free, deceased/Outgoing Licensee/../../Era Newspaper

August 1850/Mary Ann Free, widow of Thomas Free/Incoming Licensee/../../Era Newspaper

1851/Mrs Ann Free/../../../Kellys Directory

1851/Ann Free/Victualler, Widow/35/Birmingham, Warwickshire/Census
1851/Alice Free/Daughter/6/Middlesex/Census
1851/Emma Clarkson/Barmaid/23/Ipswich, Suffolk/Census
1851/Eliza Phillips/House Servant/21/Soho, Middlesex/Census

1856/Joseph Terry/../../../Post Office Directory

November 1856/Joseph Terry/Outgoing Licensee/../../Era Newspaper

November 1856/William Thompson Kipling/Incoming Licensee/../../Era Newspaper

April 1861/previous from Mr Ellis & Mrs Salmon/Outgoing Licensees/../../Era

April 1861/Randal Nind/Incoming Licensee/../../Era

1862/Randal Nind/../../../Post Office Directory

July 1867 /John Hoffman/Outgoing Licensee/../../Era

July 1867 /Thomas Jeremiah Worton/Incoming Licensee/../../Era

April 1868/late tenant evicted/Outgoing Licensee/../../Era Newspaper

April 1868/William Pettit/Incoming Licensee/../../Era Newspaper

1871/Walter Blyth/Licensed Victualler/23/Norwich, Norfolk/Census
1871/Margaret Blyth/Wife/24/Stroud, Golucestershire/Census
1871/James Westbrook/Potman/20/St Lukes, Middlesex/Census
1871/Caroline Allen/General Servant/21/Portsmouth, Hants/Census
1871/Joseph Sargeant/Friend/14/Ardleigh, Essex/Census

1878/George Allman/../../../Post Office Directory **

1881/William C Atkins/Licensed Victualler/44/Brixton, Surrey/Census
1881/Louisa Atkins/Wife/43/Commercial Rd, Middlesex/Census
1881/Eliza Plew/Barmaid/26/Suffolk/Census
1881/Elizabeth Timbrell/Domestic Servant/22/Gloucester/Census
1881/George Edmondstone/Potman/22/New Kent Rd, Surrey/Census

1882/William Cooper Atkins/../../../Post Office Directory

1891/Frederick Tomlin/../../../Post Office Directory

1895/Alfred Andrews/../../../Post Office Directory

Henry Soper died, 10 Oct 1895 of 'Cheshire Cheese' public house, Milford Lane, Strand, London; probate London 29 Nov 1895 to Charlotte Elizabeth Soper, widow; estate £361 6s 7d; from Probate Calender : [Henry (c1854-1895) d. Oct>Dec, Strand, age 41] / Probate *

1899/Mrs Charlotte Elizabeth Soper/../../../Post Office Directory

Charlotte Elizabeth Soper [the widow] marries William Gilbert Savage in 1899 at Strand *

1901/William Gilbert Savage/Printer/35/Middlesex/Census
1901/Charlotte Elizabeth Savage/Wife, Licensed Victualler/47/Kensington, Middlesex/Census
1901/Charlotte Elizt Soper/Daughter, Barmaid/26/Stepney, Middlesex/Census
1901/Florence Maud Soper/Daughter, Barmaid/25/Haggerston, Middlesex/Census
1901/Percy James Soper/Son, Barman/22/Haggerston, Middlesex/Census
1901/Ernest George Soper/Son, Tailor Apprentice/20/Haggerston, Middlesex/Census
1901/Lily May Soper/Daughter, Dressmaker Assistant/19/Haggerston, Middlesex/Census
1901/Adelaide Jannette Soper/Daughter, Milliner Assistant/17/Stoke Newington, Middlesex/Census
1901/Sydney William Soper/Son/14/Aldgate, Middlesex/Census
1901/Mary Jannette Day/Visitor/44/Canada/Census
1901/George William Snow/Potman/20/Aldershot, Hampshire/Census

1910/Percy James Soper/../../../Post Office Directory

1921/George M Maleed/../../../Hughes Directory

1927/Alfred Edwin Murrell & William Henry Queen/../../../Post Office Directory

1934/Holborn Catering Co Ltd/../../../Kellys Directory

1938/Holborn Catering Co Ltd/../../../Post Office Directory

1940/Holborn Catering Co Ltd/../../../Post Office Directory

1944/Holborn Catering Co Ltd/../../../Post Office Directory

1971/../Ye Old Cheshire Cheese, 5 Little Essex Street WC2/../../Pub Directory



* Provided By Geoff Soper

** Provided By Stephen Harris

*** Provided By Dale