Search London wiki and Pub wiki history sites
All public house, restaurants, bars etc closed for the forseeable future from 20th March 2020, but this is a history site.
Crown, 46 Stanhope street, Clare Market, St Clement Danes WC2
St Clement Danes pub history index
This is named the Australian Crown in 1856 only; all of Stanhope street and other localities were cleared for the building of Kingsway in the early 1900s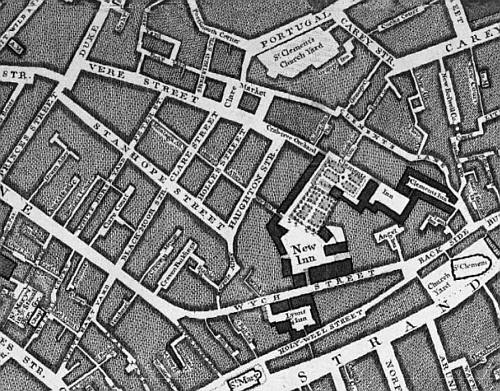 Stanhope street in 1746 - brilliant mapping at its best
Historical London public houses, Taverns, Inns, Beer Houses and Hotels.
Residents at this address.
1805/John Gideon, Crown, Stanhope street, Clare market/../../Holdens Directory

A2A shows that in 1826 Robert Keene was running The Crown, Stanhope Street, Clare Market. Robert was still a victualler at 46 Stanhope Street when his son [Robert Henry Keene] was baptised at St Clement Danes on 25th April 1830. I also suspect he is related to Henry Keene of the Cheshire Cheese in Grosvenor Row in 1826. *

1833-34/Robert Johnson/../../../Pigots Directory

1839/Thomas White/../../../Pigots Directory

1842/Richard Meadows/../../../Robsons Directory

1843/Richard Meadows/../../../Post Office Directory

June 1848/George Allcom/Outgoing Licensee/../../Era

June 1848/Henry John Clifford/Incoming Licensee/../../Era

1851/George Newton/../../../Kellys Directory

1851/George Newton/Licensed Victualler/36/London, Middlesex/Census
1851/Mary Newton/Wife/40/Scotland/Census
1851/James Newton/Son/7/London, Middlesex/Census
1851/George Newton/Son/3/London, Middlesex/Census
1851/Mary Ann Newton/Daughter/1/London, Middlesex/Census
1851/Harriett Newton/Daughter/6 months/London, Middlesex/Census
1851/Mary Harper/Mother in Law, Widow/59/Scotland/Census
1851/Henry Coleman/House Servant/15/London, Middlesex/Census
1851/Emma Turner/House Servant/15/London, Middlesex/Census

January 1854/George Hanstock/Outgoing Licensee/../../Era

January 1854/William Joseph Moorhouse/Incoming Licensee/../../Era

August 1855/William Joseph Moorhouse/Outgoing Licensee/../../Era Newspaper

August 1855/Thomas Couchman/Incoming Licensee/../../Era Newspaper

1856/Thomas Couchman/../../../Post Office Directory

January 1856/Thomas Couchman/Outgoing Licensee/../../Era

January 1856/Alfred Hildrup/Incoming Licensee/../../Era

March 1856/Alfred Hildrup/Outgoing Licensee/../../Era Newspaper

March 1856/James Cains/Incoming Licensee/../../Era Newspaper

1861/William H Burwood/Victualler/52/Newport, Isle of Wight/Census
1861/Winefred Burwood/Wife/50/Mark, Somerset/Census
1861/Richard Burwood/Son, Smith/26/Somerton/Census
1861/Mary Ann Burwood/Daughter/17/Westminster/Census
1861/Henry A Burwood/Son/7/Westminster/Census
1861/George Torvils/Lodger, Coal Merchant/45/Taunton, Somerset/Census
1861/Robert G Taylor/Lodger, Law Writer/30/Westminster/Census
1861/Margaret Wallace/Visitor, Upholsteress/20/Westminster/Census

March 1863/Elijah John Dunton/Outgoing Licensee/../../Era

March 1863/Thomas Hawson Lord/Incoming Licensee/../../Era

1869/G Satchell/../../../Post Office Directory

1874/G Satchell/../../../Post Office Directory

1881/Abraham Beverley/Publican/33/Diss, Norfolk/Census
1881/Emily Beverley/Wife/30/Penrin, Cornwall/Census
1881/Alfred Beverley/Son/8/Clampham, Surrey/Census
1881/Abraham Beverley/Son/7/Kentish Town, Middlesex/Census
1881/Allen Beverley/Son/6/Norwood, Surrey/Census
1881/Henry Beverley/Son/5/Norwood, Surrey/Census
1881/Alice Beverley/Daughter/3/Penge, Surrey/Census
1881/Emily Beverley/Daughter/5 months/Wimbledon, Surrey/Census

1882/Mrs Sarah Trimbrill/../../../Post Office Directory

1884/Lucretia Laver/../../../Post Office Directory

1899/Finch & Co/../../../Post Office Directory



* Provided By Delia Gleave