Search London wiki and Pub wiki history sites
All public house, restaurants, bars etc closed for the forseeable future from 20th March 2020, but this is a pub history site.
Lyceum Tavern, 354 Strand, St Clement Danes WC2R 0HS
St Clement Danes pub history index
This address is the white Horse in 1842 and earlier. Still open for business in 2018.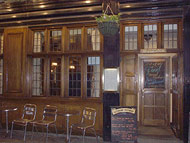 Kindly provided by Harbottles Pub Guide
telephone: 020 78367155
Historical London public houses, Taverns, Inns, Beer Houses and Hotels.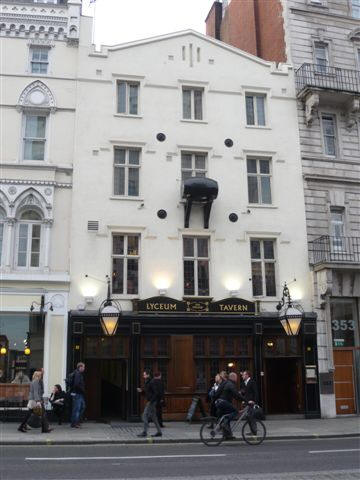 Lyceum Tavern, 354 Strand, WC2 - in April 2008
Kindly provided by Stephen Harris
Residents at this address.
1805/John Elliott, White Horse, 354 Strand/../../Holdens Directory

1842/George Spillman, White Horse, 354 Strand/../../Robsons Directory

1843/George Spillman/../../../Kellys Directory

1848/George Spillman/../../../Post Office Directory

1851/George Spillman/../../../Kellys Directory

1851/George Spillman/Tavern Keeper/56/Bushley, Worcestershire/Census
1851/Matilda Spillman/Wife/42/St Pancras, Middlesex/Census
1851/George Spillman/Son, Auctioneer/28/Innington, Herefordshire/Census
1851/William Spillman/Son, Artist Painting/20/Bloomsbury, Middlesex/Census
1851/Charles Spillman/Son/17/St Clements Danes, Middlesex/Census
1851/Rosa Spillman/Daughter/9/St Clements Danes, Middlesex/Census
1851/Alice Spillman/Daughter/7/St Clements Danes, Middlesex/Census
1851/John Spillman/Son/5/St Clements Danes, Middlesex/Census
1851/Jane Cristie/Barmaid/35/Cobham, Kent/Census
1851/Sarah Clipstow/Nurse/30/Lincoln/Census
1851/John Holbrook/Waiter/30/Newington, Surrey/Census
1851/Esther Bennett/Cook/36/Ifield, Surrey/Census
1851/George Randall/Errand Boy/17/Stole House, Devon/Census

1856/Mrs Matilda Spillman/../../../Post Office Directory

1861/Matilda Spilham/Tavern Keeper, Widow/50/St Pancras, London/Census
1861/Charles Spilham/Son, Tavern Keeper/37/St Clement, London/Census
1861/Rosa Spilham/Daughter/19/St Clement, London/Census
1861/Alice Spilham/Daughter/17/St Clement, London/Census
1861/John Spilham/Son/15/St Clement, London/Census
1861/Mary S Trotman/Barmaid/32/Westminster, Middlesex/Census
1861/Mary A Gutteridge/Cook/41/Bishopsgate, Middlesex/Census

February 1862/Matilda Spillman/Outgoing Licensee/../../Era

February 1862/Elisha Bannister/Incoming Licensee/../../Era

July 1863/Elisha Bannister/Outgoing Licensee/../../Era

July 1863/Robert William Hunt/Incoming Licensee/../../Era

1869/Robert William Hunt/../../../Post Office Directory

1874/R W Hunt/../../../Licensed Victualler & Hoteliers Directory

1881/Charles Cann/Licensed Victualler/59/Woolwich/Census
1881/Mary Eliza Cann/Wife/59/St Lukes, Middlesex/Census
1881/Chas Robert Cann/Son, Assistant/20/London City, Middlesex/Census
1881/Mary Eliza Cann/Daughter/19/London City, Middlesex/Census
1881/Alice Harriet Cann/Daughter/17/London City, Middlesex/Census
1881/Clara Christina Cann/Daughter/15/London City, Middlesex/Census
1881/Frank Allen Cann/Son/12/London City, Middlesex/Census
1881/Daisy Wilson/Niece/16/Southwark/Census

1882/Charles Cann/../../../Post Office Directory

1884/Charles Cann/../../../Post Office Directory

1891/Mrs Mary Eliza Cann/../../../Post Office Directory

1895/Mrs Mary Eliza Cann/../../../Post Office Directory

1899/Mrs Mary Eliza Cann/../../../Post Office Directory

1905/Charles Robert Cann/../../../Post Office Directory **

1910/Henekey & Co/../../../Post Office Directory

1921/Henekey & Co, Lyceum Tavern, 354 Strand/../../Post Office Directory

1942/Henekey Ltd, wine merchants, 254 Strand WC2/../../../Post Office Directory



** Provided By Stephen Harris