Lyceum Tavern, 354 Strand, St Clement Danes WC2R 0HS
St Clement Danes pub history index
This address is the white Horse in 1842 and earlier which is clearly a differnt place??. Still open for business in 2018.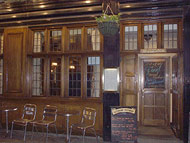 Kindly provided by Harbottles Pub Guide
telephone: 020 78367155
Historical London public houses, Taverns, Inns, Beer Houses and Hotels.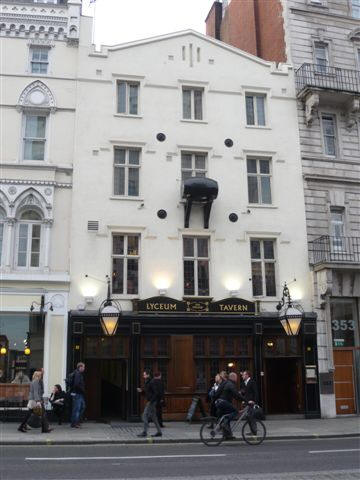 Lyceum Tavern, 354 Strand, WC2 - in April 2008
Kindly provided by Stephen Harris
Residents at this address.
1827/George Ross & Co, wine & brandy merchants, 349 Strand/../../Pigots Directory

1827/Foreign Wine Company, 349 Strand/../../Pigots Directory

1832/James Meek, Lyceum, 349 Strand/../../Robsons Directory

1833-34/George Spellman, Lyceum Tavern, 354 Strand/../../Pigots Directory



1805/John Elliott, White Horse, 354 Strand/../../Holdens Directory

1827/John Bigland, White Horse, 354 Strand/../../Pigots Directory

1841/George Spillman/Victualler/40/../Census
1841/Matilda Spillman/../30/../Census
1841/George Spillman/Auctioneers Apprentice/15/../Census
1841/Mary Ann Spillman/../8/Middlesex/Census
1841/Charles Spillman/../1/Middlesex/Census
1841/Clara Fanny Spillman/../1/Middlesex/Census
1841/George Booth/Waiter/15/Middlesex/Census
1841/Alfred Fowler/Pot Boy/15/Middlesex/Census
1841/Henry Albia/Barman/15/../Census
1841/Maria Warwick/Female Servant/35/Middlesex/Census
1841/Harriett Charlton/Female Servant/20/Middlesex/Census

1842/George Spillman, White Horse, 354 Strand/../../Robsons Directory

1843/George Spillman/../../../Kellys Directory

1848/George Spillman, Lyceum Tavern, 354 Strand/../../Post Office Directory

1851/George Spillman/../../../Kellys Directory

1851/George Spillman/Tavern Keeper/56/Bushley, Worcestershire/Census
1851/Matilda Spillman/Wife/42/St Pancras, Middlesex/Census
1851/George Spillman/Son, Auctioneer/28/Innington, Herefordshire/Census
1851/William Spillman/Son, Artist Painting/20/Bloomsbury, Middlesex/Census
1851/Charles Spillman/Son/17/St Clements Danes, Middlesex/Census
1851/Rosa Spillman/Daughter/9/St Clements Danes, Middlesex/Census
1851/Alice Spillman/Daughter/7/St Clements Danes, Middlesex/Census
1851/John Spillman/Son/5/St Clements Danes, Middlesex/Census
1851/Jane Cristie/Barmaid/35/Cobham, Kent/Census
1851/Sarah Clipstow/Nurse/30/Lincoln/Census
1851/John Holbrook/Waiter/30/Newington, Surrey/Census
1851/Esther Bennett/Cook/36/Ifield, Surrey/Census
1851/George Randall/Errand Boy/17/Stole House, Devon/Census

1856/Mrs Matilda Spillman/../../../Post Office Directory

1861/Matilda Spilham/Tavern Keeper, Widow/50/St Pancras, London/Census
1861/Charles Spilham/Son, Tavern Keeper/37/St Clement, London/Census
1861/Rosa Spilham/Daughter/19/St Clement, London/Census
1861/Alice Spilham/Daughter/17/St Clement, London/Census
1861/John Spilham/Son/15/St Clement, London/Census
1861/Mary S Trotman/Barmaid/32/Westminster, Middlesex/Census
1861/Mary A Gutteridge/Cook/41/Bishopsgate, Middlesex/Census

February 1862/Matilda Spillman/Outgoing Licensee/../../Era

February 1862/Elisha Bannister/Incoming Licensee/../../Era

July 1863/Elisha Bannister/Outgoing Licensee/../../Era

July 1863/Robert William Hunt/Incoming Licensee/../../Era

1869/Robert William Hunt, Lyceum Tavern, 354 Strand/../../Post Office Directory

1874/R W Hunt/../../../Licensed Victualler & Hoteliers Directory

1881/Charles Cann/Licensed Victualler/59/Woolwich/Census
1881/Mary Eliza Cann/Wife/59/St Lukes, Middlesex/Census
1881/Chas Robert Cann/Son, Assistant/20/London City, Middlesex/Census
1881/Mary Eliza Cann/Daughter/19/London City, Middlesex/Census
1881/Alice Harriet Cann/Daughter/17/London City, Middlesex/Census
1881/Clara Christina Cann/Daughter/15/London City, Middlesex/Census
1881/Frank Allen Cann/Son/12/London City, Middlesex/Census
1881/Daisy Wilson/Niece/16/Southwark/Census

1882/Charles Cann/../../../Post Office Directory

1884/Charles Cann, Lyceum Tavern, 354 Strand/../../Post Office Directory

1891/Mrs Mary Eliza Cann/../../../Post Office Directory

1895/Mrs Mary Eliza Cann/../../../Post Office Directory

1899/Mrs Mary Eliza Cann, Lyceum Tavern, 354 Strand/../../Post Office Directory

1905/Charles Robert Cann/../../../Post Office Directory **

1910/Henekey & Co/../../../Post Office Directory

1921/Henekey & Co, Lyceum Tavern, 354 Strand/../../Post Office Directory

1942/Henekey Ltd, wine merchants, 254 Strand WC2/../../../Post Office Directory



** Provided By Stephen Harris