Three Tuns, 13 & 14 Houghton Street WC2
St Clement Danes pub history index
The List of Masonic Lodges of 1740 - 1755 note that a masonic lodge met at the Three Tuns, Houghton street, Clare market with a constitution date of November 4th 1740.
The Three Tuns, Clements Inn passage in the 1847 license transfer. The name of the pub changes for a while to the Clock House, certainly in 1899
Historical London public houses, Taverns, Inns, Beer Houses and Hotels.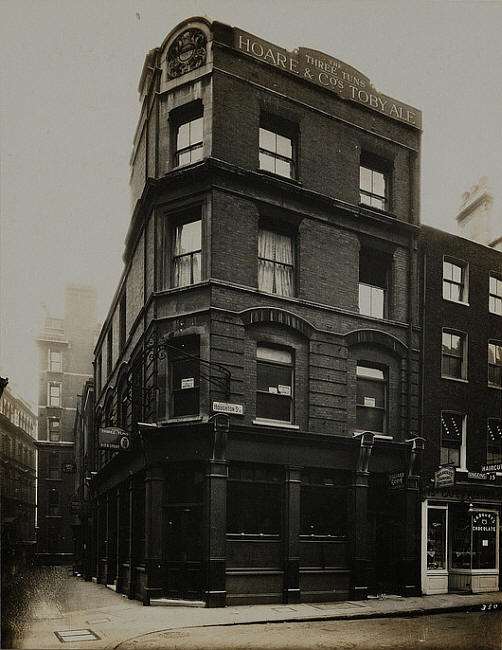 Three Tuns, 13 & 14 Houghton Street WC2
Residents at this address.
1805/Daniel O'Brian, Three Tuns, Houghton street, Clare market/../../Holdens Directory

1829/E Whelpdale/../../../Robsons Directory

1833-34/William Morant/../../../Pigots Directory

1836/Lewis Garrett/../../../Pigots Directory

1839/Jos Ashford/../../../Pigots Directory

1841/R Cooper/../../../Kellys Directory

February 1847/Wm Knight/Outgoing Licensee/../../Era

February 1847/Mr H Matthew/Incoming Licensee/../../Era

1848/Henry Mathews/../../../Post Office Directory

June 1849/George Watkins/Outgoing Licensee/../../Era

June 1849/William Fitch/Incoming Licensee/../../Era

1851/William Fitch/../../../Kellys Directory

February 1851/William Fitch/Outgoing Licensee/../../Era Newspaper

February 1851/John Gostwick/Incoming Licensee/../../Era Newspaper

1851/John Gostwick/Licensed Victualler/47/Ickworth, Suffolk/Census
1851/Susanna Gostwick/Wife/25/Thurlow, Suffolk/Census
1851/John Gostwick/Daughter/1 month/St Clements Danes, Middlesex/Census
1851/Maria Gostwick/Niece/19/Marylebone, Middlesex/Census
1851/Marian Gostwick/Niece/13/Marylebone, Middlesex/Census
1851/Eleanor Seagroves/Barmaid/20/Clerkenwell, Middlesex/Census
1851/Mary Ann Picket/House Servant/21/Kensington, Middlesex/Census

1853/John Goswick/../../../Post Office Directory

October 1857/James Sharply Craggs/Outgoing Licensee/../../Era

October 1857/James Cossins/Incoming Licensee/../../Era

March 1862/Nicholas Lane Jackson/Outgoing Licensee/../../Era

March 1862/Richard Freestone/Incoming Licensee/../../Era

March 1864/Richard Freeston/Outgoing Licensee/../../Era Newspaper

March 1864/William Younger Lang/Incoming Licensee/../../Era Newspaper

1899/George Thomas Wood/Clock House/../../Post Office Directory

1910/Thomas George Wood/../../../Post Office Directory

1921/A M Kempgee/../../../Post Office Directory

1944/Copes taverns Ltd/../../../Post Office Directory